Ted talks decorating your front porch for a bright, wonderful winter season.
By emily.bailey
Friday, November 30, 2018
From accent lighting to securing your home for the season, Ted outlines some simple, affordable ways to be the envy of the neighborhood throughout the holidays and beyond.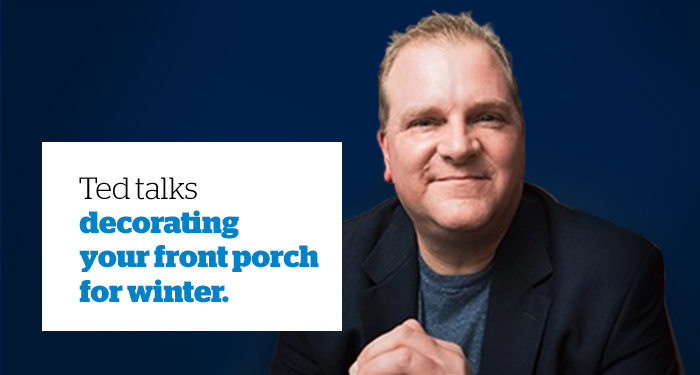 The holiday decorating season is in full swing, so make way for some holiday color and cheer. It won't be long before the stockings are hung, a holiday wreath adorns your front door, the lights are shining bright and the colors of Christmas, Hanukah and Kwanzaa turn front porches coast to coast into holiday showpieces.
It's another installment of Schlage's ongoing series of blogs featuring premium design ideas, we provide ways to bring your home designs to life and how to incorporate the premium style of Schlage into those designs. Ted Roberts, the Style and Design Chief at Allegion, shares some thoughts on creating memorable and inviting winter front porch designs that will make your home stand out. From accent lighting to securing your home for the season, Ted outlines some simple, affordable ways to be the envy of the neighborhood throughout the holidays and beyond.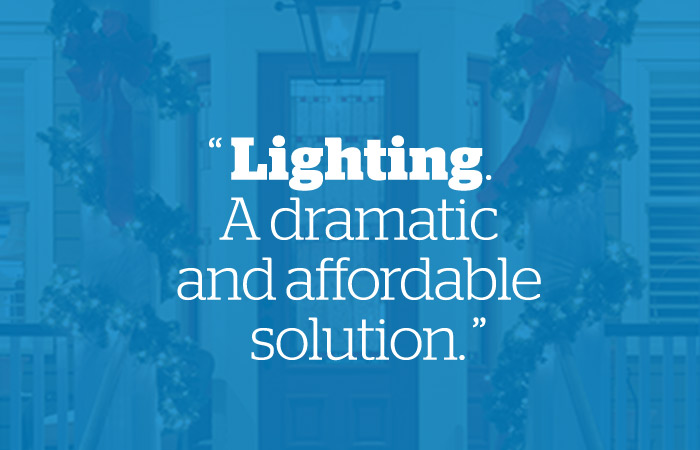 Q: It's that time of the year. What can we do to make this year's holiday decorating special?
A: "One of the joys of holidays and winter decorating is the passion that people put into it, trying to outdo themselves year after year. And it shows. This year, you'll see the wreaths, bows, tinsel and traditional decorations that mark the season, but I also think you'll see a lot more imaginative lighting displays."
Q: A bright outlook then, for the season?
A: "It's just that there are so many options in the winter front porch lighting department. It's the perfect place to start. I really think projected lighting is going to be big this year. It can be truly dramatic, painting a lightscape across the entire front of your house. And, for the budget conscious, these can be particularly useful because you can customize the graphics or colors and light patterns season to season. Another favorite porch design idea of mine is white string lights. They are a great way to celebrate the season but can also stay up all winter long or even all year long. Another simple, affordable year-round solution is white architectural lighting. Talk about adding a distinctive accent to any outdoor space. Any of these can brighten your front porch project with many options available for less than $100."
Q: Where do you go from there, when looking at your seasonal porch designs?
A: "The front door. It can be the perfect centerpiece of your winter front porch showcase. We like to say that your front door and your front patio or porch make the ultimate first impression. That's as true when you're greeting holiday visitors as it is when you're talking year-round curb appeal. Your front door reflects your personality. Your uniqueness. Your own sense of style. From a simple, inexpensive wreath that can be redecorated from season to season to wrapping your front door in bright and shiny wrapping paper and bows, the sky really is the limit. My only caution is: make sure that any door decorations don't interfere with the operation of your front door and door lock, because you don't want to compromise your safety and security, no matter how awesome your holiday door looks."
Q: And that's where Schlage comes in?
A: "That's where Schlage comes in. This time of year, particularly through the holidays, you've got visitors coming and going, more package deliveries than normal, partygoers, people dropping by, holiday carolers at your doorstep – and that's only the beginning. You've also got about a 1 in 35 chance of being a victim of property crime during the holidays, so you'll want to make sure everything is safe and secure. Schlage offers a range of front door locks – from mechanical locks and deadbolts to convenient keypad locks to connected smart locks – that are as reflective of your own unique sense of style as they are functional. Good locks are a deterrent. Security cameras are a deterrent. Security systems are a deterrent. Schlage makes smart locks too that work with many of today's most popular home automation and security systems.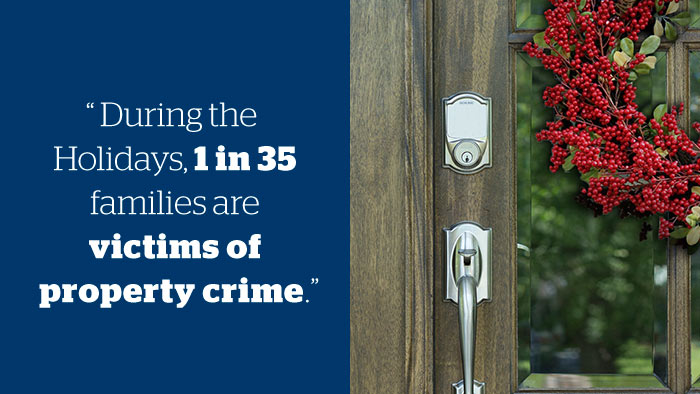 Q: Any other security tips?
A: "Another good rule of thumb: when you change your clocks – when you fall back – it's a great time to change out your batteries in smoke alarms, home safety monitors, electronic locks and the like. All Schlage electronic locks feature a handy low-battery alert, but checking regularly is still a good habit.
Q: Final thoughts?
A: "Enjoy the season. There are so many affordable options for making your front porch shine year-round, but especially in the fall and winter. And don't forget President's Day, Valentine's Day, St. Patrick's Day – all offer opportunities for you to adapt your porch designs to suit the seasons. Flags are another great addition, showing your patriotism, sense of pride, sense of humor and allegiance to your favorite team.
For more, visit
Schlage.com
or check out what your friends are doing to brighten their holidays by visiting Pinterest and Instagram. Make your front porch a true showpiece, with the safety, simplicity and style of Schlage.