The glamour of Old Hollywood with Schlage and Amy Matthews.
By emily.bailey
The Hollywood Regency trend was born to reflect the shimmer, opulence, flamboyance and glamour of the 1930's Hollywood scene, bringing it from the silver screen into America's homes.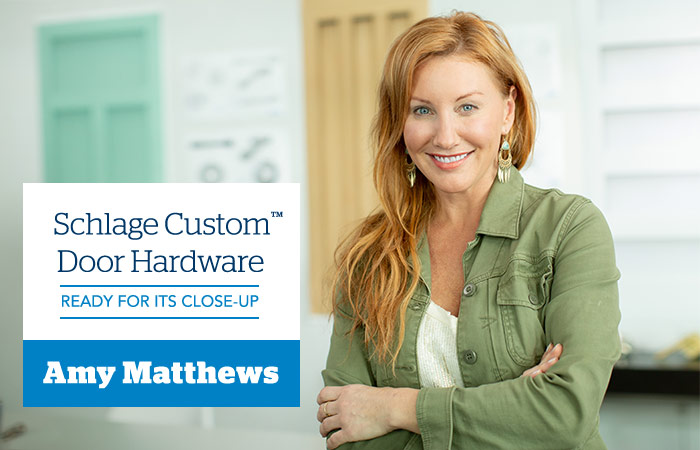 In the 1930's, movie sets had to be designed and styled to be able to accommodate – contain – Golden-Age-of-Hollywood Stars like Katharine Hepburn, Clark Gable, Joan Crawford, Humphrey Bogart and a veritable constellation of other such luminaries. The personalities were larger than life. The Hollywood scene was larger than life. And the Hollywood Regency trend was born to reflect the shimmer, opulence, flamboyance and glamour of that very special time, bringing it from the silver screen into America's homes.
Cut to designer-to-the-stars and TV host extraordinaire, Amy Matthews, and her co-stars, Schlage Custom™ Door Hardware and the Dempsey lever. This is the final installment of her four-part series in which she works with Schlage designers to transform rooms around a single piece of Schlage door hardware. For this, she and the Schlage team chose the Dempsey lever for its character, boldness and sumptuous curves. It served as the perfect centerpiece for her big Hollywood ending, a larger-than-life Hollywood Regency blockbuster that showcases the breadth of Schlage's passion for style.
The Dempsey lever was inspired by the glamour and grace of Old Hollywood. It's a shining example of the way Schlage door hardware can serve as a focal point for bringing a specific style statement to life. Amy loves the glamour of the lever and the challenge of integrating it into such a space. In fact, of all the rooms she helped design for this special partnership, this turned out to be her favorite.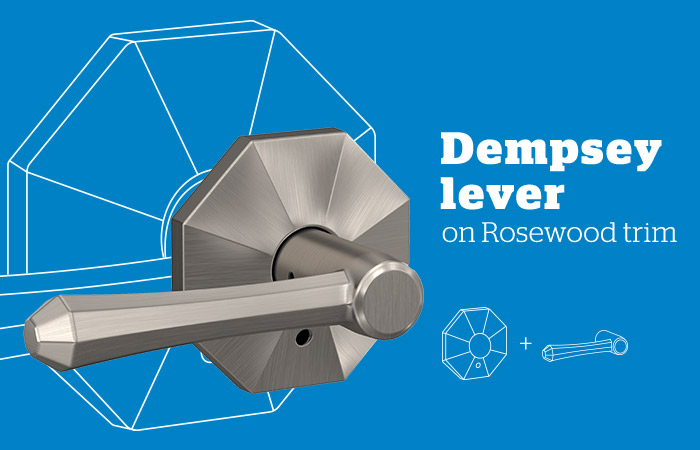 The inspiration
Schlage's Dempsey lever brings a singular, unmistakable style to settings looking to make a real statement. One look and Amy knew where the design needed to go. She paired the lever with Schlage's Rosewood Trim in a lustrous yet tasteful satin nickel. The combination of the lever's distinctive curves and the scalloped look and finish provided the perfect centerpiece. The final room design featured a luxurious array of bold, contrasting colors, cut glass, lavish fabrics and reflective metals. It was truly a larger-than-life vision worthy of a star like Joan Crawford or Errol Flynn, with the Dempsey lever anchoring the entire concept.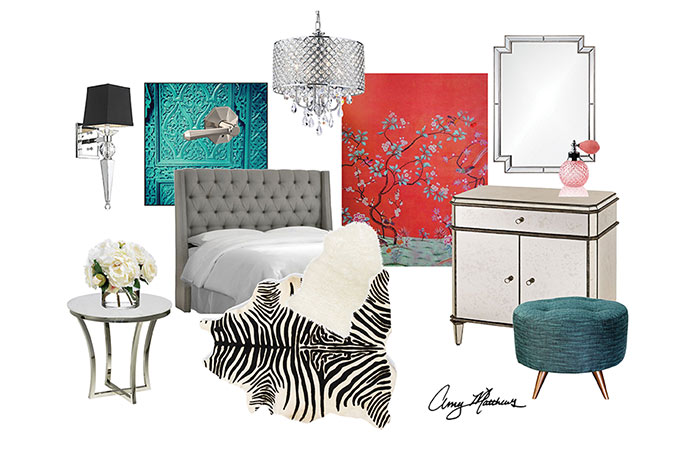 The mood board: Unmistakable style
Amy started with the Dempsey lever paired perfectly with Schlage's Rosewood trim. In satin nickel, it complemented the overall design without getting in the way. She then assembled the mood board, splashing it with muted greens and reds that popped along with the glitter and luster of cut glass and exotic textures. For this design, she envisioned a sumptuous bedroom suite with a large bed in greens and natural tones dominating the room. Touches like a zebra rug, a crystal chandelier, a mirrored white vanity, period wallpaper and a distinctive green door completed Amy's vision with panache and sizzle.
The look: Inspired and opulent
Amy's immersion in the world of "lights, camera, action" really explored the true potential of what's possible when building an entire room around a single piece of Schlage Door Hardware. Motivated by the style, vision and innovation of designers such as Elsa Schiaparelli and Coco Chanel, Amy brought a distinctive sexiness to the look, adding sleekness to the design with a black tile floor.
The 1930's marked the first time that movies began selling themselves based on the styles and fashions that would be worn by the stars that appeared in them. Think of it as early product placement. The lavish styles and fashions depicted were everywhere, selling everything from apparel to furnishings. Amy brought this sensibility to our Hollywood Regency masterpiece, with the Dempsey lever proving itself worthy of the glitz and glamour it inspires.
While Amy generally prefers more simple, clean and organic designs, she really enjoyed stepping out with Schlage's designers and pushing the envelope with the Dempsey lever and this glorious homage to Old Hollywood glam.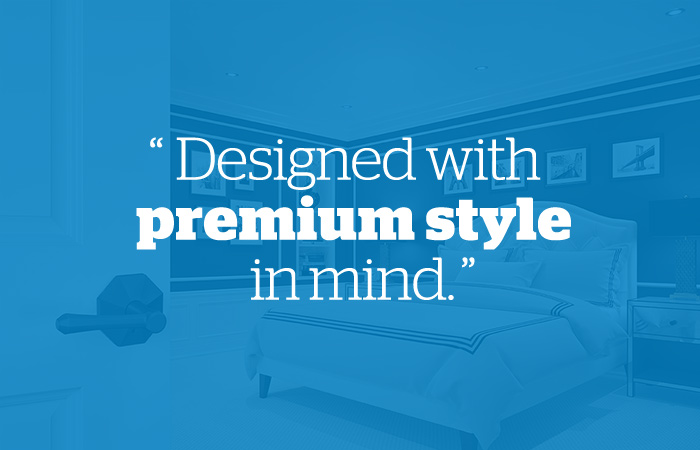 The name says it all
One system. Endless possibilities. Whether replacing outdated or broken locks, remodeling a single room or simply adding new, decorative details, Schlage Custom Door Hardware makes personalizing a single room–or an entire home–as easy as can be. It's perfect for tailoring door hardware designs to the specific needs of every room.
One screwdriver is all it takes to customize the style, finish and even functionality of Schlage Custom door hardware. A small locking pin lets you tailor the door's locking function to your needs. And a wide range of designer knobs, levers, complementary trims and long-lasting and lustrous finishes deliver a whole new level of versatility in both style and function.
For more information visit schlage.com. And to see Amy and Allegion Style & Design Chief Ted Roberts in action bringing this concept to life, watch this video. See for yourself. You don't have to be Amy Matthews to bring a classic yet contemporary look to your home. All it takes is a little imagination and the safety, simplicity and style of Schlage.