Holiday design ideas for every type of door.
By emily.bailey
Monday, December 13, 2021
Your front door makes a statement. Along with your front porch, it contributes to the overall curb appeal of your home and makes the ultimate first impression for visitors. Who better than
Schlage
, whose door hardware is trusted by more than 40 million homeowners, to provide you with holiday decorating tips for even the most unconventional doors? Indoors or out, Schlage has you covered for the holidays and all year round.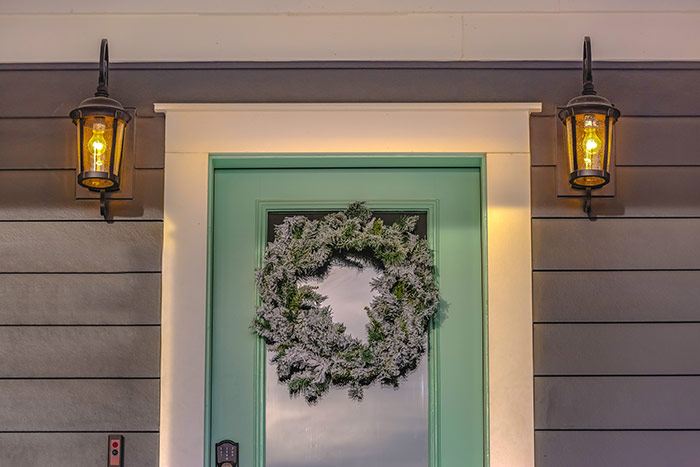 Front door
Whether you're decorating with a traditional holiday wreath or making a holiday display of planters and wall hangings, there's nothing like fresh, festive holiday greenery to add color, style and fragrance. There's no end to what you can accessorize with. Garland and wreaths can be customized affordably with pine cones, berries and bows, then changed easily with the seasons. Combine that with the option of literally gift wrapping your entire front door and you'll have a colorful entrance that comes alive this winter.
Just make sure that your door decorations don't interfere with the operation of your door or the security of your door locks. Wreaths should be placed so that a peep hole still has a clear line of sight through the center or, if that's not possible, hung below the peep hole or window. If you use an over-the-door hanger, make sure its thickness doesn't prevent the door from latching.
The same goes for other décor that might hang down and obstruct the door. For example, how do you hang garland around the front door so that it looks good and still lets your door work right? If you don't want to use nails or screws in your door frame, you can use adhesive hooks and floral wire to pin the foliage away from hinges. Some companies like Balsam Hill also make garland hangers, which work a bit like curtain tension rods. These help keep your garland overhead out of the way and can also be decorative by their own right.
French door
The idea here is to let your sense of holiday style out while you let the light shine in. Large wreaths can be cut down the middle and hung on both halves of the door to avoid interfering with its opening and closing and without covering the windows. At the same time, there are many magical ways to decorate around the door, framing it in lavish greens and light and festive finery. Garland and fresh greenery can be decorated much like you'd decorate a Christmas tree with ornaments, lights, tinsel and bows.
Because French doors tend to be more traditional, this could be the perfect opportunity for you to showcase your favorite vintage décor. Whether passed down through the family, found at a flea market or merely aged artificially to look old, classic ornaments can round out the overall aesthetic of traditional curb appeal.
Dutch door
With a Dutch door, you have two distinct "canvases" to work with. From covering the bottom half in wrapping paper and bows and adorning the top half with hanging decorations like wreaths and seasonal greenery, you're really only limited by your imagination. Get creative with your door hanging accessories, but make sure the hanger you choose, whether it's metal, fabric or ribbon, is the proper length for the height of your Dutch door sections. You don't want your decorations constantly getting knocked off. As always, the wall décor you choose to display around the door can add a warm, festive accent to your door decorations.
Glass doors
Whether inside or out, the key to glass doors is to let the light shine through. Instead of wrapping your door like a gift or using faux frost on the glass like you might on your front door, try hanging a traditional wreath or two so that you don't obstruct your view through the window. If you like the gift-wrapped look, though, stick with just using ribbons.
This is another instance where what you put over and around the door can make all the difference. Quick and easy wall décor can also be super affordable and there's no end to the inspiration you'll find online and at your favorite store.
Hanging décor on glass doors sounds kind of tricky. You obviously can't use nails. So how do you hang a wreath on a glass door? There are a few methods. For light-weight wreaths, use a suction cup like one you might use in the bathroom, which tends to have more staying power. You can also use an over-the-top hook or hanger. These are often metal, so if you're concerned about it scratching the glass – or just looking ugly – wrap it in ribbon to soften any rough edges and add visual appeal. Magnetic wreath hangers also work if you place one on each side of the window pane to hold everything in place.
Sliding glass doors
Decorating sliding glass doors for the winter holidays takes a bit of extra creativity since you don't want the décor to keep you from being able to open and close the door. The answer is to think in 2D. Use spray-on frost or liquid chalk to create the illusion of snow without taking up any space. Wrap pieces of flat cardboard like presents and attach them to the glass, just remembering to keep them thin and maybe skip the bows for this DIY door décor. Finally, try small, beaded garland. Think more along the lines of those strands of popcorn and cranberries than evergreen boughs for a low-profile festive touch. And if you want to hang something larger or a wreath, simply hang it on the side of the door – inside or out – where it's least likely to get snagged.
Barn door
Don't forget your indoor decorations, starting with the sliding barn door. They're big. They're beautiful. They're something special. And when it comes to making them pop for the holidays, the sky really is the limit. From one huge wreath (or even a large split wreath with halves can be hung separately) to adorning the doors with large fabric ribbon and wrapping paper (much like you would with a traditional front exterior door), these doors provide a great opportunity to really express yourself.
Smile and style
A child's bedroom offers endless and wonderful possibilities for holiday decorating. Transform their door – or any other in the house that could use a bit of whimsy – into Santa Claus. Or a snowman. Create a decorative winterscape. Wrap the door simply with paper, ribbons and bows and hang stockings or wreaths. The goal here is to bring a smile to the little ones and some extra holiday cheer to mom or dad. Whether a standard door or even a pocket door, which you still find in many older homes, there's a lot you can do with a little imagination and just the right amount of holiday spirit.
All of these ideas, from the front door to a sliding glass patio door, can be achieved on even the most modest budget. With proper planning, you can also incorporate wall décor and other stylish yet cost-conscious elements that will add beauty and personality all year round without a lot of hassle. There are even a host of festive things you can do to spruce up your door knobs!
Find more ideas for turning your home into a haven at the holidays, or any time of year, at the Schlage blog and on Pinterest.