Your guide to choosing stylish and secure front door handles.
By emily.bailey
Monday, December 13, 2021
This guide can help you pick the perfect Schlage front door handle. Understand the different Schlage handleset functions, security features and style options.
It's the first thing a guest sees when they come to your home – your front door. Make the right kind of first impression when you upgrade your curb appeal with a Schlage entry door handleset. This guide can help you pick the perfect Schlage handleset to meet your security and style needs and turn your home into a haven.
We know you want to get right to picking the fun part – that stylish handle for your front door. But let's start with how you're going to secure your home. Just as there are four common functions for interior door hardware, there are four main types of entry door handlesets.
Handle + Mechanical Deadbolt
When you pair your front door handle with a mechanical deadbolt, you can choose between a single-cylinder or a double-cylinder deadbolt. How do you know what's right for you? Here are the highlights:
A single-cylinder deadbolt requires a key to lock or unlock your door from the outside only. You'll use a thumbturn on the interior.


A double-cylinder deadbolt requires a key on both sides. Check your local building requirements if you're interested in a double cylinder. While they are more secure, they can make it more difficult to exit the house quickly in an emergency, so some areas restrict these.


Both single- and double-cylinder Schlage deadbolts have a

BHMA rating

of AAA, meaning they're graded Best in residential Security, Durability and Finish.


We also offer the

Schlage Custom™ Single Cylinder Handleset

. Choose between a two-piece decorative trim or a 3/4 trim, which includes the lock on the same piece as the grip. A Schlage Custom handleset also makes it even easier to match the style to your interior door hardware, giving you a cohesive look from the front door to back porch and everywhere in between.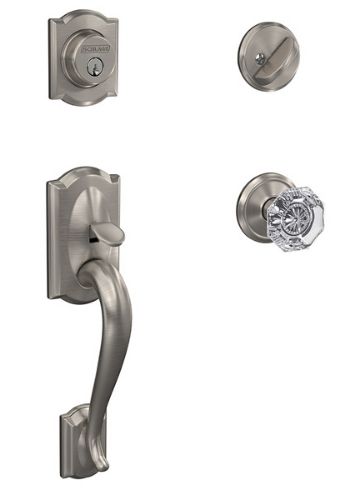 Two-piece decorative trim handleset.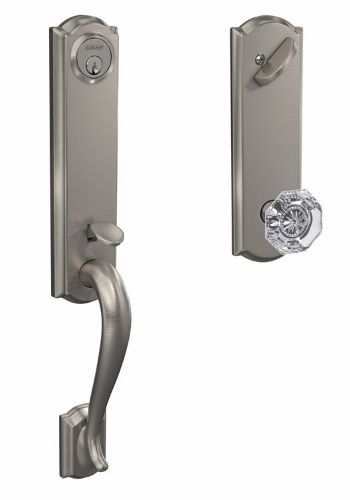 3/4 trim handleset
Front Entry Handle Only
Maybe you already have a deadbolt that works great. Or maybe you want the flexibility to create your own unique look for your entry lockset. Then you might choose just a front entry handle.
This piece does not include a deadbolt. You will want to purchase one separately depending on your family's needs and style preferences. If you like this option, remember that you can

choose between a mechanical deadbolt or a smart lock

. Pairing a front entry handle with one of Schlage's electronic deadbolts is increasingly popular as people look to combine superior style with convenient access and security. More on this option below.


Make a statement that's all your own by choosing from an assortment of interior door knob and lever styles. Schlage Custom Door Hardware gives you the flexibility and options to create the perfect look to go along with your new handleset.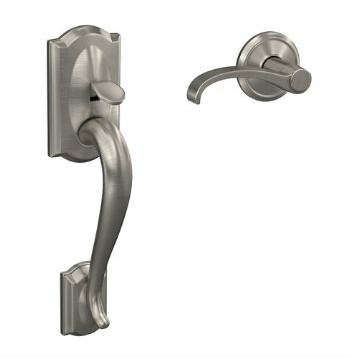 Front entry handle.
Front Entry Handle + Electronic or Smart Lock
You love the look of a handleset and you want keyless convenience? We have the style and security solution for you. You can pair your front door handles with any Schlage electronic or smart deadbolt. Ready for the highlights?
For remote access from anywhere, add a front entry handle to any of our

smart locks

– the Schlage Encode™ Smart WiFi Deadbolt, the Schlage Connect® Smart Deadbolt with either Z-Wave Plus or Zigbee technology, or the Schlage Sense® Smart Deadbolt. The Schlage Encode, Schlage Connect with Z-Wave Plus and Schlage Sense smart deadbolts all have top AAA ratings from BHMA.


Add a handle to either of our

electronic locks

– the Schlage Touch® Keyless Touchscreen Deadbolt or keypad deadbolt – which feature a AAA Best rating in residential Security, Durability and Finish from the BHMA.


Installation is simple, even with the technology. Because all our electronic and smart locks are battery operated, there's no hardwiring necessary and no need to call an electrician or handyman.


Schlage is proud of our ability to combine innovative technology with superior aesthetics. Like all our door hardware, smart locks come in a variety of styles and finishes so you'll be sure your front door continues to make a beautiful statement without sacrificing security.
If you aren't sure which smart lock is right for your home and lifestyle, try our Get Help Deciding Tool. This interactive quiz will help you find the right match.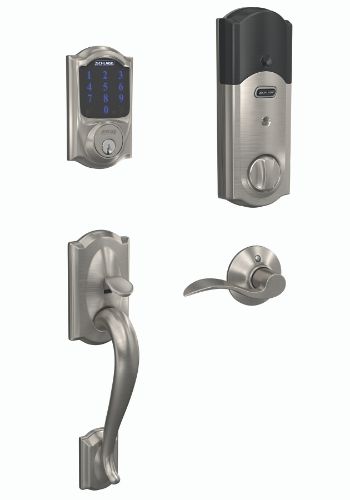 Front entry handle + smart lock.
Inactive Handleset
Just like inactive interior knobs and levers, inactive handlesets are used as decorative door pulls. You see these most often when you have a double entry door with one locking door and the other primarily for show. When you shop for inactive handlesets, don't be fooled. It often looks like a deadbolt is included, but that piece is just for aesthetics and is not actually a working lock. For full locking capabilities, you'll choose one of the options above for the active door.
Because the main appeal of an inactive handleset is its style, it should come as no surprise that we offer Schlage Custom inactive handlesets. These come in extended 3/4 trim from grip to deadbolt to create a high-style look, and you can pair your style and finish with Schlage Custom interior hardware to coordinate your home's hardware inside and out.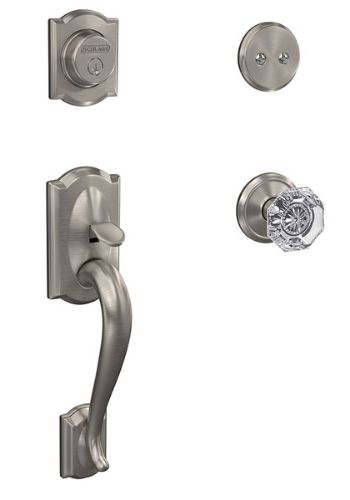 Inactive handleset.
Making home feel like a sanctuary with Schlage
Now that you know which kind of exterior door hardware you need, you're ready to choose the style that best fits your home. Schlage offers a variety of styles and finishes, from angular lines to flowing silhouettes and classic to contemporary. They're all designed to ensure that your front door is the perfect introduction to your home. Use this guide to handleset styles to create a perfect match.
Once you've brought everything home, installation is easy. All you need is a screwdriver and a few minutes of effort. Check out our installation guide and How-To Center to make adding Schlage door hardware to your home as simple as ever.