Home security steps you should take during the holidays.
By emily.bailey
Friday, December 10, 2021
With a combination of smart home technology and a little common sense, your holiday season will be as merry as it is worry-free.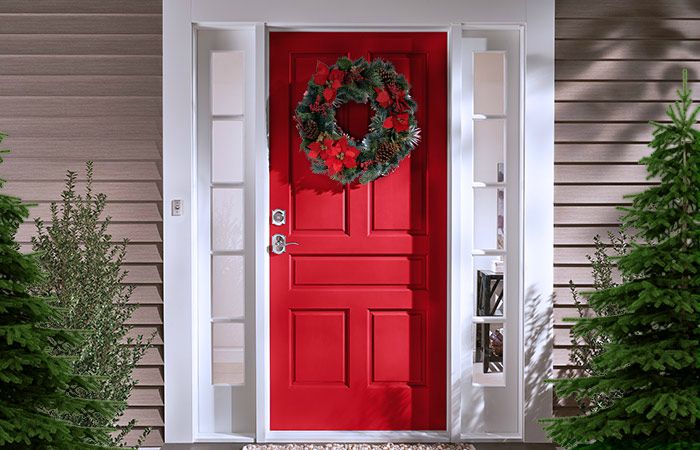 Winter weather is here and soon you'll be traveling to visit family and friends during school breaks, hosting guests at your home for the holidays and eagerly anticipating the delivery of your share of the 3 billion packages shipped each December. It can be easy to let our guards down when we're distracted by all the festivities. In fact, nearly half a million homes are burglarized during the holidays and robbery rates are rising an average of 20% around this time of year.
Thankfully, with a combination of smart home technology and a little common sense, your holiday season will be as merry as it is worry-free. Take some advice from the pros at Schlage and don't ignore these winter vacation home safety tips.
Install a home security system
It shouldn't come as a surprise that a home security system can help decrease your chances of being burglarized. Options range from 24/7 surveillance by a third party to a DIY setup like Alexa Guard that you manage and monitor on your own using your smartphone or other connected technologies. Deciding which is best for you depends on your budget and the level of control you want. With most systems going wireless, you can easily install motion and entry detectors around windows and doors and an audible alarm to alert you and your home security provider of a potential breach.
If you have a security system with third-party surveillance, notify the monitoring company that you'll be out of town. The extra step may allow them to take swifter action if a disturbance is detected and they know you're away.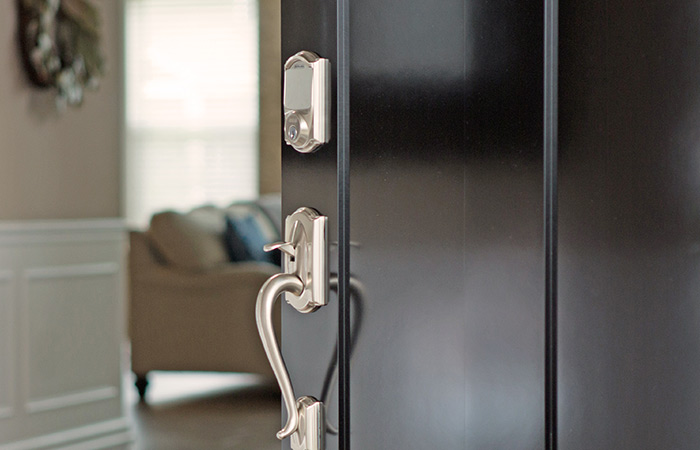 Install smart locks and home security devices
Installing a smart lock, or taking advantage of all its security features if you already have one, is an important step toward protecting your home. When you trust your home to Schlage, you can connect your smart lock with other home security devices. So not only do you have the physical security of a high-quality deadbolt at the door, but you also gain piece of mind by being able to monitor and control your protection using your smartphone.
Pairing your Schlage Encode™ Smart WiFi Deadbolt with the Ring Video Doorbell, for example, means you can see who's on your porch and let them in if it's someone you trust, all from a single app. The Schlage Connect® Smart Deadbolt with Z-Wave technology works with security systems like ADT and Alarm.com. You can view the complete list of our partners at Schlage.com to see which locks are compatible with your favorite smart home devices.
Even if you choose not to pair your smart lock with other technology, you can take advantage of features like push notifications to your phone to alert you when the lock is used or if there's a disturbance at the door. You can also lock and unlock the deadbolt remotely, perfect for when a friend needs to drop off an unexpected package or check on the pipes in the basement during a hard freeze.
Lastly, if you've assigned unique access codes that won't be needed while you're away, you can temporarily disable them from the app on your phone. Don't need the babysitter while you have the kids with you on winter vacation? Disable the code. Want to keep the housecleaners out, even though they usually come on Wednesdays? Disable their code, too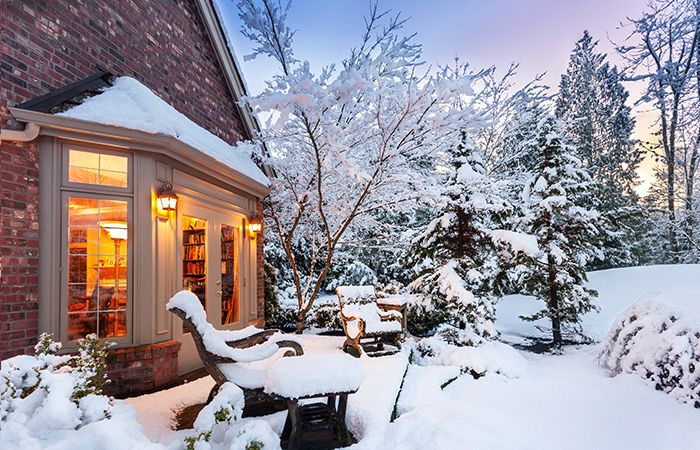 Remember outdoor security
One of the best ways to deter intruders is to keep the exterior of your home well-lit. Motion-sensor lighting can both alert friendly neighbors that someone may be nearby and make the intruder turn away. Projected and architectural lighting can provide a holiday lightscape as well as a bright, visible deterrent. The best part? According to Ted Roberts, the Style and Design Chief for Allegion, lighting is one of the most affordable ways to provide both security and beauty through the holiday season and beyond. To make your house look lived in – more on that in a minute – set porch lights, spotlights and holiday strands on a timer. If the timer can be connected to your smartphone so you can control it from afar, too, even better.
Take one more step to help protect your home's exterior from potential burglars and Mother Nature. Patio furniture, grills and fire pit accessories can be stowed in the garage or shed. The same goes for any of the kids' toys, like sleds, that might have been left out. This will help deter someone from walking off with your outdoor furniture and prevent damage during a winter storm.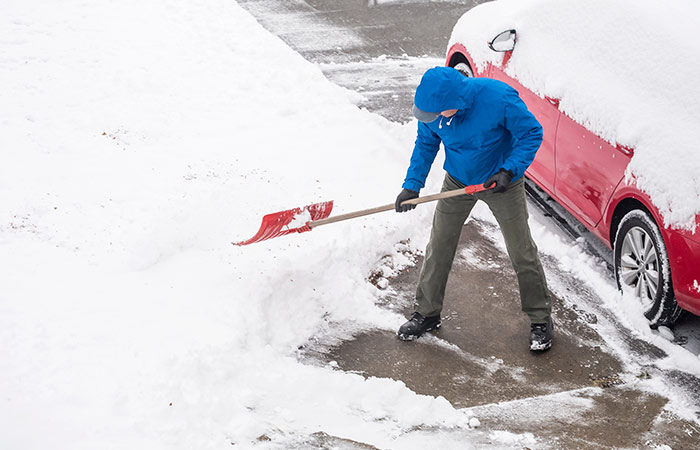 Make your home look occupied
There's nothing more enticing to a home intruder than a home that appears to be vacant. Triggers that signal this include mail overflowing from the mailbox or on the front porch, or a house that remains dark during all hours of the day. Ask your post office to hold your mail until you return or have someone collect it each day. If you have a smart lock, you can assign a code that allows a trusted friend or neighbor to place your mail inside and check on any plants or pets. If it is expected to snow while you're away, arrange for someone to clear your sidewalks and driveway.
Lastly, like exterior lighting, keeping your indoors illuminated can help deter break-ins. Rather than just leaving the lamp on at all hours of the day or setting them on a timer that burglars may notice – if the same lights turn on at the same time every day, they'll probably figure it out – consider installing a solution that randomizes your lights. The Leviton Decora Lighting System is a WiFi-enabled solution that can do just that. Even better, pair it with the Schlage Encode Smart WiFi Deadbolt. You can then use the Leviton app to set up Away mode. When you lock the Schlage Encode deadbolt, it triggers Away mode to secure the door and turn lights on and off at random intervals until you get back and return to Leviton Home mode.
Take out the trash
Most homes create 25 percent more household waste between Thanksgiving and New Year's Day, and that's according to a 2015 EPA study. Imagine what that number is today with the increase in online shopping – all those boxes, packing peanuts and used holiday party supplies. When it comes to winter season waste, two steps can help keep your home safe. First, don't tempt burglars with packaging on the curb. The box from your new big-screen TV will make your house almost too good to pass up. Break down large boxes and put everything in trash bags or take them directly to a cardboard recycling facility for an even more sustainable holiday.
Second, if you're traveling, ask your neighbors to put some of their trash in front of your house on pick-up days. No garbage at the holidays – or at any time of year – is another sign that you've left town.
Keep valuables away from windows
Burglars prefer to get in and out of a house as quickly as possible to avoid being caught. Having a clear view of a valuable item will make your home a target. Keep valuables out of sight and install blinds or curtains for even more protection. Consider stowing your most valuable items in a home safe or a safety deposit box at a different location.
The same goes for packages you leave in your car. The few extra seconds you spend to secure your packages in the trunk or to cover them on the floor in the back seat will pay big dividends later.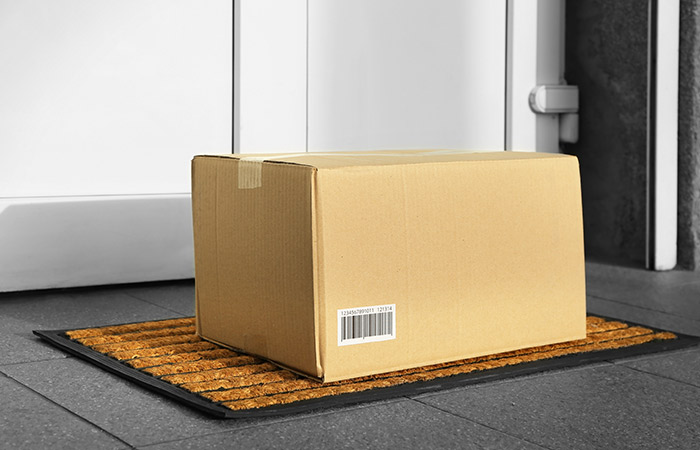 Keep your package deliveries safe
Most of us worry this time of year about our packages being stolen. One work-around is to instruct delivery professionals to leave them in an inconspicuous location like behind a bush. Just don't leave those instructions on a post-it on your door, which can be a signal to burglars that you're not home. Instead, leave special delivery instructions digitally when you place your online order or call the store directly when you purchase. You can also redirect your packages through the USPS, UPS or FedEx websites ¬– these all offer simple, common-sense solutions that can keep your deliveries secure. Another great option is to use a package delivery lockbox.
Another option is to ask a neighbor to retrieve packages for you or, if you're shopping online and know you'll be out of town when your items are shipped, change the delivery address to a friend's house or your office. Not only are your packages not sitting out unattended, just asking to get swiped, but your friend doesn't have to venture out in the cold. Remember, thieves are looking for a quick and easy score, so even the smallest deterrent can make a big difference. Be smart when shopping online.
Winterize your home
You might have already taken care of some of these tasks, but if not, check them off your list before you hit the road. Turn off outdoor spigots and drain garden hoses to prevent damage from water and ice near your home's foundation. While we're talking about exterior projects, inspect your roof and gutters. You might hire a professional for this, especially if it's already icy up there. Repair any damage before your trip so you aren't stressing about it if a winter storm blows in. Trim tree branches that could fall on your home or driveway when weighed down with ice.
Indoors, winterize your doors and windows. This could be adding weather stripping to cut down on outdoor drafts and moisture. And while you're at it, check that the locks and frames, even on your windows, are in good condition and secure. If you've run extension cords through gaps in the doors, garage door or windows to power your holiday light display, change that now. (And please don't do it again.) Even the smallest opening can be an invitation for unwanted visitors.
Insulate pipes to help keep them from freezing. You might also install leak sensors that can notify you via smartphone so you don't come home to a flooded basement. Make sure your HVAC system is working efficiently. Before you leave for vacation, follow this winter safety tip: adjust your thermostat to approximately 55 degrees. This will help protect your pipes, too, when temperatures drop.
Keep your travel plans off social media
By all means, let your family, close friends and neighbors know you will be gone so they can keep an eye on things. But as excited as you may be to get away, don't post your holiday travel plans on Facebook or Twitter and don't broadcast your adventures on TikTok or Instagram. Trust us, no matter how much fun you're having, sharing can wait until you return!
With a small investment in the latest technologies and a little know-how, you'll be all set for the holidays. Find more ideas for your winter home, whether it's technology to keep your
home more secure
, ideas for cold weather curb appeal or our hosting guide to avoid committing
party faux pas
, at the Schlage blog.