Holiday design ideas for every type of door.
By emily.bailey
Monday, December 17, 2018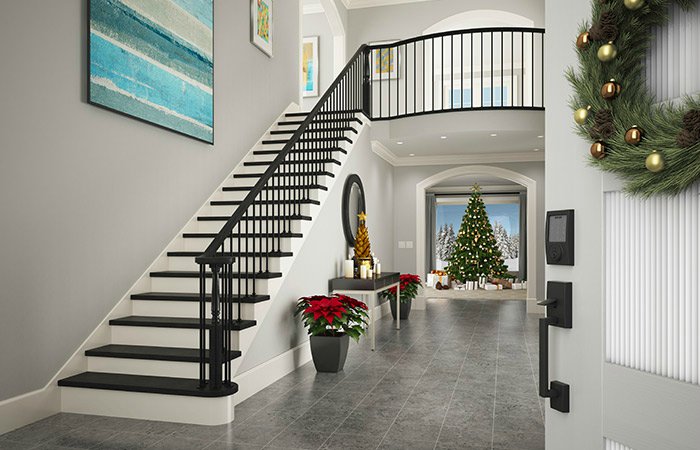 Your front door makes a statement. Along with your front porch, it contributes to the overall curb appeal of your home and makes the ultimate first impression for visitors. Who better than
Schlage
, whose door hardware is trusted by more than 40 million homeowners, to provide you with holiday decorating tips for even the most unconventional doors? Indoors or out, Schlage has you covered for the holidays and all year round.
Front door
Whether you're decorating with a traditional holiday wreath or making a holiday display of planters and wall hangings, there's nothing like fresh, festive holiday greenery to add color, style and fragrance. There's no end to what you can accessorize with. Garland and wreaths can be customized affordably with pine cones, berries and bows, then changed easily with the seasons. Combine that with the option of literally gift wrapping your entire front door and you'll have a colorful entrance that comes alive for the season. Just make sure that your door decorations don't interfere with the operation of your door or the security of your door locks.
French door
The idea here is to let your sense of holiday style out while you let the light shine in. Large wreaths can be cut down the middle and hung on both halves of the door to avoid interfering with its opening and closing and without covering the windows. At the same time, there are many magical ways to decorate around the door, framing it in lavish greens and light and festive finery. Garland and fresh greenery can be decorated much like you'd decorate a Christmas tree with ornaments, lights, tinsel and bows. Small wreaths hung low below windows sprayed with "frost" is another great way to incorporate a few holiday favorites.
Dutch door
With a Dutch Door, you have two distinct "canvases" to work with. From covering the bottom half in wrapping paper and bows and adorning the top half with hanging decorations like wreaths and seasonal greenery, you're really only limited by your imagination. Get creative with your door hanging accessories, but make sure the hanger you choose, whether it's metal, fabric or ribbon, is the proper length for the height of your Dutch door sections. You don't want your decorations constantly getting knocked off. As always, the wall décor you choose to display around the door can add a warm, festive accent to your door decorations.
Glass doors
Whether inside or out, the key to glass doors is to let the light shine through. You can do a simple wrapping with bows, use faux frost on the glass or hang a traditional wreath or two. Proper placement is important because you don't want to obstruct your view through the glass. Here is another instance where what you put over and around the door can make all the difference. Quick and easy wall décor can also be super affordable and there's no end to the inspiration you'll find online and at your favorite store.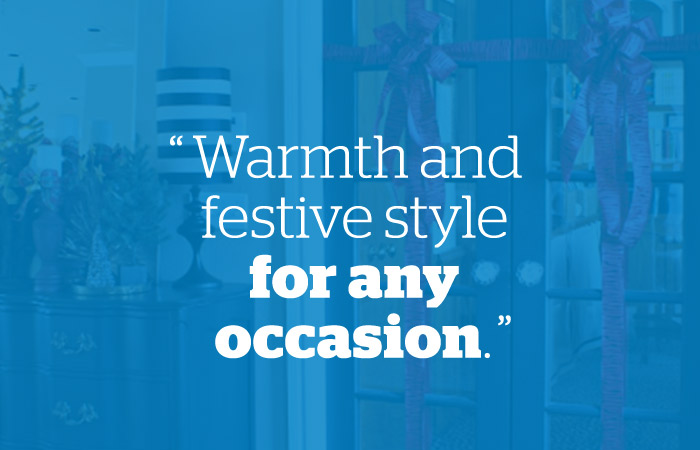 Barn door
Moving to indoor decorations, there's probably no more interesting door design project to tackle for the holidays than one of today's biggest door design trends – the sliding barn door. They're big. They're beautiful. They're something special. And when it comes to making them pop for the holidays, the sky really is the limit. From one huge wreath (or even a large split wreath whose halves can be hung separately) to adorning the doors with large fabric ribbon and wrapping paper (much like you would with a traditional front exterior door), these unique doors provide a great opportunity to really express yourself.
Smile and style
A child's bedroom door offers endless and wonderful possibilities for holiday decorating. Transform the door into Santa Claus. Or a snowman. Create a decorative winterscape. Wrap the door simply with paper, ribbons and bows and hang stockings or wreaths. The goal here is to bring a smile to the little ones and some extra holiday cheer to mom or dad. Whether a standard door or even a pocket door, which you still find in many older homes, there's a lot you can do with a little imagination and just the right amount of holiday spirit.
All of these ideas, from the front door to a pocket door, can be achieved on even the most stringent budget. With proper planning, you can also incorporate some design ideas, wall décor, seasonal wreaths and other stylish yet cost-conscious elements that will add beauty and personality all year round. There are even a host of festive things you can do to
spruce up your door knobs
! It's all part of a joyous holiday season and happy and prosperous New Year with the safety, simplicity and style of
Schlage
.