How to host a sustainable Fourth of July party.
By emily.bailey
Usually when you hear "celebrate responsibly," it's a warning against overindulging. That's 100% true, but don't forget to celebrate in a way that's also environmentally responsible. Not only is it possible to have a sustainable Fourth of July, it's also easier than you think. Try these 15 ideas when you're trying to be green for the red, white and blue.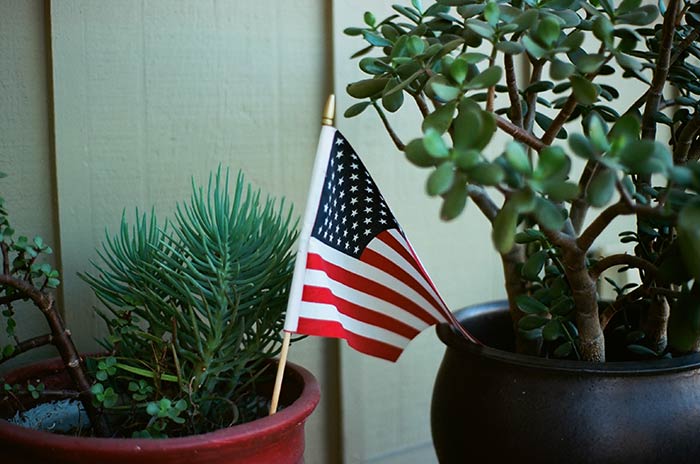 1. Shop local
When buying party fare, start at the farmer's market. Purchasing goods made locally and organically reduces your carbon footprint. Fewer waste is created when goods are produced without the use of chemicals and fertilizers, use less packaging and don't need to be transported long distances to the store. Shop for fruits, vegetables, even meat and condiments like BBQ sauces and salsa.
2. Choose less packaging
Food packaging creates an amazing amount of waste. When possible, swap out heavily packaged and prepared items for those that use less. For example, buy a head of lettuce and separate vegetables instead of a bag of salad, and use your own cloth produce bags to tote it all home. Or shop at stores that let you use your own containers for things like nuts and coffee beans.
3. Eat less meat
While we're talking about food, consider going heavy on the veggies at your Fourth of July party. Plant-based foods put less strain on the environment compared to meat production. You could go totally meatless – there are some good veggie burger options out there – or simply keep the meat you do purchase to a minimum.
4. Be realistic about how much food you need
When planning your menu, consider how much food you'll really need for your family and friends. You don't want to run out, but if you habitually end up with three packs of hot dogs left over after a party, this is the year to pull back and reduce food waste. You might also choose dishes that save and reheat well later in the week.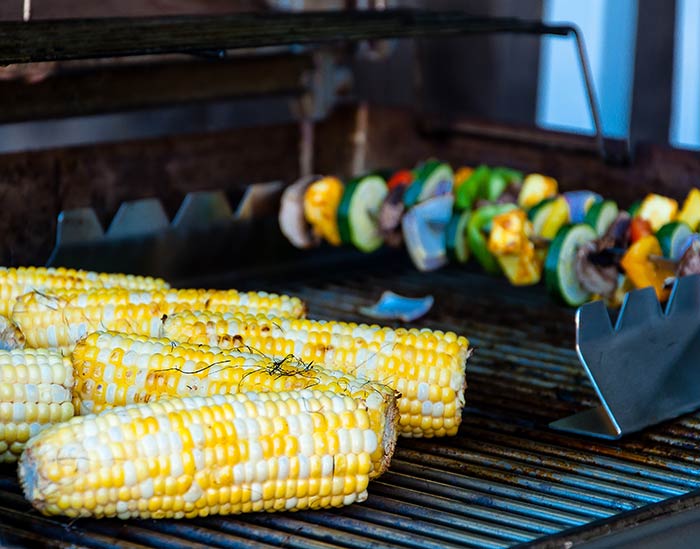 5. Grill wisely
Grilling is second only to fireworks in terms of creating air pollution on the Fourth of July. Choose your grilling fuel wisely. Electric and propane grills are your best options if you want to reduce emissions. But if you have a charcoal grill, look for sustainable briquettes.
When grilling vegetables, seafood and other foods that can drop easily between the grates, use grill mats or baskets instead of disposable alternatives like foil.
6. Choose to reuse
Single-use items like plastic cups and paper plates can make throwing a backyard summer party easier on you, but it won't be easier on Mother Nature. Choose items that can be used more than once, like washable plastic plates or traditional coolers instead of Styrofoam, or that are biodegradable. The area where you can make the biggest difference is in cups, plates, silverware, napkins and food storage. If you're going to a potluck, you might even consider a reusable container your hostess gift. At the end of the party, just tell them to enjoy their new casserole dish rather than trying to track it down before you leave. Again, easy for you and this time, easier on the environment.
7. Cover your food
You understandably want to keep bugs out of your food. Use nets instead of covering dishes with foil or plastic wrap. We also like this cupcake liner hack for preventing bugs getting into your drink. Make it greener by using silicone wrappers you can reuse. It will cost a bit more, but you'll be able to use them for future parties, too. You might even come out ahead financially in the long run in addition to putting less waste in the landfill.
8. Drink smart
July is one of the hottest months, which means you're going to need plenty of drinks. Instead of countless bottles of water and plastic cups, opt for reusable containers. Prepare pitchers with water or other beverages. Mason jars make sturdy, reusable glasses. Plus, they scream summer. Cozies can help guests keep their drink cold. You might even gift guests with an insulated water bottle to use at the party and then take home with them later. That's a party favor that also favors Mother Nature.
9. Reconsider your fireworks show
We know the idea of not having fireworks is a hard pass for many people. If that's you, choose perchlorate-free fireworks that are biodegradable and made from environmentally friendly materials. But if you're neutral on the flashy show, just skip them. You'll be doing your part to improve air quality, not to mention avoiding scaring pets and local wildlife.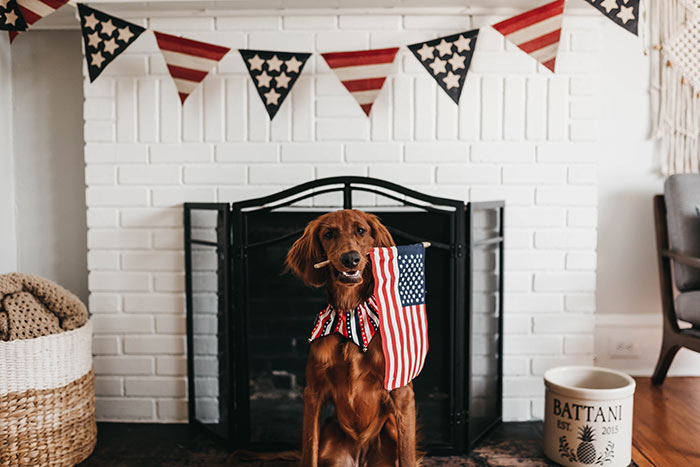 10. Apply environmentally friendly sunscreen
Sunblock is important for protecting your own health, but some contain chemicals that are harmful to the environment. Look for sunblock without oxybenzone and octinoxate, which can harm water life.
11. Repel insects naturally
When mosquitoes start biting, it's tempting to douse yourself in repellant. Many insect repellants can be hazardous to the environment and your own health. Choose all-natural varieties or turn on the fan. Consumer Reports found that an oscillating pedestal fan was more effective than even citronella candles for keeping mosquitoes at bay.
12. Rely on natural lighting, even after dark
Fourth of July parties often go late into the night. Keep the yard lit with solar-powered lights and lanterns instead of plugging into the grid or lighting candles that could potentially release toxic chemicals into the air.
13. Recycle decorations
There's no rule that says Fourth of July décor has to be only for the Fourth of July. Dig out the Christmas lights and use them to make the deck feel more festive for an evening party. Decorations that you used for Memorial Day can be repurposed now. Even that generic blue tablecloth can look seasonal with red dinnerware or a vase of red, white and blue flowers.
This is a great opportunity to do a holiday craft with the kids, too. Let them decorate flower pots, Mason jars or lanterns, tablecloths or anything else you already own. With some red, white and blue paint, maybe some star cutouts and whatever else their creative minds can dream of, you'll have perfect and unique décor in no time.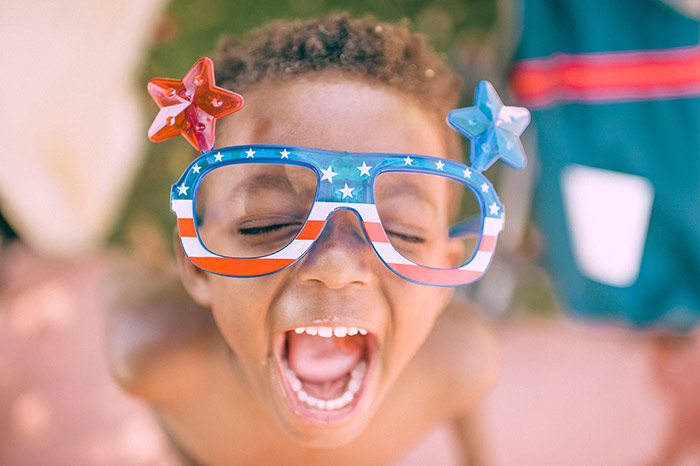 14. Compost food scraps
Hopefully you cut back on the food you bought so you don't have a lot of leftovers, but if you do, compost as much as possible and let it feed your garden in a few weeks. Don't forget about the food scraps from when you cooked, too. Vegetable peelings, shells from your deviled eggs and some coffee filters can all go in your compost bin. Did you make macaroni salad? Use your spent pasta water to give your plants a drink.
15. Pick up your trash
At the end of the festivities, whether you celebrated at home or a park, pick up your trash. You don't want to harm wildlife or have debris getting caught in the waterways.