Toddler activities for when you bring home a new baby.
By emily.bailey
Keep older siblings entertained and stimulated when you bring home a new baby with these toddler activities that will ease everyone into the new routine.
You're no rookie. You've done the "newborn parent" thing before. But what if you're now balancing an infant's needs with those of an older child? Try some of Schlage's favorite activities to entertain a toddler when you bring home a new baby.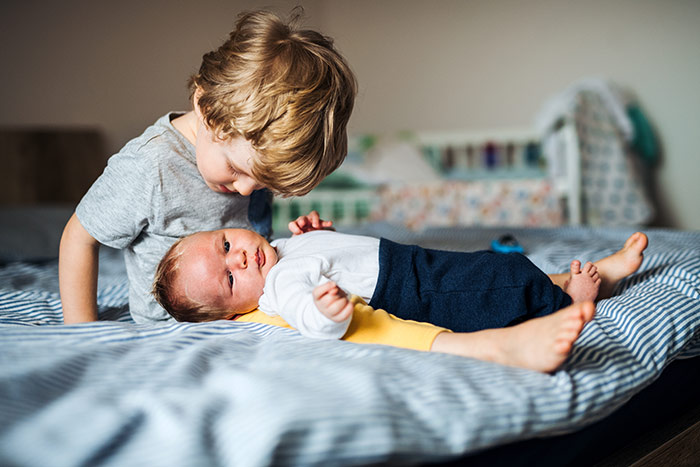 1. Assign them baby-related tasks.
When you give your older child a baby-related job, you're addressing two issues at once. You're keeping them busy, obviously, but you're also helping them to adjust to your newborn. When you ask your kiddo to bring you a fresh diaper, sing songs to the baby or draw pictures to decorate the nursery, they're less likely to feel left out and may bond more closely to the new addition. Make them feel like mommy's little helper and everyone wins.
2. Give them blocks.
If you're older child is a builder, they'll love this. Aside from stacking towers for hours, here are a few ideas to help entertain your toddler.
Draw shapes on paper and have your child fit blocks or tiles in that shape. They'll stay busy and practice building spatial awareness at the same time.


Use larger blocks to create a maze in the living room. They can do this themselves and run through it, or you can build the maze for them to try to find their way around.


Whether it's blocks or Legos, have them practice stacking and counting. Shake things up by giving them specific goals such as "Stack five red blocks" or "Try making a tower with the smallest block on the bottom and the biggest on top."


Play block bowling. They can build towers as big as their imaginations, roll the ball and repeat, probably for longer than you thought possible.


3. Make some instruction cards.
Write simple instructions on notecards to get your kiddo up and moving. The directions can be tailored to your child's age. Think: "hop on one leg," "walk like a gorilla" or "find an object in the house that starts with C." You can also put the directions on blocks and turn them into instruction dice.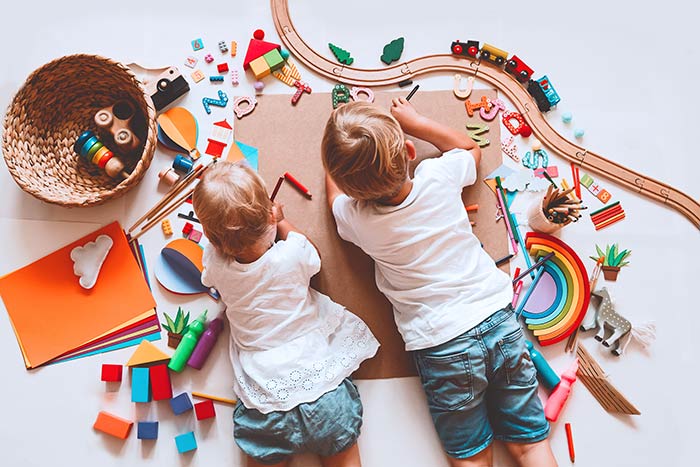 4. Create and activity tub.
Fill a basket, box or tub with your child's favorite activities. If you make it easy for them to carry, it becomes a self-service entertainment caddy to-go. It could be filled with coloring or activity books, tracing paper or other crafting materials, magnetic letters to play with on the fridge, dolls, whatever keeps their attention.

If you're breastfeeding, many experts recommend making this a "nursing basket." In other words, add some excitement by only letting your toddler to play with these items when you're breastfeeding. In fact, many of the ideas on this list are perfect for more independent play when you're nursing.
5. Practice sensory and fine-motor skills.
Your older child might be at an age when they're working on fine-motor skills. Create simple games to help them practice and keep them busy while you're with Baby. Give them a handful of rubber bands and a canned good, then ask them to put the bands on the can and take them off again. It doesn't sound like much, but especially if the bands are multicolored, it's a cheap and easy activity to entertain your toddler.

Pipe cleaners are also helpful. Your kiddo can build things – pipe cleaner spiders are always a classic – or weave them through a colander or wiffle ball.

Making a sensory bin for your little one is super simple. Get a container or tub of some kind. Something with a lid can contain the mess between playtimes. Add the filler of your choice – rice or pasta, bird seed, sand, scraps of fabric, plastic coins. The goal is to pick something that's going to help them understand the five senses and develop language and play skills. For an outdoor experience, check out our blog on planting a sensory garden for kids.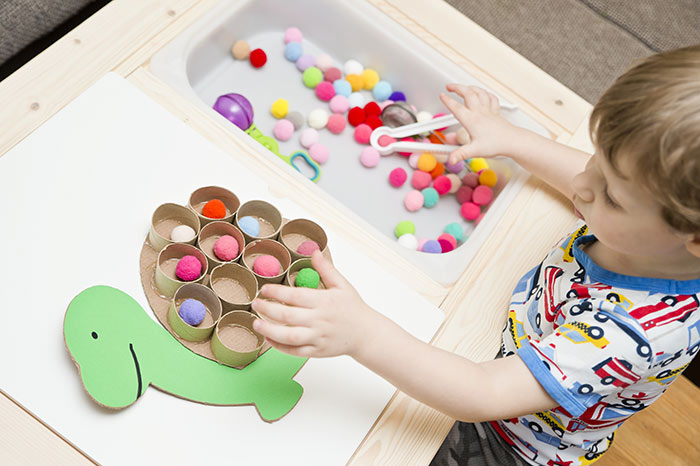 6. Play interactive games.
If you're looking for ways to play with your kiddo, even while breastfeeding, many recommend interactive games where you can stay on the couch. Sing your toddler a song that requires them to act it out. "Head, Shoulders, Knees and Toes" or "Itsy Bitsy Spider," for example. You can also play a game of I SPY or Simon Says.
7. Play a scavenger hunt.
Getting outside can be huge for maintaining your own sanity. Get out of the house for a bit and let the kiddos burn off a bit of energy (also known as fending off the crabbies). A scavenger hunt works in either your backyard or the local park. Create a list of items for them to find – an acorn, a bird with yellow feathers, a leaf as big as their hand – and let them run around on the hunt. You might plan a special treat to reward them for checking all the items off the list at the end.
8. Make a match.
Whether it's a store-bought set of flashcards or something you craft yourself, keep Big Brother/Sister busy with some memory games. You can get more creative my having them sort and match other items like pasta – spiral, shells, elbows – fuzzy pom poms of different colors and even socks. Because why not trick them into helping you with the laundry?
9. Read together.
Reading together, no matter how old they are, is a great way for everyone to bond, stir the imagination and learn new things. If they're too young to read themselves and your hands are full while feeding Baby, ask them to hold the book and turn the pages for you. If they're old enough, ask them to read their favorite story to you and their younger sibling.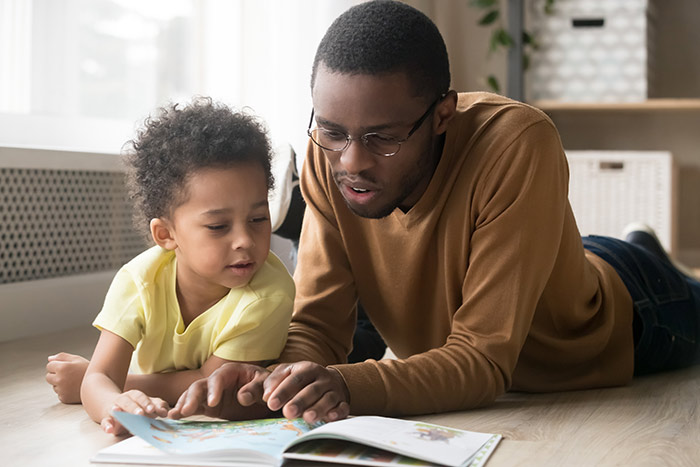 10. Tell stories.
Tell your older kiddo about when they were a baby or make up a tale with your kids as the main characters. Get them more involved by making it a choose-your-own adventure. "And then they came across a …" and let them fill in the blanks.
11. Have group snuggle time.
Many experts recommend having snuggles with everyone, particularly while you're breastfeeding. Hug your older child on your free side during feeding time so they feel loved and included, and have a relaxed little chat with them. This could be a good time to find out how they're adjusting.