Green renovation ideas for an eco-friendly home.
By emily.bailey
Use this guide to simplify the process if sustainability is on your must-have list for a remodel or new build.
There's so much to consider during a renovation. What do you want to do and can you afford it? Should you do it yourself or hire a professional? How do find a contractor you can trust? Which shade of blue is better for your walls? The details can get overwhelming, especially if you also want your renovation to be environmentally friendly. Use this guide to simplify the process if sustainability is on your must-have list for a remodel or new build.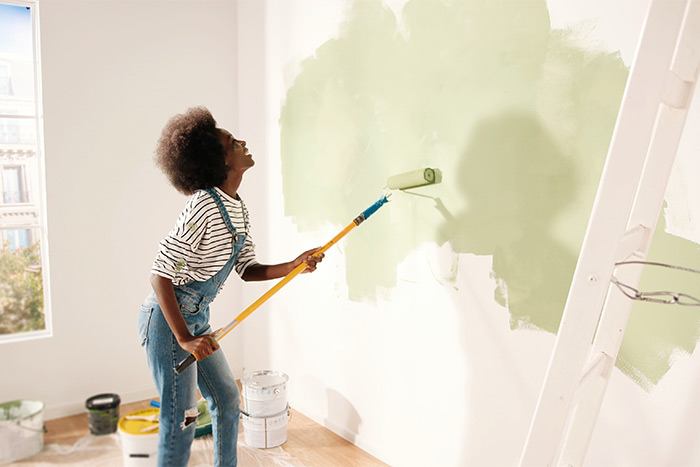 Pick sustainable materials
Materials is one of the biggest expenses for both your budget and the environment during a remodel. There are a few things to factor in when choosing eco-friendly building materials and supplies. First, the material itself should come from a sustainable source. Cork and bamboo, for example, are some of the most sustainable materials for flooring and countertops. The tree isn't even damaged when cork is harvested. When choosing other kinds of lumber, look for those that are certified by the Forest Stewardship Council.
Recycled and reclaimed materials are even better. Recycled glass and ceramic tile can make for some gorgeous and unique backsplashes for your kitchen and bath. Reclaimed wood has been super-popular for accent walls, Farmhouse-style kitchen tables and fireplace mantels for several years now.
Weigh your options when it comes to synthetic versus natural materials. You might think natural is always the way to go, and that's usually the case. However, more-durable manmade materials have their advantages if they keep you from having to replace something frequently. We would put composite decking – a mixture of wood paste and recycled plastic – in this category.
Choose clean materials
Just because something is "sustainable" doesn't automatically mean it's good for the environment or your health. Making this even tougher is that there's no single standard or organization that certifies materials as "natural" or "organic." That being said, there are some chemicals we know we should avoid.
When painting, look for ones labeled as being free of or low in VOCs. Volatile organic compounds are hazardous chemicals that can release fumes and leak into the environment as the paint gets damaged or deteriorates. VOC-free paint is both kinder to Mother Nature and less likely to affect your own health. No matter what kind of paint you choose, dispose of leftovers appropriately. Most cities have facilities you can drop off your half-used cans.
Pay attention to furniture, fabrics and other household products with formaldehyde. According to the Centers for Disease Control, homes with new products and new construction have the higher levels of formaldehyde thanks to manufactured wood in goods like flooring and furniture. You also find it in permanent press fabrics and some glues, paints and caulks.
Look for furniture, cabinetry and flooring made without urea-formaldehyde (UF) glues and insulation without UF foam. Pressed-wood products – think particle board – should meet ultra-low emitting formaldehyde (ULEF) or no added formaldehyde (NAF) requirements.
Reuse what already exists
This is your excuse to hit up the yard sales, antique malls and vintage shops. It's about keeping perfectly good items out of the landfill. You can find perfectly good, not to mention stylish and unique, furniture and décor secondhand.
Don't forget to reuse things you already own, too. If you're replacing the cabinets in your kitchen, can you use them elsewhere? Go easy with the sledgehammer and relocate them as a new bathroom vanity or as part of your workbench in the garage. A chair could be given new life with updated upholstery. Door hardware could be transformed into new, unique décor. Take a creative eye to your belongings before you automatically put them in the trash.
Aim for energy efficiency
There are so many reasons to aim for energy efficiency – less strain on the power grid, smarter use of water and non-renewable resources, and financial savings to name a few. Let's take this room by room.
The kitchen is a great place to look for energy-efficient solutions. All those appliances pull a lot of juice off the grid. Choose Energy Star-rated refrigerators, stoves and dishwashers when you can. And think about where you put them. If it's possible to place your refrigerator where it won't be in direct sunlight, it will use less energy to keep everything cold.
In the bathroom, look for ways to conserve water. Low-flow toilets use less water without affecting how well it flushes. Shower and sink faucets can also be low-flow. Consider a tankless water heater as well. You'll get hot water for your showers on-demand without the heater working constantly.
Quality doors and windows are hugely important when it comes to energy efficiency, particularly because heating and cooling usually accounts for the largest portion of our electric bills. Install triple-pane glass for the best window insulation, choose window frames made from wood or fiberglass that transfer less heat or cold, or simply
fix existing drafty doors and windows
.
Continue to control the temperature in your home with insulation, not just in the walls, but in the attic, basement and crawl spaces as well. Be sure to choose environmentally friendly insulation as some come packed with harmful chemicals.
Finally, look for smart home technology that can help monitor and control your energy usage. Smart thermostats come to mind immediately here. Smart bulbs on a timer or included in a routine can help reduce the amount of time an empty room is illuminated. Smart irrigation systems allow you to only water your lawn when it needs it. Some of these devices might not have a huge impact individually, but working together, over time, you may see improvements.
A final note on energy efficiency. The price tag of some energy efficient solutions can be large. Keep in mind that while you may be spending more up front, you'll still be saving money in the long run via reduced energy bills. The savings will come.
Pay attention to the details
Small details can add up. Do your due diligence from the start to make sure your project has the kind of impact you expect.
Our first tip applies more to building a new home, but you also might find it helpful if you're considering an addition. Be realistic about how much space you really need. Larger homes will have a larger impact, and not always a good one, on the environment. Smaller spaces require fewer materials, which means less waste during the build, and less stress on the grid when it comes to heating and cooling. It's one of the reasons that many people are drawn to tiny houses.
You'll also want to find a contractor or builder with a history of eco-friendly practices. Don't waste your time trying to convince a carpenter why they should use a certain kind of wood to meet your standards. Start your project with one that cares about the same things you do and is committed to sourcing their materials and disposing of waste responsibly.
Choose items that can be repaired piecemeal. Take flooring, for example. If just part of the carpet gets damaged, do you really want to replace the entire thing? When you opt for carpet tiles, it's simple to replace only what's damaged instead of ripping the entire thing up and throwing away perfectly good material.
If landscaping is on your to-do list, only plant native species for your region. They put less strain on the environment and even help revitalize a biome that has been damaged by invasive species and human impact. This could include flowering plants that attract beneficial insects or certain varieties of grass. When sodding your lawn, choose a variety that doesn't require lots of watering if you live in an arid climate, for example. If your area is prone to drought, you might forgo grass altogether.
Like we said, there's a lot to consider, but the effort is worth it when you see the savings both for the environment and your wallet. If you're ready to take it a step farther, check out what you need for a passive house and find more green home improvement suggestions at the Schlage blog.