Smart devices to help you stay safe on vacation.
By emily.bailey
Try these smart devices and gadgets to help protect your home while you're away or tuck them in your bag to stay safer when you're on the move.
Whether hitting the road for the long Memorial Day weekend or traveling farther afield for a few weeks, you want to make sure that your belongings are safe. Try these smart devices and gadgets to help protect your home while you're away or tuck them in your bag to stay safer when you're on the move.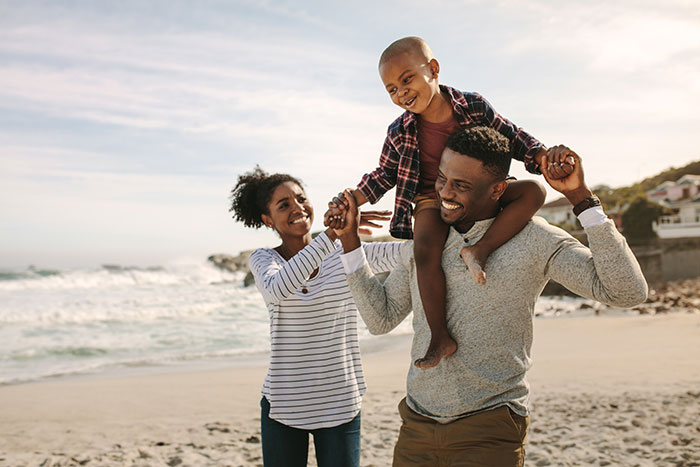 Get the lived-in look
One of the biggest deterrents to thieves is human activity. If it looks like you're home, most intruders will go elsewhere. These smart devices can give your home that lived-in look, even when you're chilling on the beach.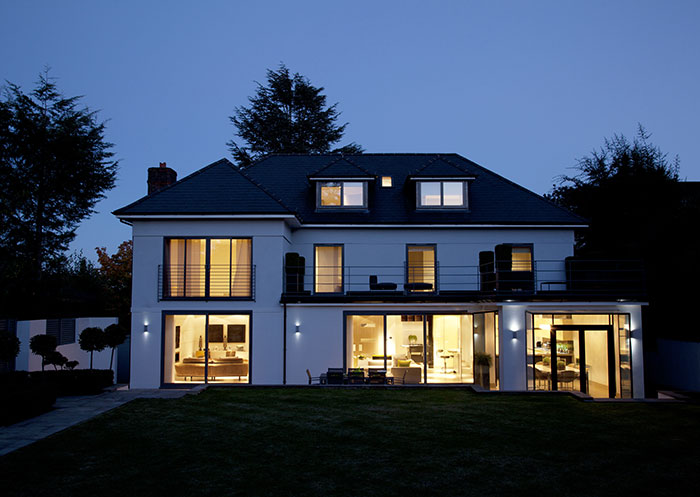 Lights
A house that's perpetually dark – or with too many lights on in the middle of the day – can signal that the house is empty. Smart bulbs or lamps plugged in to a smart outlet can help. Some allow you to set a timer to turn lights on and off at certain times of the day, while others will do so randomly. For external lighting, you might add motion sensors. Someone lurking will often turn the other direction in a hurry when startled by an unexpected light.
Sounds
Noise coming from the house can have the same effect as lights. You could have Alexa play music periodically to make it sound as if you're having a great party. There are also playlists available with everyday sounds – pots and pans banging while cooking, dogs barking, TV show dialogue – you can use.
Sprinklers
Dead grass could be a dead giveaway that you've left town for a few weeks. Make it look like you're still around, tending your garden, with a smart irrigation system. Many of them you can set and forget, such as by putting them on a timer. Others, when connected to your home network or smart hub, can adjust based on local weather reports, only watering when the lawn needs it and not right before it rains.
Lawnmower
Overgrown grass can have the same ill effects as a brown lawn. A smart mower like WORX Landroid can help. If you're worried about keeping the mower locked up while you're out of town, though, you might just pay the neighbor kid to do your landscaping for you.
Enjoy peace of mind
Keep an eye on things even while you're away. It'll be much easier to relax and unwind when you trust that everything is as it should be back home.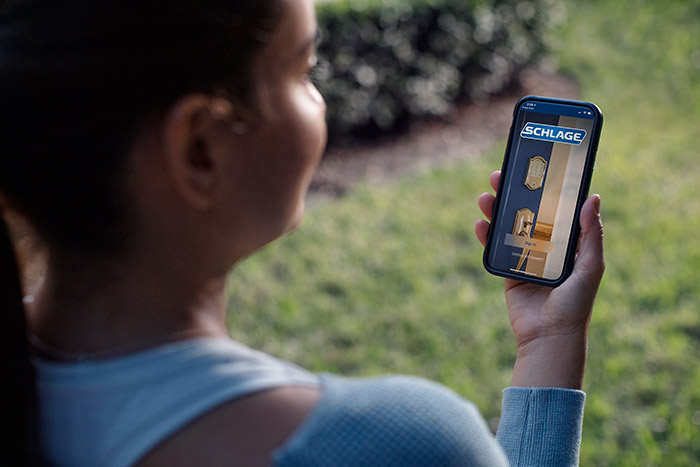 Smart lock
You're at the airport and you've checked that you have your passport for the 100th time, your phone is fully charged, you have a full stash of beach reads … but did you lock the door when you left home? With a connected smart lock like Schlage Encode™ Smart WiFi Deadbolt, you can check from anywhere using a compatible app. And if you did forget, no worries. Simply use the same app to lock the door and go catch your flight.
Maybe you've left a pet at home or are worried about your beloved new houseplants surviving while you're away. Create a unique access code for a pet sitter or plant waterer. There's no need to exchange a key and you can see when they've used their code. You'll have better peace of mind knowing everyone is taken care of.
Video doorbell
One of the many great things about the Schlage Encode Smart WiFi Deadbolt is that it works with the Ring Video Doorbell. All from one app, you can see who's on your porch, speak to them and unlock the door if you need. Again, it's a great way to provide easy and secure access to a house sitter or see if someone is poking their nose around things when they shouldn't be.
Furbo
We love the idea of a pet camera, especially for those short trips. Our cats are pretty self-sufficient, so they're fine while we leave for the weekend. But we still like to see and talk to them. Regardless of how long you're away, treat yourself and your pet with the comfort of this technology.
Robot vacuum
This is admittedly less about home safety and more about mental sanity. Come home to a clean house, especially if those fur babies are really, really furry, with a robot vacuum.
Take it with you
You want to be smart on the road, too. These portable smart devices can help you protect your travel gear and enjoy your trip more.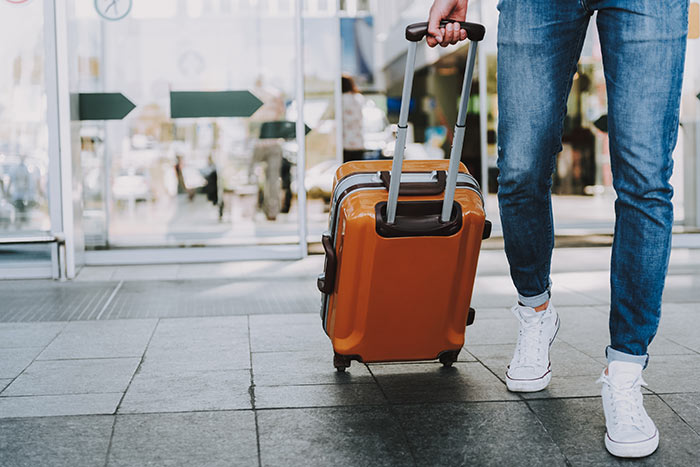 Luggage tracker
Slip a luggage tracker like one from Trackdot or a Tile key tracker in your suitcase, daypack, purse or even wet bag. It will make it easier to locate your gear, whether it's somewhere in the airport, still in the back of your Uber driver's car or overboard on that rafting trip.
Baby monitor
Maybe your vacation is less rafting and more baby-friendly. Tuck a portable baby monitor that works with a smartphone app in your bag, so you can keep an eye on your little one at the Airbnb. Everyone will rest easier. And remember these tips for booking a safe vacation rental.
Clothes
Yes, your clothing can be smart. Cooler and more stylish than a bucket hat, the Neviano swimsuit has a built-in sensor that monitors UV levels and tells you when to seek some shade. There's also the Levi's Commuter x Jacquard jacket that connects to your smartphone via Bluetooth, as well as other shirts and jackets that can help keep you extra warm using battery packs or infrared light.
UV sanitizer
A portable sanitizer that uses UV light to help disinfect small items can help you stay healthy while traveling. This one from Homedics is small enough to fit in your purse or pocket, great for cleaning your phone, keys and other small items on the road.
Your home should feel like a haven, but we know sometimes you just have to get away for a bit. When you do, follow these steps to keep your home safe before leaving on vacation.