What to consider when booking a vacation rental during COVID.
By emily.bailey
Your next romantic getaway or family vacation might be just around the corner, but make sure it's everything you've dreamed of by planning ahead with these tips for renting a vacation home during COVID.
After 2020, the travel bug is biting many of us extra hard this summer. More than ever, it's a good idea to weigh all your options before hitting the road to stay healthy during vacation. One of those options is booking a vacation rental through Airbnb, VRBO or other similar company.
Even as early as last summer, more and more people were turning to rental houses for safer vacations. According to AirDNA, vacation rentals booked between May 17 and June 10, 2020, were up 20 percent compared to that same time the previous year. There's not much to suggest that that trend will change dramatically in 2021. Your next romantic getaway or family vacation might be just around the corner, but make sure it's everything you've dreamed of by planning ahead with these tips for renting a vacation home during COVID.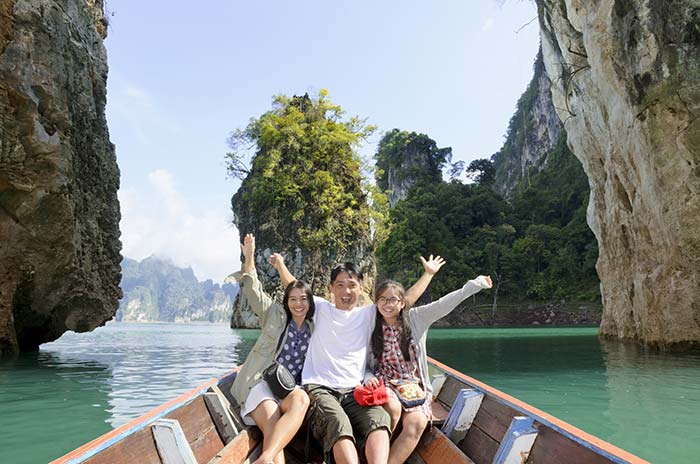 What to plan for
No one likes unpleasant surprises, especially when they're trying to get some R&R. Step one is choosing your location wisely. While COVID cases have been on the decline, it's still a good idea to avoid hotspots or areas that have safety regulations that conflict with what your personal comfort levels. If you like the idea of seclusion to avoid close contact with strangers, you aren't alone. AirDNA also found that the most popular destinations in 2020 were beaches, mountain towns, lakeside getaways and remote areas within driving distance of major cities.
Wherever you end up, research the local rules and regulations before you book. Do they still require masks? Are public places still operating at limited capacity? Will you be required to provide proof of a negative COVID test or vaccine records at any point?
Similarly, research what's available nearby. You might still want to get out of the (rental) house at times, so make sure the attractions you're interested in are open for business. Museums, amusement parks, historical sites, even restaurants might have shorter hours, require advance tickets to control capacity or have gone out of business altogether. Be prepared.
Finally, check out all the amenities of the rental house itself. You'll need to decide how you want to spend your vacation – playing with the kids and being active, relaxing and catching up on sleep, writing that first novel – and then make sure you'll have what you need to achieve it. Consider outdoor space. Do you need a pool, a fire pit, sunny spots and lounge chairs for working on your tan, a yard for games? Also consider the indoors, particularly areas like a fully stocked kitchen, home theater and enough bedrooms for everyone to have their own space.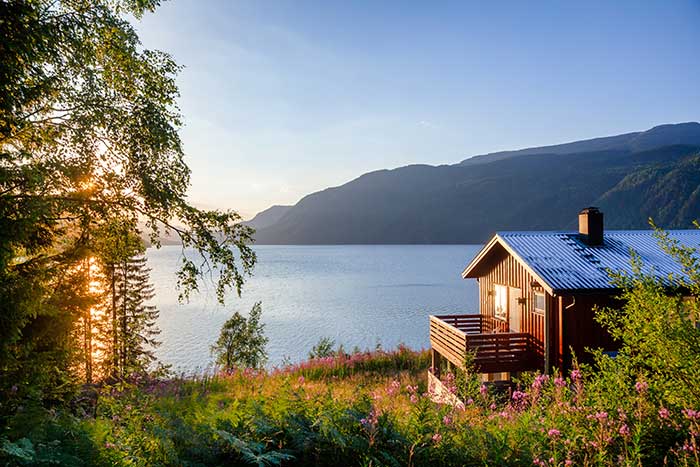 What to ask
Before you click that "confirm booking" button, contact the renting agent or property manager with important security and safety questions. It's become increasingly important to know what the cleaning procedures are. For example, what is their process for disinfecting the house between guests?
Ask what amenities are included. This goes beyond the pool and home theater we just mentioned. Some property managers might have removed items like extra blankets, towels and kitchen supplies in the name of cleanliness. When you know what's already there, you'll know what you need to bring from home yourself … or if you need to move on to a different rental.
Read the fine print of the cancelation policy and ask for clarification on anything that doesn't make sense. If we've learned anything in the last year, it's that things can change suddenly despite our best efforts. Protect yourself in the event there's another shutdown or if you have to cancel because of your own health.
Another good set of questions to ask before booking a vacation rental, regardless of whether we're in a pandemic, pertains to overall security. This includes everything from if there are working fire extinguishers to the presence of smart locks and security cameras to whether it's safe to walk around the neighborhood after dark. Those smart locks also have the added benefit these days of not needing to exchange keys that may or may not be super clean.
Our last piece of advice here is to read the reviews from others who have stayed at the property. We've been dealing with COVID long enough now that people will have commented on if they thought the rental was appropriately sanitized and prepared for visitors during a pandemic.
If the property manager in unable to answer your questions or only provides vague responses, it might be best to find another rental you can trust.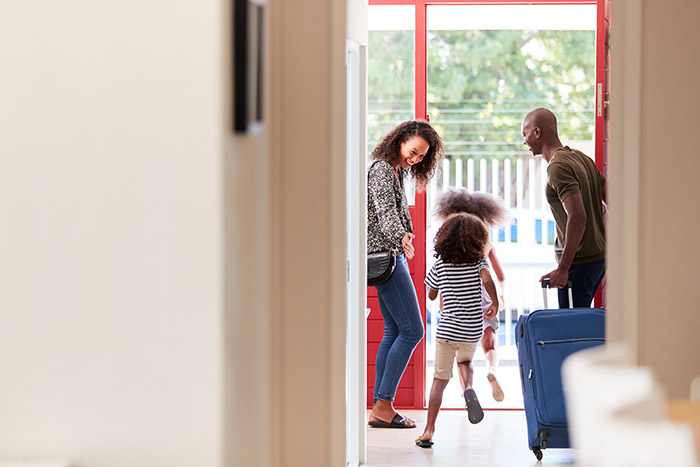 What to bring
One of the biggest upsides of booking a vacation rental is that you can maintain a self-contained bubble somewhere other than your own home. That being said, you might want to take extra precautions to keep that bubble even healthier. For starters, many travel experts recommend bringing your own cleaning supplies. You probably aren't thrilled to clean on vacation, but sanitizing high-touch surfaces such as countertops, door hardware, faucets, remote controls and the refrigerator shouldn't take you too long and it will be worth it if it helps keep everyone healthy.
On a similar note, you might pack your own hand soap and towels. One Schlage employee reported after her return from a trip that the rental only provided bar soap. That might not bother you, but if you don't want everyone to touch the same soap (and germs) over and over, toss some liquid soap in your bag before you leave home.
Even when we aren't fighting a pandemic, many people like to bring their own groceries to an Airbnb. Especially if you're in a secluded area, this can help you from having to trek out to restaurants. Save money and limit your exposure to crowds by planning to make at least some of your own meals at the rental. Depending on what's provided by the rental property manager, you might also need to bring some kitchen utensils or equipment.
Make sure you bring games, books and other forms of entertainment. If you're hunkering down on your vacation, this is a great way to fight off any boredom before it sets in. Pack your favorite board games, puzzles, movies, that bestseller that's been sitting on your bookshelf for too long or a portable smart speaker for impromptu family dance parties.
Vacation rentals are just one way to scratch your travel itch this summer. We're all looking for safe things to do during COVID, and when you try safer vacation alternatives like road trips and camping, you might just end up with your most memorable getaway yet.