6 questions to ask before building your dream porch.
By emily.bailey
Before building the perfect front porch, answer these six questions and make sure your outdoor space is everything you've dreamed of.
You want to build a new porch, but where do you start? They look so simple. It's not as if they need plumbing or have load-bearing walls, after all. You might be surprised by the number of factors you need to consider, though, to make sure it looks good, is safe and meets regulations, all without going over budget. Before building the perfect front porch, answer these six questions and make sure your outdoor space is everything you've dreamed of.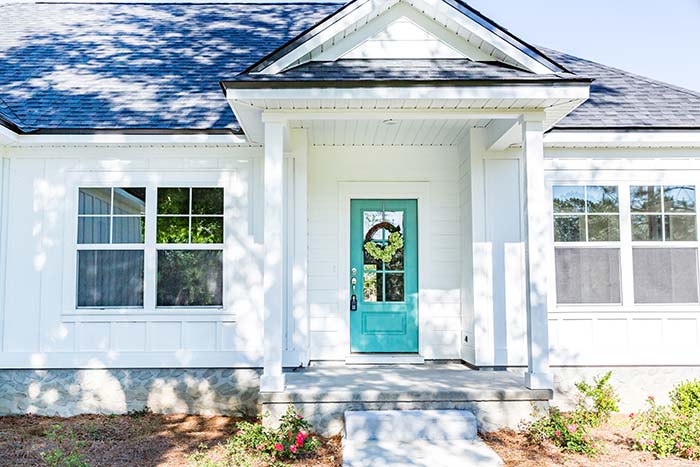 How will you use your porch?
Porches have played many roles in family and community life throughout history. In warm climates, before air conditioning, it was a way to stay cool. Hanging out on the porch also allowed you to connect with friends and family, catch up on neighborhood gossip and show off your style and affluence.
For some homeowners, these reasons still hold true. Why you want to build a porch and how you'll use it – for curb appeal, as a place to lounge or entertain, to provide protection from the elements or to improve your home's resale value – will influence your answers to some of the questions below.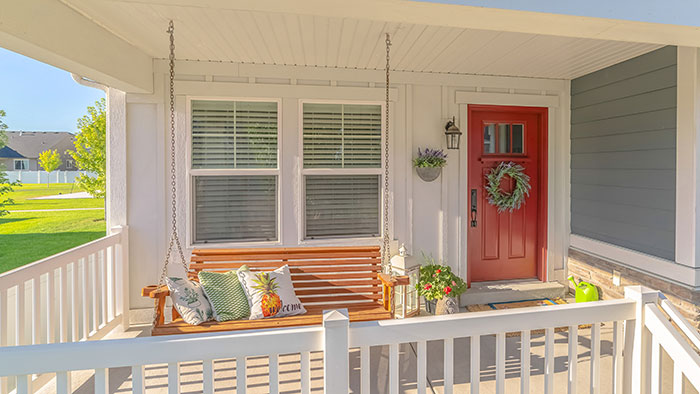 Where will you put your porch?
You might be thinking, "Well, Schlage. It's going on the front of the house. It's a porch." Porches don't always have to be out front, though. If you aren't stuck with that location because of property lines or access from the house, consider a porch on the side or back of your home.
If you're searching for better curb appeal, yes, install a porch in the front. However, if you want a restful spot to lounge, a porch on the side might be better. Perhaps there's more shade there. Or you might live on a busy street where there's not much in the way of a view from the front. Alternatively, there could be a wooded area or more privacy behind the house. You'll be able to enjoy those features more with a porch in the back or get you a better return on your investment when you sell. The point is, don't get trapped in the status quo without first considering all your options.
How big should you make your porch?
This will be determined in large part by your property lines and budget. Additional considerations include underground power and sewer lines. If you have to sink supports underground, you'll need to know where they are before you dig and that could impact where and how far you extend from the house. Your HOA or municipality may also have rules about how close to a property line you can build or how large an addition can be before you need additional permits. Get the facts before you settle on a plan and start work.
One common pitfall is that, in an effort to save money, we skimp in areas we might regret later. A smaller porch is easier on your budget, but if you make it too small to accommodate the family gatherings you're imagining, the financial savings might not be worth it. Remember your answer to question #1 – how will you use your porch – throughout your design process.
When considering the dimensions of your porch, as well as the features below, factor in maintenance and upkeep. You want your porch to last for years to come. If it's so big that it becomes a hassle to maintain appropriately, resulting in costly repairs or turning into an eyesore, consider installing something smaller.
What porch features do you need and want?
A porch, by definition, has a roof or other overhead covering. It's what makes it different from a deck or stoop. Some features are a matter of taste – whether you screen it in or if you love wrap-around porches. Others are about privacy, security and convenience.
Architectural features
Columns, molding and other similar details help set the tone for what guests will see in the rest of your house. Paying attention to those details will set your style apart from your neighbors' and be a major curb appeal boost. Not convinced these make that big of an impact? Consider the iconic tapered columns found on a Craftsman porch or grand pillars of Federalist style. We bet you can immediately picture those.
Handrails and railings
Matching the style of railings is important for your overall curb appeal. Wrought iron immediately makes you think Old World charm (or dated 70s), stainless steel cables are more industrial modern and classic wooden millwork is ideal for traditional homes. Along with style, handrails and railings can also help make keep you and your guests safe. If you have small kids, pay special attention to the distance between spindles. You'll want them narrow enough that they can't slip through or get their heads stuck.
Gates
We don't always think of gating a porch, especially when it's on the front of your house. But if you have porch-loving puppies or small children you want to keep close and contained, this can be a nice addition.
Privacy barriers
If you see porch time as social time, you can probably scratch extra privacy off your list. But if you feel like your neighbors are right on top of you, you might want to add walls, slats, latticework or even simple curtains on one or more sides of your porch. These are also great ways to provide extra shade or block steady winds.
Screens
Mosquitoes love me. If they love you, too, consider a screened-in porch. It will increase your budget, but it could also increase your comfort and we doubt you'll regret that.
Type of flooring
You might be surprised by the number of options for porch materials, at which point it can suddenly feel overwhelming. Different varieties of natural wood, composite wood, reclaimed wood, tile, concrete – they all have their pros and cons. When deciding, factor in not just the upfront cost of installing them, but also the expense of maintaining them, their environmental impact and how well they'll stay looking nice in your region's climate.
Electricity
Power outlets are increasingly popular for outdoor spaces. Even if you don't plan to install a backyard party pad, consider adding easy access to electricity for holiday or everyday twinkle lights, a smart speaker or just a place to charge your phone.
Accommodations
Do you have friends and family who require ramps or other physical accommodations? These may be important if you plan to have elderly relatives move in with you or if you plan to age in place.
Do you need permits or special approvals?
Especially if you're building a new porch and not just replacing an existing one, check on required permits and approvals. Your city and HOA might have rules about whether you can build one in the first place. And even if you can, they might want a say in how large it can be, the kind of materials you can use or what colors of paint and stain are permissible.
If you live in an older or historic home, double- and triple-check about your area's requirements for staying true to the character of the architecture. You'll likely want your porch to match the style of the rest of the house, but a historic preservation society, for example, might take it a bit farther, dictating the location, design and building materials required.
Should I hire a pro to install a porch?
Upgrading an existing porch could be a DIY project for the handy, especially if you have experience in carpentry. It is, however, easy to overlook details or underestimate the cost and effort that go into constructing a porch. A contractor with experience building porches can help with the design, permits and construction. A porch is not an area to skimp on quality in the name of cost, so when in doubt, trust the experts.
Check out this list of remodeling projects you can do without a pro, as well as questions to ask when you do need to hire someone.
You'll notice that we didn't really say anything about decorating your front porch. That comes later. But if you're ready to start thinking about boosting your curb appeal with landscaping, lighting and other front door décor, visit the Schlage blog or find us on Pinterest.