5 ways to use outdoor storage and control yard clutter.
By emily.bailey
To keep your yard looking clean and beautiful without sacrificing the convenience of having what you need nearby, try these DIY outdoor storage ideas.
Gardening, grilling, even just relaxing on the deck. It all requires things. Shovels and seed packets, propane tanks and scrapers, cushions and citronella candles. But where do you keep all your supplies when you don't need them? To keep your yard looking clean and beautiful without sacrificing the convenience of having what you need nearby, try these DIY outdoor storage ideas.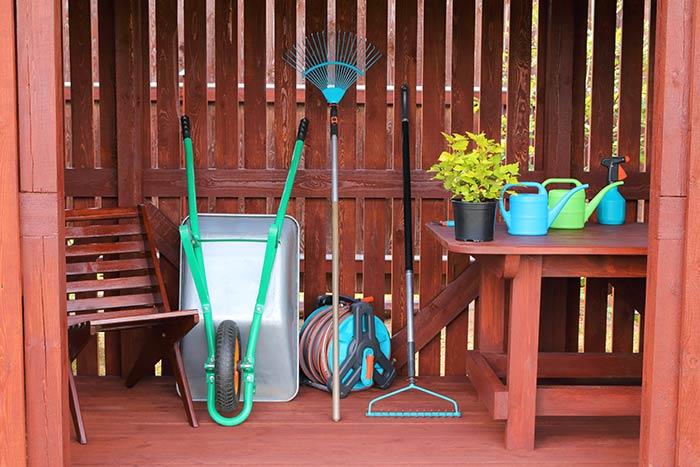 Tool or potting shed
The most obvious way to store gardening supplies and outdoor toys is in a shed. You have loads of options, though, from prefabricated structures to DIY huts. We especially like the looks of this outdoor storage locker from Family Handyman, which shows that you can go low-profile and still have everything you need.
Once you're able to get in your shed, start organizing. After all, having a shed isn't much help if you can't find anything in it. Use PVC pipe to hold rakes, shovels and other similar tools. Hang a pegboard to store smaller tools. Bins on shelving, an accordion rack and many of the other organization ideas you'd use in your home will often also work out in your shed.
One of the upsides of a shed is that they can be easier to secure than some other less permanent storage solutions. Especially if you keep dangerous or toxic supplies like power saws or fertilizers, remember to choose the right lock to keep your belongings – and the people around you – safe.
2-in-1 furniture
Multifunctional furniture can be ideal for outdoor organization, particularly if you have a small yard or want to hide your storage in plain sight. Try a DIY project like Ana White's modern cedar outdoor storage bench. You can then use it to stash patio furniture cushions, s'mores sticks or whatever else you need to keep on hand.
Gardening storage
A potting bench can be a convenient place to keep your gardening tools and supplies, at least in the short-term. A simple shelf below the work station or some drawers and cabinets can keep everything nearby and handy, while also giving you a comfortable place to stand while you test your green thumb.
If kneeling while you garden isn't your idea of a good time, try out this DIY potting bench from Flower Patch Farmhouse, which uses fence boards, or this one from Instructables that has some sneaky storage.
Kids' containers
If you have kids, you probably ask yourself frequently, "Where did all this stuff come from?" Choose all-weather materials to make them a toy box, just like you would indoors, to corral all the pool floaties, lawn darts and sporting equipment.
For those bikes and pint-sized cars, Mom Endeavors made a mini garage. Easy to customize to match the color of your home or hide with landscaping, this is a great way to store larger toys so that you don't have to look at them but the kiddos can still get to them.
Kitchen cabinets and bars
One of the great benefits of having your own yard is being able to grill or host backyard parties. If you build an outdoor kitchen, be sure to include storage such as traditional kitchen cabinetry. Whether it's a full kitchen or just a grill, consider a rolling outdoor island where you can keep your spatula and tongs, grate cleaner and safety gear like a fire extinguisher.
How to choose the right outdoor storage
No matter what kind of outdoor storage and organization you choose, look for solutions that fit these criteria.
Durability
It's going to be exposed to the elements and extreme weather. Choose materials that won't deteriorate and will protect your belongings inside. Some storage, like a shed, to have a solid foundation and be bolted to the ground, if necessary, to keep it from tipping in high winds, for example. If your storage is more mobile – things like bar carts or a kid's toy box – consider adding wheels to make it easier to bring indoors during the offseason.
Style
If you don't mind seeing it every day, your outdoor storage should be something nice to look at. Other times, you may want it to blend into the background.
Convenience
The whole reason you're adding a shed or storage bench is to make it easier to enjoy your outdoor space. Choose storage that's not only going to work for you today but also has the flexibility or room to grow with your family and lifestyle.
Security
Some of those things you're storing are big-ticket items – a grill, bikes, expensive power tools. Make sure you secure them, not only from theft, but also to keep kids or other curiosity-seekers out of harm's way.
Keep your household clutter under control with more storage and organization tips at the Schlage blog.