How to safely host holiday guests during the pandemic.
By emily.bailey
Monday, November 16, 2020
With the uncertainty of 2020, many of us are still trying to decide how to celebrate the holidays. If we're going to host guests, how do we do that safely?
With the uncertainty of 2020, many of us are still trying to decide how to celebrate the holidays. If we're going to host guests, how do we do that safely? The best way to lower your risk of getting sick is to avoid large gatherings, wash your hands frequently and wear personal protective equipment. While this doesn't sound particularly festive, you can incorporate that advice into your strategy for hosting holiday guests during the pandemic. Here's how.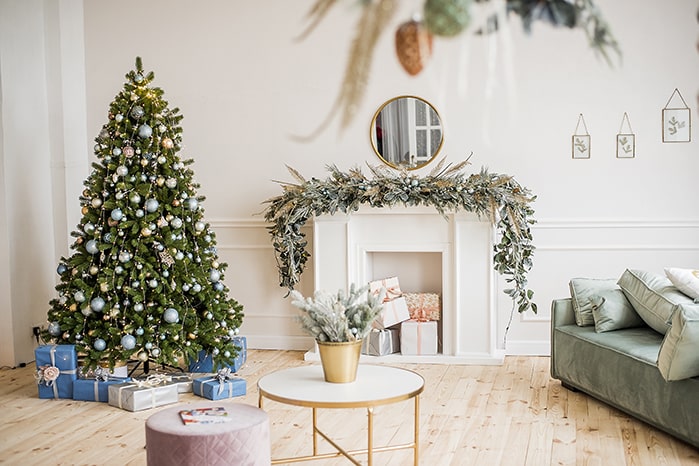 Keep your guest list short
We know this will be tough for some, but it will be worth it to keep everyone healthy. If you need help deciding how to shorten your guest list, consider inviting only in-town guests who won't need to stay overnight or at least out-of-town guests from areas with low infection rates. You might also skip high-risk individuals. This could be someone with pre-existing conditions that make them more prone to infection or those with jobs – nurses, bus drivers, teachers – that expose them to the virus more frequently. Be honest and upfront with anyone you leave off your list so that you don't start a long-running feud.
Set clear ground rules
If you expect people to social distance and refrain from close personal contact, tell them that hugs and handshakes will have to wait and that the mistletoe is on hiatus. Share the seating situation and if there will be one big dining table, spaced out TV trays in the living room or picnic-style benches outside. This might be a good year to put a twist on the traditional kids' table. If you're worried about certain high-risk individuals, you might give them their own seating area. We're not saying you have to make Grandma sit by herself, but do make sure you're following your social distancing guidelines.
And of course, tell them whether you'll require them to wear masks. The Centers for Disease Control and Prevention recommends wearing masks as much as you can, even around trusted family and friends. If you expect your guests to take the precaution, have extra masks on hand in case they forget theirs. You can also turn it into a game or contest. See who can make the best themed mask or have the kids decorate new ones.
Have a quarantine plan
When you send your invites, be sure to include whether you want people to self-quarantine for the two weeks prior to their visit. You may want to quarantine as well, especially if you're worried about passing something on to Great-Aunt Edna.
If you're hosting out-of-town guests during the pandemic, have an isolation strategy in case they get sick during their extended stay. Is the guest room private enough for them to quarantine? Will they have access to their own bathroom? Can you set up a mother-in-law suite to separate them if someone experiences symptoms?
Shop at off times
Whether guests are coming just for the day or staying overnight, you'll need to stock up on food and other supplies. We know it's a struggle at holiday time, but try shopping when and where there are fewer crowds.
Help them stay clean
Stock up on soap, hand sanitizer and other disinfectants, not just to keep people's hands clean but to sanitize surfaces and anything else people might touch or sneeze on. If you've been eyeing a touchless soap dispenser, you now have the perfect excuse to get it.
Making a welcome basket for overnight guests? Throw some hand sanitizer and disinfectant wipes in with the snacks and backup toothbrush while you're at it.
Have a food strategy
Making a food plan goes without saying for days like Thanksgiving, but holidays in 2020 call for a slightly different approach. The CDC says that the coronavirus isn't generally transmitted through food or packaging. However, sharing serving utensils is higher risk. To reduce that risk, consider serving individual portions like a handheld pie instead of the traditional family-style dessert. You might also ask guests to bring food for their own household instead of serving a potluck. We know it won't be the same, but at least you'll be celebrating together.
If you absolutely can't give up your holiday food traditions, consider plating meals for your guests so that everyone won't be touching the same serving spoons. And while you're cooking all the delicious food, try to limit others' access to the kitchen. They'll think they're being helpful and you might like an extra hand, but it increases the chances of contamination.
Mark your glasses
Whether you label plastic cups with a Sharpie or distribute charms for wine glasses, make it easy for guests to know which drink is theirs.
Go disposable
You've successfully hosted another delicious meal. Don't let dirty dishes, especially those that might be points of virus transmission, lay around. Consider disposable items – tablecloths, utensils, plates – so can clean and disinfect the table more quickly.
Entertain safely
Figure out how you can make your favorite activities safer. If you usually go to a ballgame or parade, stay in and watch it on television this year. Instead of post-holiday shopping in person, stick to online purchases. Even small shops are more internet savvy these days, so you can often still shop local. Instead of board games where you might be sharing playing pieces or cards, try trivia or an online game you join via your phones. Sharp HealthCare says to "refrain from singing, loud talking and shouting," so try not to get too boisterous.
Be flexible
Anything change on a dime. Try to roll with the punches. If you or a guest starts to feel sick, be prepared to cancel the visit.
Let go of some rigid traditions and make this the year of trying something new. You might be pleasantly surprised. If not getting to do some of your favorite holiday activities leaves you sad and disappointed, volunteer with a local non-profit for the day. Serving others less fortunate often can help take us out of ourselves and improve our outlook simply by practicing charity, compassion and empathy.
No matter what holiday you're hosting, remember that part of the fun is coming up with creative new ways to help your guests feel welcome. Let Schlage inspire you with ideas for the perfect guest room, backyard winter parties and holiday décor.