5 alternative Thanksgiving ideas when COVID threatens tradition.
By emily.bailey
Like most holidays and celebrations in 2020, Thanksgiving might not quite be how you imagined it. Just a few simple tweaks to your holiday planning will help put you in a festive mood and have you feeling grateful.
Like most holidays and celebrations in 2020, Thanksgiving might not quite be how you imagined it. That's doesn't mean it's not going to be a great Thanksgiving, however. Just a few simple tweaks to your holiday planning will help put you in a festive mood and have you feeling grateful.
Our best advice: Don't force traditions this year "just because." Some things, like the merriment of being surrounded by extended family simply can't be re-created if they choose not to travel. To avoid setting yourself up for disappointment, go into the holiday with a different, optimistic mindset. Choose to make this a year where you break a bit from tradition and create new, unexpected memories.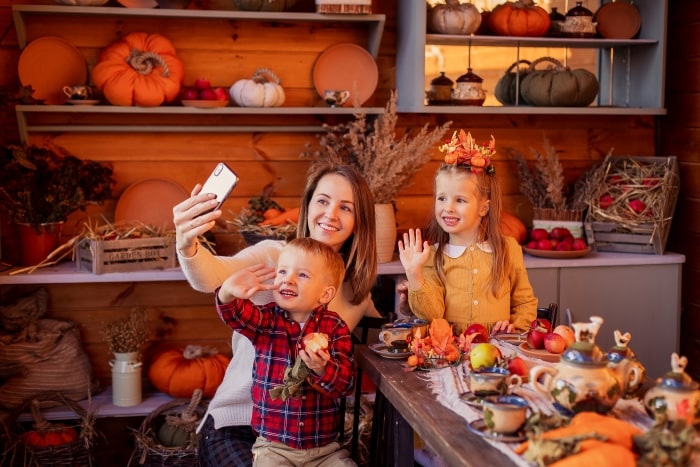 1. Decorate to the max
Some of us are worried that with these unusual times, we'll feel like we missed milestone events. Birthday parties were cancelled during shutdown, graduation parties were skipped and family vacations postponed. One way to make sure you don't feel like the holiday passed you by is to take your Thanksgiving décor to the max. Don't stop at a simple wreath for your door. Go all out with Thanksgiving front porch décor. Add a garland of fake leaves to a stair railing, indoors or out. Freshen your potted plants. DIY a front porch sign to show your gratitude for the season.
Your mantle is the perfect place for seasonal décor as well. We especially like what Hymns and Verses has done, combining all the classic mantlepiece holiday decorations for something that's sophisticated and seasonal.
Consider decorating areas of your home you'd typically gloss over. Apartment Therapy argues that the most overlooked spot is actually your shower curtain. Why not try it out?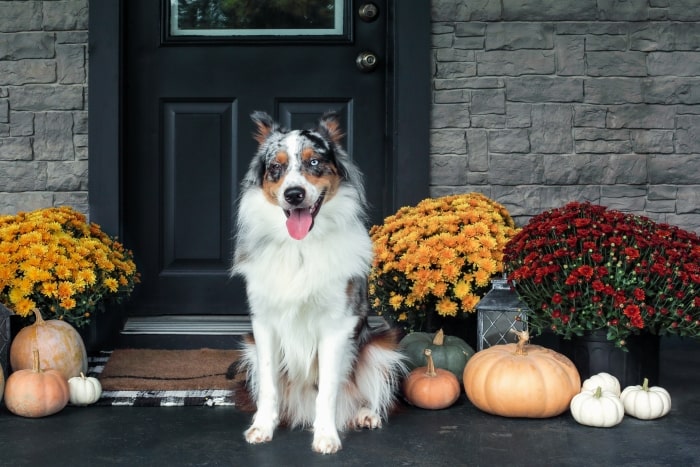 2. Start a new tradition
Sometimes we inherit traditions from others that don't actually work or that have little personal meaning. Now's your chance to make it just for you.
Swap the family football game for a movie marathon where each person picks their favorite and everyone can enjoy it from the tiniest of tikes to the wisest of grandparents.


Create a time capsule. Each person puts an item in a box or tin, or writes a note sharing what they're thankful for. You might be surprised by what people are most grateful for this year.


Skip the main meal and serve your community instead. Volunteer at a soup kitchen. Write and deliver notes to first responders. Share craft supplies with children's hospitals.


Make it a birthday party. Especially if you missed someone's birthday earlier this year because of the pandemic, now's a great chance to celebrate more fully.


Have everyone sit at the kids' table, complete with short chairs and folding tables. Or turn it into a picnic in the living room with blankets and pillows spread out for extra comfort.
The most obvious place to start a new tradition, however, is in the kitchen, which leads us to our third tip.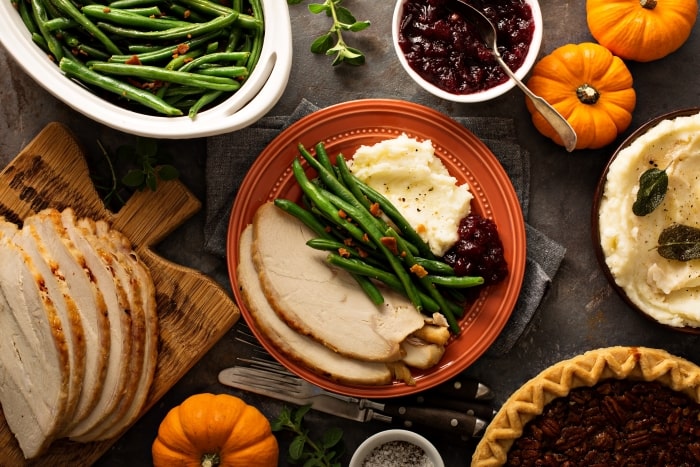 3. Put a twist on the turkey or other food favorites
Especially if it's a small crowd and you aren't worried that Aunt Linda will think you've blasphemed the green beans, now's your chance to shake things up. Try duck instead of turkey, apple walnut chutney instead of canned cranberry sauce, shredded sweet potato-carrot fritters instead of sweet potato casserole or mini pumpkin tartlets instead of a whole pumpkin pie.
If a big meal doesn't sound appetizing, switch it up for something more akin to a cocktail party. Finger foods – they can still be inspired by your holiday favorites – and a signature fall drink could be your answer.
You don't have to do away with all your favorite traditions. If you look forward to a certain dish all year, by all means, make it! But you might be surprised by a new recipe and want to add it to the menu in the future. Even if you don't, there's always next year to bring back the tried-and-true.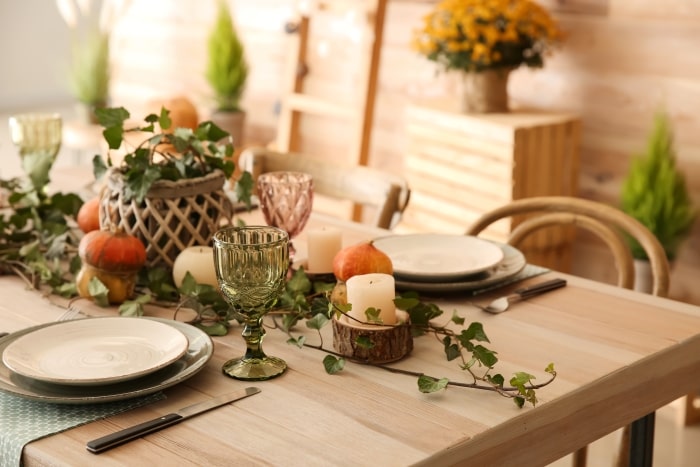 4. Try a new table setting
Smaller crowds should mean less cooking and that means more time on your hands. You can use that spare time to relax or put it to use doing something you've always wanted to try, like doing a grand tablescape.
This centerpiece from Far Above Rubies might be one of our favorites. There's a lot to love about a dose of DIY mixed with pumpkins, candles that set the right ambiance and the ability to relocate it if you need more room for your side dishes.
You can also take the crafty route and give each family member or guest a blank slate to decorate. Replace the tablecloth with butcher paper and let them doodle their ideal décor or have blank name cards for everyone to personalize.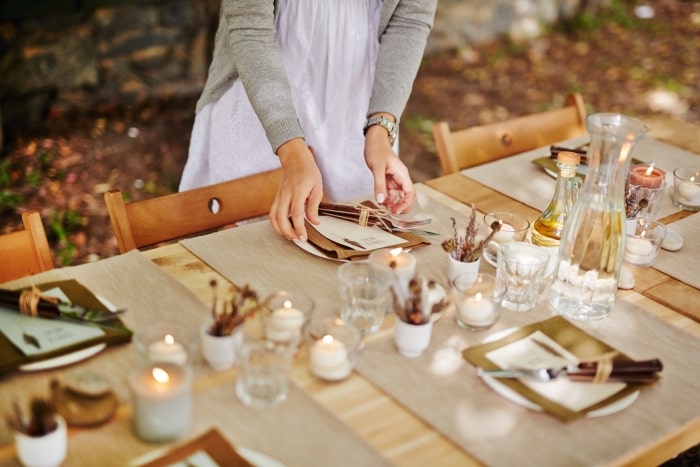 5. Take it outside
Try dining al fresco this year. An outdoor Thanksgiving meal also means you could deep fry the turkey. If you've never tried it before, read up on the safety precautions first. Here are some other tips for hosting a fun and comfortable outdoor Thanksgiving:
Grill your sides. Foods like corn on the cob, vegetable skewers and even dinner rolls, all of which can be cooked on the grill.


You might skip the paper or plastic plates and choose regular dinnerware, even though you're outside. Paper plates are more likely to blow away in the fall breeze, plus they might not be durable enough to hold up to heavier Thanksgiving fare. It's a celebration, anyway, so why not go a little fancier than your average picnic?


Have a

bar cart

? Put it to use, but don't limit yourself to drinks. Because bar carts are mobile, they can help you transport food, serving utensils and anything else you might need outdoors.


Serve dessert around the fire pit. Depending on where you live, you might need a warm pick-me-up. Either break tradition with

pumpkin marshmallow

s'mores or serve the pie fireside with a hot coffee or steamy seasonal drink.


Make sure pets are secure. You and your diners will be going in and out, and you don't want your furry family members to escape and ruin the holiday. Many Thanksgiving foods are dangerous for pets to eat, so make sure they're stowed safely away from temptation.


Read up on how to make any

outdoor party better during the cooler months here

.
Sometimes all you need for the perfect holiday is a little inspiration. Get yourself in the Thanksgiving spirit and stir those creative juices by visiting the Schlage blog or following us on Pinterest and Instagram.