Where to hang mirrors for more style and space.
By emily.bailey
Mirrors can make a big style impact on a room. If the space feels dark or cramped, mirrors can create the illusion that it's larger and brighter. They can also offer decorative flair and improve Feng Shui. As useful as they are, however, you don't want to just hang them around haphazardly. Here are six places you should uses mirror … and four more you shouldn't.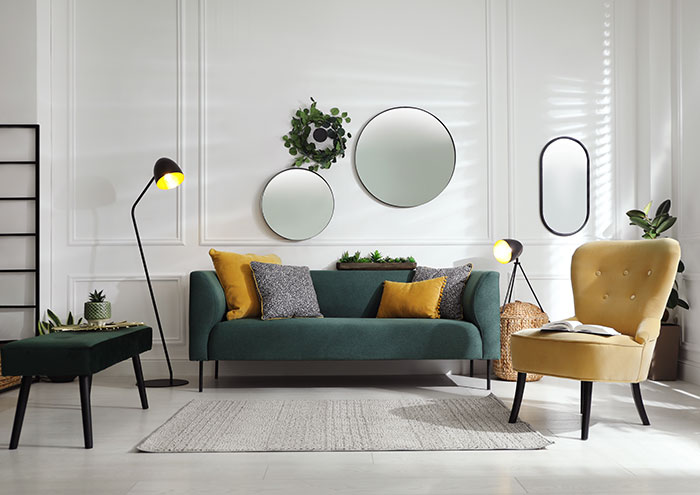 Best places to hang a mirror
Entryway
You get big bang for your buck with an entryway mirror. Because foyers can be small, the mirror will help it feel more open. It's also a low-profile way to spruce up the look of that small space without taking up square-footage. You'll never find yourself tripping over a mirror when you're trying to get out the door in a hurry. And speaking of hurries, you can of course use it for a last-minute spot check before rushing off to work or a dinner date.
Narrow hallways
Much like in an entryway, a mirror in a long and narrow hallway can create the illusion of a larger space. You'll want to choose a mirror that is also long and narrow for the best effect.
Mantel
Reflect light and cozy activities taking place around the fireside. A mirror is good for every season, too, so it'll look right at home whether you're decking the halls at Christmas time or displaying your favorite summer wildflowers.
Kids' bedroom
First, banish the idea that a mirror has to be square or round. You can find them in adorable shapes, like bunnies, to add a touch of whimsy any kid would love. If a mirror for your toddler seems unnecessary, A Beautiful Mess points out that you can use it to play games with your kids. Peek-a-boo just got a bit more interesting. Place it strategically near the crib, and you can even use it to check if Baby is sleeping without needing to come all the way in the room.
Blind spots
You might like a mirror where you typically have your back to the door. This will let you keep an eye on things in the rest of the room or easily see if someone is coming up behind you. Consider a mirror over your desk in a home office or in a kitchen where your meal prep station puts you facing away from the kids' play area.
Furniture
Don't forget to include mirrors tastefully in your furniture. A tabletop mirror, even a small one placed just under some candles, can add extra shimmer to your décor. Cabinets might also do well with some mirrors, inside a curio cabinet or outside on doors. It doesn't even need to be a true mirror, if that's too much for you. Any kind of reflective surface, including metallic chair legs or vases, can create the same effect.
Worst places to hang a mirror
Ceilings – They're just creepy. The less said the better.


Low in the dining room – Dining rooms can be ideal for mirrors, but if you're going to use one as part of your dining décor, hang it a little higher than usual. No one likes to watch themselves chew.


Facing a toilet or shower – Most people will feel uncomfortable having to look at themselves while they're sitting on the toilet or in the shower. It's best to leave bathroom mirrors over the sink.


Kitchen – Kitchen mirrors are generally considered bad for Feng Shui. They can also be hard to keep clean, and when your mirror constantly shows water droplets or grease splatters, your kitchen will look messy.