Healthy home routines for returning to school after COVID.
By emily.bailey
Try incorporating these actions into your daily schedule to help keep everyone healthy this fall.
Your biggest back-to-school concern a year ago might have been getting the right supplies or organizing the carpool schedule. This year will likely be a bit different, and maybe more stressful than usual, if you're planning to return to school after COVID. The key to making the transition easier is establishing the right routines. Try incorporating these actions into your daily schedule to help keep everyone healthy this fall.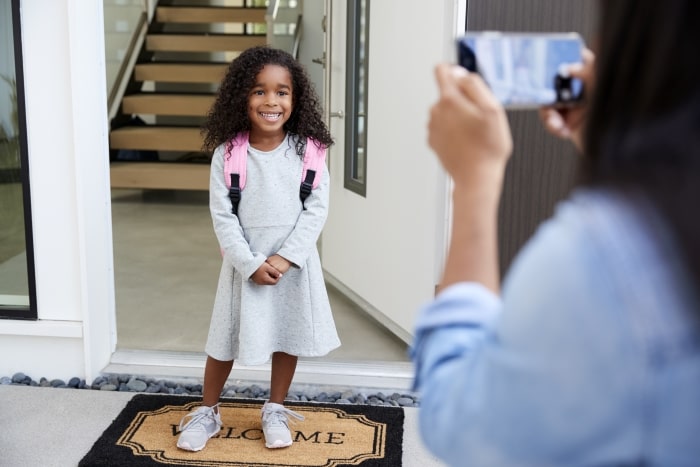 How can I help my child get ready for school?
One way to give everyone peace of mind is to practice your routines before the school year even begins. Start getting everyone back on a regular bedtime schedule – being well-rested is a good way to strengthen your immune system anyway – and have your kids start doing things like picking out their clothes and packing a backpack the night before.
You can also have them pack their lunches the night before, even if they're just going to eat them at the kitchen table later. The Centers for Disease Control and Prevention has lunchtime recommendations to help schools to mitigate risk, including having students provide their own meals each day, when possible. If your kids can practice prepping their own lunch, it might help them stay healthier when school is in session, not to mention make your daily task list a bit shorter.
If your school allows it, see if you can visit before the first day. There may be new drop-off and pick-up procedures, classrooms may have moved to accommodate for social distancing and hallways may be one-way. It may help your student's anxiety to know the protocols beforehand.
Start figuring out what your child does and doesn't need at school. It's now believed that the main way the coronavirus is transmitted is through droplets from respiration or saliva. However, it can still survive on surfaces that, when touched, can infect us when we then rub our eyes, mouth or nose. If your child doesn't need a game or graphic novel in the classroom, make sure it stays home to reduce the chance of contamination.
You might be able to put house keys on that stay-at-home list, too. With a Schlage smart lock, you can give your child their own access code. Then, when they return home, there's no wondering if they've lost the key or where it's been during the day. They can simply enter their code on the touchscreen. Find out what else parents need to know about smart locks here.
How do I keep my family healthy when kids go back at school?
Step one of your back-to-school routine should be washing your hands regularly. You can't control what your kids do at school, but you can make sure they wash up when they walk in the door after school. Try these entryway ideas for a healthy home, which include rethinking your point of entry so that you're near a sink the minute you cross the threshold and creating a "shoe quarantine" area.
In addition to leaving shoes at the door to limit the dirt and germs tracked throughout the home, you may want to have kids change their clothes immediately after school. That way, if a classmate sneezed or coughed on your child's back at some point, you can quickly confine the shirt to the hamper.
Part of your back-to-school COVID routine might also include disinfecting your child's belongings – their backpack and other school supplies, lunch box, face masks – when they get home. It's best to follow the CDC's and manufacturers' suggestions for disinfecting so that you successfully kill as many germs as possible without damaging anything. If you're running a carpool, throw some extra disinfectant wipes and hand sanitizer in the car for everyone to do an initial wipe-down before you even make it out of the drive.
When you're disinfecting their supplies, you can also check to see if they're running low on anything they need. Check if you need to restock pens, pencils, paper, art supplies or tissues, for example. This way they'll be less likely to have to share items, including cooties, with their friends.
At the end of the day, it's important to connect with your child, perhaps even more so during times of high stress. Talk to them about their day. See if they have any questions or concerns about what's happening. Ask them how they're feeling now that they're back to school but having new, sometimes difficult, experiences.
Build in time to play outside and get some exercise every day. Like sleep, this helps boost everyone's immune system. The physical activity can also go a long way toward helping your child release stress and, because they might be spending more time at a desk throughout the day, burn off some extra energy. Go for a walk or bike ride together – and leave the keys at home – break out the lawn darts or simply run around the yard.
How can routines help with e-learning?
No one is quite sure how the return to school will fare, and different regions have different policies. That means you could still be doing e-learning, either from Day One or in the event of another outbreak. Your child might also be splitting their time, spending a few days a week at school and the others at home. Staggered start times, full-time homeschooling and fewer after-school activities are all possibilities in these uncertain times.
But don't let that scare you. We can manage this with a consistent routine and a bit of planning. Even when they don't have to get on the bus, wake them up at the same time each morning and get ready as if they were going to school. Have lunch at the same time each day. Keep them working during "school hours," but don't forget to work in periodic breaks, too.
Particularly if you have multiple children on different schedules, you'll need a command center to keep everything straight. We recommended these for back-to-school in the best of times, but a single location to manage paperwork, calendars, school supplies, announcements and whatever else your family needs could become even more important this fall.
When your kids are e-learning, make sure they have a designated place free of distractions to work. They'll be more productive and, with luck, so will you. What that work station looks like depends on your child's needs and how much supervision they require, but you won't regret giving them a spot of their own.
If you're feeling overwhelmed during this time of change, we don't blame you. Among the things you can do ease some of the strain is to make your home welcoming and comfortable. Try these tips for creating a center of calm during stressful times and more at the Schlage blog.