How to keep pets safe this holiday season.
By emily.bailey
Whether you're trying to protect your furry friends or your cherished décor, here are some tips to make sure everyone has a happy holiday.
We've all seen the
pictures of Christmas trees
hung from the ceiling to safeguard them from a climbing cat. Of course it's funny, but keeping pets healthy during the holidays is no laughing matter. Whether you're trying to protect your furry friends or your cherished décor, here are some tips to make sure everyone has a happy holiday.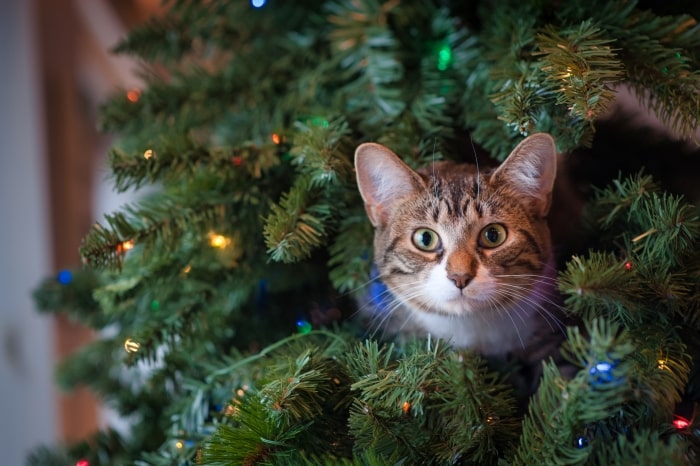 Holiday pet safety tips
Start the visit on the right foot by paying attention to details that make people feel at home.
1. Don't feed table scraps to your pets and ask guests to follow the rule as well. Many human foods are unhealthy for four-legged family members.
2. Keep an eye on pets around buffet tables, countertops and other areas where they might help themselves. This is especially true if you're serving chocolate, foods with grapes or raisins, and foods with xylitol, all of which can be toxic to animals. The American Veterinary Medical Association even warns against feeding them turkey and turkey skin.
3. Supervise your pets around lit candles on the mantel where a ledge-walking cat could knock them off or menorahs where a wagging tail could spell disaster. Consider battery-operated candles instead.
4. Poinsettias thankfully they aren't as poisonous to pets as you might think. Mistletoe, holly and certain varieties of lilies can be very dangerous to your cats and dogs, however. Choose flowers wisely or, better yet, go with artificial bouquets. PetMed has an extensive list of dangerous holiday plants.
5. If you decorate a tree, be strategic with the ornaments. Tinsel is a magnet for cats and popcorn garland is just too tempting for dogs. Hang more delicate or precious ornaments high on the tree as well if you think they'll be safer.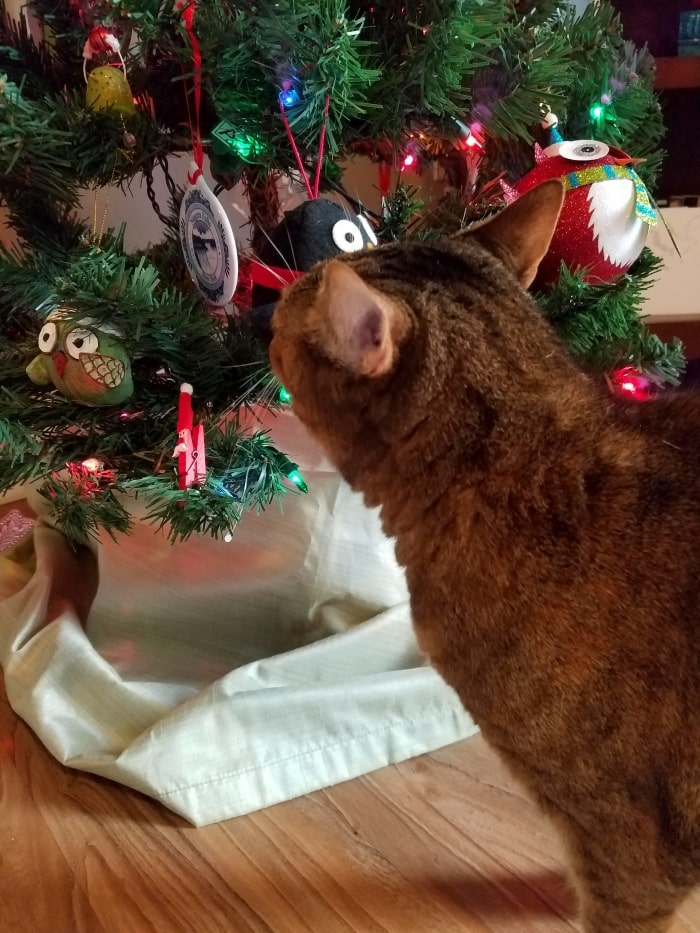 6. Think twice about using additives that keep live trees greener longer. You don't want your curious pet drinking the water and inadvertently consuming the chemicals.
7. Artificial Christmas trees can be better for pet-friendly homes than live trees. You might also get creative with these DIY alternatives from Best Life or find safer places to display your tree, even if it isn't as extreme as from the ceiling.
8. Take care of electrical cords for holiday lights, train sets and other décor. If you have a chewer, you know about his shocking danger.
9. Reconsider putting presents under the tree before Santa comes. Glittery paper and shiny ribbon can be super enticing to pets. You don't want them to harm themselves on whatever's in the package, and we're sure you don't want them to destroy the present anyway.
10. Tell guests ahead of time that you have pets so they can prepare if they have allergies or children who might be frightened of the pet. If guests ask to bring their own critter to your home, consider how they might interact with your family. If you aren't sure your dogs will get along, politely ask them to leave Fido at home.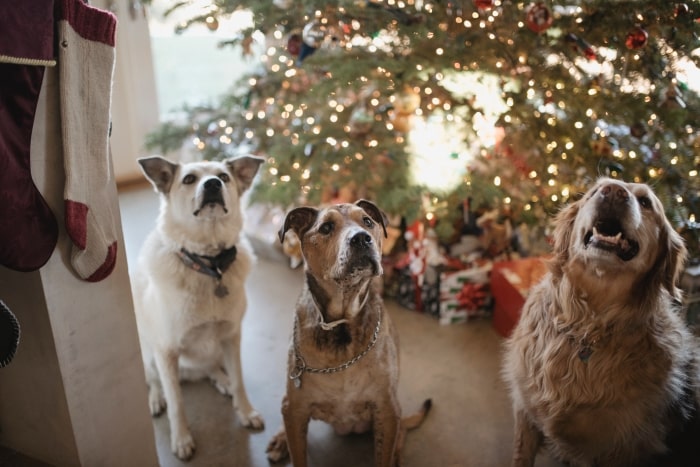 11. Keep an eye on entryways when guests are coming and going. Santa probably won't let your fur baby escape, but you don't want Aunt Mildred to unintentionally let your pet out the front door.
12. Give pets an escape room if they get nervous around visitors, especially when you're hosting holiday parties. A crate or separate room is usually enough if you give them a comfy bed and their favorite toys to keep them occupied.
13. Make sure pets are well cared for even if you're traveling for the holiday. It's easy to ask neighbors to check on the cat or have the dog walker take Spot out when they have simple, secure access to your home. With a Schlage smart lock, you can assign a unique access code to trusted humans knowing they'll take care of your furry friends.
14. Ask your vet what their holiday hours will be and if they have recommendations for where you should go in an emergency if they'll be closed. Hopefully you won't need that information, but it's good to be prepared.
Holidays are meant to be shared with family members, even those with fur, fins and feathers. Get some gift ideas for pets and their owners with our new gift guide. We would also love to see your holiday photos with pets, so share with us on Facebook or Instagram. Seriously. We really want to see them.