Shopper's guide to door hardware
By emily.bailey
Thursday, November 7, 2019
You've arrived in the aisle and…whoa! There are a lot of choices. This guide will help you navigate and choose the best hardware for your doors.
So , your old door knob broke. Or maybe you finally noticed you've got bright brass hardware on your doors and satin nickel everywhere else in the house. Perhaps your front door isn't doing anything for your curb appeal. The point is, you've decided to update your door hardware, you're in the store aisle and … whoa! There are a lot of choices.

You may be surprised to learn there are actually a lot of different types of door knobs and levers designed for different types of doors in the home. There's hardware for closet and hall doors that don't need to lock, locking hardware for bedrooms and bathrooms, non-turning pulls for doors that don't latch, keyed entry and deadbolts for exterior doors – and that's just to name a few. So how do you know where to start?

Don't worry. Schlage is here to decode your door hardware needs. Let's start with some basic questions and drill down from there.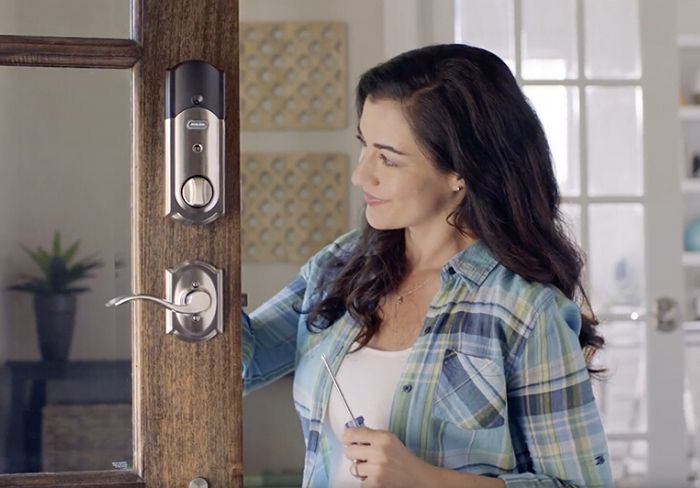 1. How many bore holes are in my door?
We refer to the round holes where the door lock is installed as "bore holes" (brush up on your door hardware terminology here.) Most doors have one, two or three bore hole.
If the door has no bore holes, you can simply install a non-turning or "dummy" knob or lever that serves as a decorative door pull.
2. Do I want a mechanical, electronic or smart lock?
Schlage locks, whether mechanical, electronic or smart, offer superior security and style. For our purposes here, you'll probably want to focus on how important keyless convenience and remote access are to you as the deciding factor.
3. Would I prefer a door knob or a lever?
This is mainly a matter of aesthetic preference. With Schlage's variety of styles and finishes, you're sure to find a look that suits your unique taste. Do consider ease of use, too. Knobs can be difficult for children and pets to operate – sometimes a good thing if you have an escape artist – while levers can be easier for those with arthritis or when your hands are full.
4. What functionality should my mechanical lock have – keyed entry, Hall & closet or Bed & bath?
Is it an exterior door where you want extra security? If so, choose a keyed lock or deadbolt. Otherwise you'll need either a Bed & bath lock with push-button locking or a Hall & closet knob or lever that simply turns to let you in and out.
We've put together a few handy decision trees to guide you through choosing the right door hardware the first time. And here's a bonus hint for you. The function colors in the decision trees correspond to the function color on our packaging in the aisle, so you can match them up to easily find what you need.
Let's get started with our first question: How many bore holes are in your door?
Single bore hole
A door with a single bore door is typically an interior door, although not always. Either way, you'll need to decide whether you want a mechanical or electronic lock.
For interior doors, a mechanical lock is usually sufficient. Most people who want a locking interior door are looking for privacy more than security. When this is the case, choose a Bed & bath knob or lever. If locking is not a concern, like with kitchen pantries or laundry rooms, choose a Hall & closet knob or lever. If you can't decide or you want to prepare for the future, consider Schlage Custom™ Combined Interior Door Hardware. This allows you to switch between locking and non-locking functionality, so when the extra bedroom becomes a nursery, you can switch from locking to non-locking without replacing the whole lock.
For a door – interior or exterior – where you want greater control over access, choose a mechanical keyed entry lock or an electronic lock. These are perfect for wine cellars, home offices and the door leading in from your garage. If you don't want to carry a physical key to get to your Chardonnay, go with the electronic option. In addition to security, they provide keyless convenience. Just set an access code that you can easily change or delete if needed.
If you choose electronics, you'll have to decide whether you want a backup key. The Schlage Touch™ Keyless Touchscreen Lever has no cylinder and, therefore, no key. If you prefer the option of a backup key, we recommend a Schlage® keypad lever.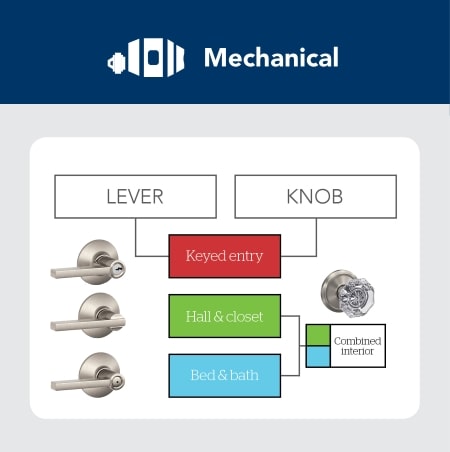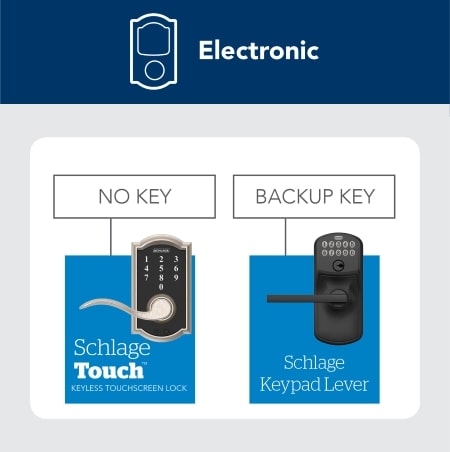 Double bore hole
If your door has two or three bore holes, it's almost certainly an exterior door. In this case, you'll likely appreciate an even greater level of security and additional convenience features.
Simply put, the top hole in a double bore hole door is for your deadbolt and the bottom is for your knob or lever. This is where smart locks come into play. When it comes to choosing your deadbolt, you'll need to decide between mechanical, electronic or smart. Our recommendation is a smart or electronic deadbolt with a non-locking knob or lever beneath.
The same considerations for an interior electronic lock apply on exterior doors. With the Schlage Touch™ Keyless Touchscreen Deadbolt and Schlage® keypad deadbolt, you get keyless convenience and Schlage's reputation for security and durability. Then simply choose the knob or lever that matches your style for the bottom bore hole.
If you choose a smart lock – the Schlage Encode™ Smart WiFi Deadbolt, Schlage Sense™ Smart Deadbolt or Schlage Connect™ Smart Deadbolt – know that you'll also be able to control your lock remotely from anywhere using compatible smartphone apps, find peace of mind when you can monitor the status of your lock from your phone and enjoy additional everyday convenience by pairing your lock with other smart home technology. Learn more about Schlage smart locks below or try our Get Help Deciding Tool to determine which is the best fit for your home and lifestyle.
Should you choose to go entirely mechanical on your exterior door, look for a lock with the deadbolt function. Your knob or lever can then be either locking or non-locking. Look to buy these as a set so that they are keyed the same, or if you purchase them separately, consider having a locksmith rekey them so that you aren't carrying around multiple keys for the same door.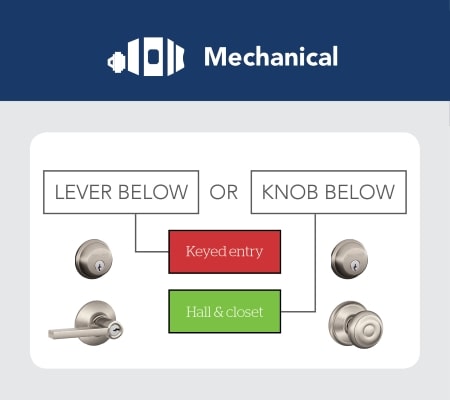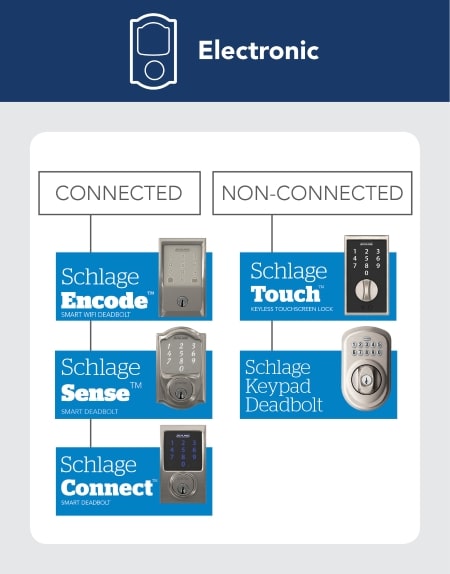 Triple bore hole
What if you have a triple bore hole door? That means you need a deadbolt for the top hole and a front entry handle for the two holes below it.
Like the other door setups, your deadbolt can be mechanical, electronic or smart. All the same benefits as above apply. The main difference with a triple bore hole door is your handleset options. Choose from our series of decorative handleset grips in a variety of finishes to pair with your deadbolt.
Schlage offers a variety of handlesets. One option is a 3/4 trim, where a single unit of hardware includes both the deadbolt portion and the handleset grip. There is also a two-piece trim, which, as the name implies, is two separate components – one being the deadbolt and the other being the grip – but sold together. Both the 3/4 and two-piece trims fit on standard triple bore hole doors.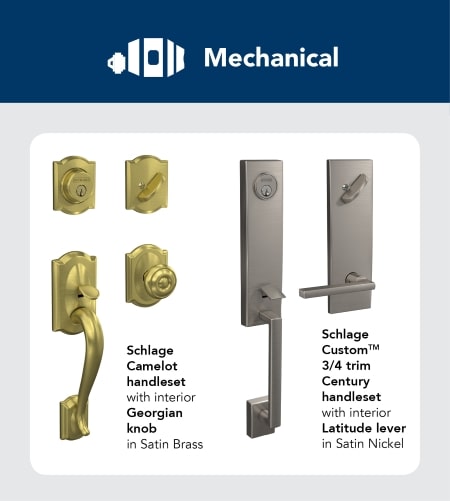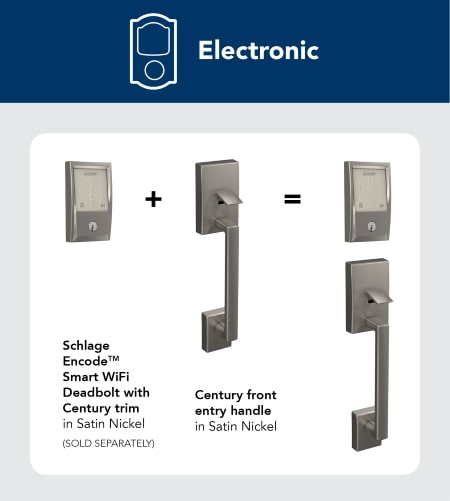 CHOOSE FROM OUR SERIES OF DECORATIVE OR ELECTRONIC DEADBOLTS AND HANDLESET GRIPS IN A VARIETY OF FINISHES TO COMPLETE YOUR LOOK