5 easy ways to add color to a neutral color palette.
By emily.bailey
Tuesday, November 5, 2019
If you find yourself stifling a yawn with transitional style's focus on neutral colors, Schlage offers you five ways add more vibrancy while still staying true to your design.
Concrete floors are too stark for you, but curly-cue wrought iron is too ornate. That might mean your style is transitional, with a little bit of modern complimenting a touch of traditional. It's a great style when you want to use elements from different eras (or when compromising with others during a redesign). But if you find yourself stifling a yawn with transitional style's focus on neutral colors, Schlage offers you five ways add more vibrancy while still staying true to your design.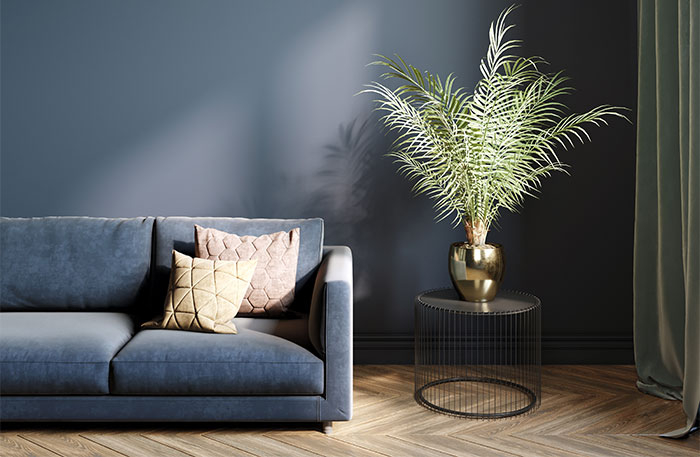 What is transitional style?
Transitional is the happy medium of styles, classic with an updated flair. You might see a vintage chair with contemporary wall art in the same room. Or it could be a traditional brass faucet paired with modern marble countertops. Although there's a mix-and-match quality to it, don't be tricked into thinking transitional style is eclectic. You still want a look where every piece of the room, from furniture and artwork to textiles and lighting fixtures, works in harmony together.
Some of the typical elements of a transitional room are minimal accessories although not so bare that it feels like a modern true-minimalist room, sophisticated furniture with gentle curves to find the middle ground between contemporary straight lines and traditional ornate flourishes, and, of course, neutral colors.
Transitional color palettes
Neutral colors is one of those elements transitional style takes from the modern end of the spectrum. Think hues that inspire calm environments: cream and ivory, beige, tan, khaki, gray and taupe. You don't want the color palette to be distracting, which can be the case in more traditional styles such as Art Deco or Victorian. Here's how to find the happy medium between monochromatic and eclectic.
1. Select your color scheme.
Choose a base color and then complement it with a variety of other hues in the same family. Your walls, furniture, window treatments, rugs and so on could incorporate tan, caramel, espresso and other shades of brown. You might vary your blues from ice blue to something smoky to sky blue, cobalt, then navy. Or maybe you opt for a range of greens. Stick with three to five colors from a family so you end up with a room that is neither Art Deco vibrant nor monochromatic.
2. Focus on accent pieces.
Let's say you've committed to a comforting transitional gray for your walls and your furniture is similarly neutral. Kick in some color with a throw pillow, artwork, floor coverings or lighting fixtures. You probably don't want a bright canary yellow or fire engine red, but a rich brick tone or deep hunter green can maintain the calm style found in transitional homes while still allowing you to enjoy some visual interest.
3. Consider finishes.
Capture a flash of color with hardware, plumbing fixtures and other metallic finishes. This is an obvious solution in kitchens and bathrooms where you'd find metallic elements like faucets and drawer pulls anyway. But don't rule out metallics in other areas of the house. Pendant lighting or chandeliers (choose one with straight lines rather than those that are ornate or crystal) are an easy addition. You can also look for a coffee table with metal legs or other accents, as well as metallic vases, picture frames, candlesticks or other accessories.
The finish of your door hardware – or any metallic fixture, for that matter – is vitally important. You want a finish that is either neutral itself or offers some contrast. Consider Schlage's
Satin Nickel
,
Bright Chrome
and
Matte Black
finishes for your transitional space.
4. Add some contrast.
We like this transitional kitchen highlighted at Houzz.com. For contrast with the white tilework and marble countertops, the dark green cabinets and metallic drawer pulls provide a bit of pop. It's the green that makes this work in transitional style. Green and brown hues, even deep and rich ones, are reminiscent of colors found in nature, a common characteristic in transitional homes. Some even call green nature's neutral.
5. Identify the details that make a statement.
It can be difficult to find places to add color in a bathroom, no matter what style your home is. And if you've chosen white tile for that neutral base, it can feel stark and too contemporary for your transitional tastes. Houzz says you can soften that feel and get back to transitional by using a darker grout.
Find the look that's right for you and your home with the Schlage Style Selector Tool. Then head over to Pinterest to stock up on inspiration.