How Schlage helps make 2019's top design trends a reality.
By emily.bailey
Friday, February 22, 2019
Here are three style predictions from HGTV and Houzz.com and how Schlage Custom Door Hardware can help you pull them off.
We're all excited by fresh opportunities in the new year, so it's no wonder everyone is eagerly looking ahead to the hot designs for 2019. Once you find which trends you're most excited about though, how do you make them a reality in your own home? Here are three style predictions from
HGTV
and
Houzz.com
and how
Schlage Custom Door Hardware
can help you pull them off.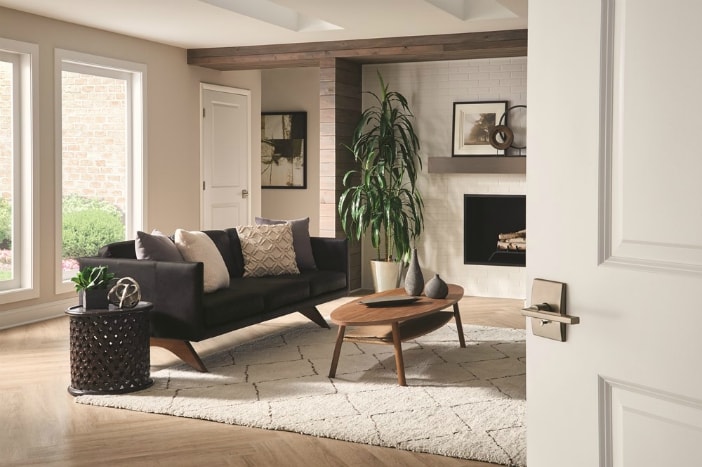 Geometric patterns
Whether in the bathroom or the kitchen, geometric tilework will be a major element in decor. With such bold patterns, how do you style the rest of your room without it looking over-the-top? Pair hardware with other geometric shapes like Latitude or Northbrook levers in simple finishes. The Collins trim sticks with the geometric theme and serves as a perfect backdrop for the equally clean, straight lines of modern knobs and levers.
What about those simple finishes? Try out the super-popular Matte Black for starters. Satin Nickel is also an ideal finish for rooms embracing the geometric trend.
Colorful statements
There are several schools of thought on go-to colors this year. Some say we'll see more white wall paint, while others point toward bold, dark and moody hues as the popular choice. Our take? The right color is the one you like best. Once you've decided how to paint a room, think about finishes that will complement that choice.
If you're leaning toward a neutral color palette for your walls, try door hardware in Matte Black and Satin Chrome finishes, which coordinate especially well with grey tones. With bold and dark wall colors, Satin Brass and Satin Nickel may be for you.
Global details
Taking inspiration from around the world really opens up your design possibilities. Different colors evoke different regions, as do certain fabrics, patterns and accessories. Even overall design can take you to another place. It's the seemingly small detail of a door knob or lever that can make a difference when transforming a room to feel like you've fully escaped to another land.
The minimalism of Scandinavian and Northern European style can best be achieved with streamlined designs. Think about the Collins trim and the Broadway lever with their precise lines to capture this look. The Eller lever, which features the soft curves popular in some Scandinavian architecture, might also be a good choice.
While the shape and design of your door hardware is key to helping you achieve a certain global look, finish can be equally impactful, especially if you're trying to recreate a Spanish or Mediterranean feel. Oil-Rubbed Bronze is the perfect finish for down-to-earth living spaces that need a touch of Old-World character. The Distressed Nickel finish has a similar rustic vibe common to architecture from this region.
Mediterranean architectural styles often incorporate wrought-iron work as well. If that's the case, and you want to bring that look into your room with door hardware (a less expensive alternative to actual wrought iron), consider a Whitney lever in Matte Black.
Global doesn't always have to mean "exotic." For a look that's more traditional but still worldly, try styles inspired by Georgian, Edwardian or Victorian architecture. The Addison and Camelot trims as well as Georgian knob and Birmingham lever have their roots in British history. If you want to combine traditional with something a bit more ornate, you can't go wrong with the Victorian-inspired glass Alexandria and Hobson knobs.
Although DIY projects like a vibrant new wall color or exotic textiles are some of the most eye-catching updates, smaller details can play a major role in completely executing a new look. They give that last little punch of style to pull a room together and give your home the flawless look you've been dreaming about.
For help finding the right look for your home, try the Style Selector at Schlage.com. You can also find more inspiration on Instagram and Pinterest.