Declutter and design: How Schlage adds style to rejuvenated rooms.
By emily.bailey
Thursday, February 7, 2019
If you have mastered the art of decluttering and are ready to take improving your space a step farther, here are some designs to reward your motivation and showcase your success.
Everywhere you look, someone's talking about decluttering or sharing their latest
Marie Kondo
success story. Maybe you're one of those people. If you have mastered the art of decluttering and are ready to take improving your space a step farther, here are some designs to reward your motivation and showcase your success.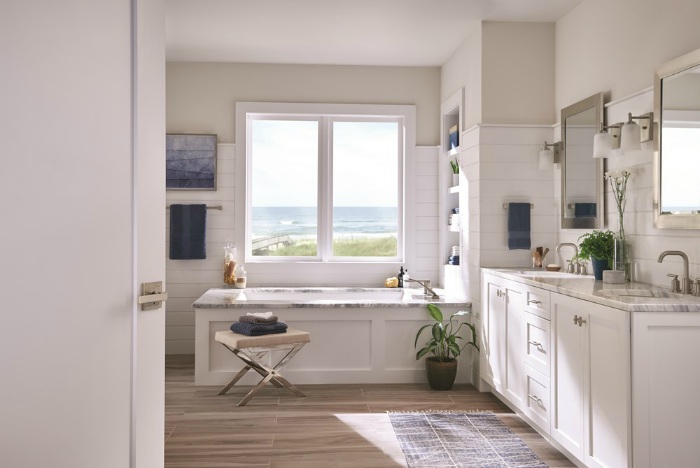 Stress reducer
A cluttered space leads to a cluttered mind. If you tossed, donated and cleaned to improve your mental and emotional health, think about how you can style your home to create the calming oasis you desire. With a variety of styles, designs and finishes, Schlage offers endless possibilities for creating your customized look and feel. Choose from styles that range from traditional to contemporary that match any home. And with installation that takes just a few minutes and a screwdriver, you can continue keeping your stress levels down long after you've cleared the clutter.
Go minimalist
Maybe you love minimalist design, and now that you've removed all the piles of stuff on shelves, coffee tables and counters, you're ready to commit. When streamlining the overall look of a room, remember that something as simple as new door hardware can make a major difference. Consider style combinations that achieve the simple, clean looks of minimalist design.
The Collins trim, with its strong lines and square shape, pairs well with straight-edged levers like the Northbrook or Eller. The Upland trim is another square trim ideal for minimalist style, even with a touch more detailing. Like the Collins trim, Upland pairs nicely with the Northbrook lever. If you like the simplicity but prefer rounded edges, try the Greyson trim. It's also a great match for the Broadway lever or Bowery knob.
Small spaces
Perhaps you decluttered because you lack square footage and felt overwhelmed by things. Don't believe the myth that small spaces have to be boring. When a room is smaller, you actually have more opportunities to try bold designs that would feel over-the-top in larger areas. Try a wild print on walls or textiles, or take a cue from Southern Living and paint the ceiling an unexpected color.
Because you don't want to return to a world of clutter, choose accessories wisely and intentionally, opting for a few pieces with big impact. This could even include your door hardware. You need it anyway, so why not make it really say something about your style? Get the trims, knobs and levers that complement your style to the max.
Need more inspiration? Check out this story from our archives on how you can maximize a mini bathroom.
Moving on
No one wants to haul 1,000 boxes when they move, especially if they're never going to use the things in them. If you decluttered to make the transition to a new home easier, you might also be wondering what to do with your locks. Smart locks are a great option when putting your house up for sale. Not only are they a more secure way to let realtors and other service providers in and out of your house, smart locks are also becoming more in demand by prospective buyers. With the style options of the Schlage Sense Smart Deadbolt, Schlage Connect Smart Deadbolt and the new Schlage Encode Smart WiFi Deadbolt, you'll also give your home an extra boost of curb appeal, not to mention peace of mind.
If you're not sure which smart lock is right for you, try our Get Help Deciding tool. You can also find more tips on how Schlage can help transform your newly decluttered house into the home you've been dreaming of on Instagram and Pinterest.