A lifetime of flexibility with Schlage door locks.
By emily.bailey
The ability to easily update your locks, knobs and levers can actually simplify your life.
There are several areas in life where it pays to be flexible: projects at work, flight schedules, potty training. Adapting to change reduces a lot of everyday headaches. The same goes for door hardware, where the ability to easily update your locks, knobs and levers can actually simplify your life.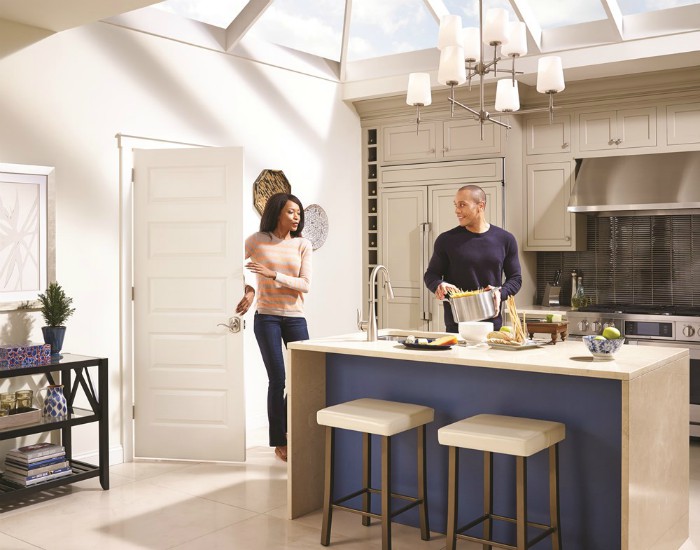 Style switch
Design trends change and so does your taste in style. When what you think is gorgeous one moment falls flat when you redesign a room later, you want a quick and simple way to update your look. Schlage Custom Door Hardware is easy to install in minutes with just a screwdriver and it fits on all standard doors, so there's no need to drill new holes or take on a major DIY project just to refresh the look. And with styles ranging from traditional to contemporary, classic glass knobs to modern levers, and a variety of finishes, you'll be able to capture the perfect style for any room.
Not sure what that perfect style is yet? Try our Style Selector to find your new look.
Life moments
Insurance companies call it a change of life event – you get married, you have a baby, something major happens that alters your needs. In the world of home décor, a man cave becomes a nursery or a home office transitions to a bedroom when an elderly parent moves in. When this happens, you might need to update the privacy function of your door – more on that in a minute. You should also consider what kind of knobs or levers you need. If someone now in the home has arthritis, would a lever be easier to use than a knob that requires gripping and turning? Or maybe a knob in a style that goes better with baby's new room than a man's retreat is in order.
Don't forget that your can also easily update exterior door hardware as your life changes. If your teen now has after-school activities and a busy social calendar, consider a Schlage smart lock like the Schlage Sense™ Smart Deadbolt, Schlage Connect™ Smart Deadbolt or the new Schlage Encode™ Smart WiFi Deadbolt. They offer convenience and peace of mind thanks to features like the ability to lock or unlock your door from anywhere. Assign access codes to individuals so there's no more hiding, or losing, spare keys. You can also monitor who is coming and going from your home, so you'll know if someone got in before curfew.
Not sure which smart lock is for you? Try our Get Help Deciding tool.
Function
Remember the privacy function we talked about? If you're updating a space from a hobby room to a bedroom, for example, you probably want to be able to lock the door. Schlage Custom Door Hardware offers combined interior functionality, meaning it's easy to switch from a door with the ability to lock for more privacy to one that doesn't lock. Simply insert the privacy pin and rotate to change the function. There's no need to replace the entire lock, so whether you want your guests to be able to enjoy some privacy in their bedroom or you don't want your kids to be able to lock themselves in their own room, we have you covered.
Learn more about how Schlage door hardware offers you a lifetime of quality and convenience at Schlage.com.