5 easy ideas for a more organized and secure garage
By emily.bailey
Enjoy a more carefree summer by building an organized and secure garage space. Check out these 5 easy garage security and storage solution ideas.
Now that summer is in full swing and schedules are filling up from kid's activities and vacations to home improvement projects and social gatherings, it's a great time to make sure your home is organized, secure and ready to handle whatever the season throws its way. For many, the garage can be a source of stress as tools and toys are in disarray or even anxiety over forgetting to close the garage door. Here are a few of our favorite organization and security tips that you can incorporate in no time and enjoy a worry-free summer.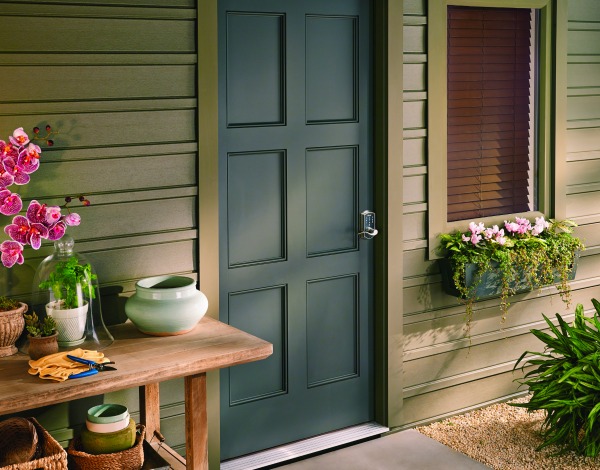 1. Avoid leaning items against the wall
When it comes to storing rakes, shovels, brooms and more, it's easy to lean these items against the wall and walk away. It becomes a pain when one wrong move causes a domino effect and they all come crashing down. Assign a designated, secure location for each of these items by hanging hooks or try this
DIY storage solution using old pallets
. Get the full tutorial from
HomeTalk
.
If you're the type of homeowner that likes to create and build things, then an exterior workspace is a definite need for you. Unfortunately, many homeowners tend to store way too much in the garage, making valuable real estate for working hard to come by. That's why we love this idea from Home-Dzine for a worktable that easily folds down to make room for vehicles or anything else you need to store when the workspace is not in use. Check out how simple it is to build your own
fold-down worktable
with this complete tutorial that saves time and money by recycling an old
hollow-core door
.
3. Place barely used items out of sight
Remove the stress of digging through piles of unused items looking for the one you actually need by keeping this clutter out of sight. Use the space near the ceiling in your garage to build shelving and store these items in bins. Take it another step and include a label to tell you what's inside without having to remove the bin to find out. We're big fans of this
suspended shelving
idea from
The Family Handyman
.
4. Keep toys and sporting equipment organized
Scrambling to find the kid's sports gear while running late to practice is a scene many parents know too well. Create a designated space for these items to help reduce the likelihood they could be misplaced and avoid having toys and gear strewn about. If your garage has exposed studs, use them to your advantage like Wendy of
Designed to Dwell
and create this
easy storage system for gear and toys
.
5. Upgrade your garage security
How many times have you left the house and wondered if you remembered to close the garage door? Even worse, you also forgot to lock the door leading from the interior of your home. With a smart garage device, you can check the status of the garage door and even command it to close remotely. Take security up another notch by installing a
keyless electronic lock
. This will ensure you and the kids will always have easy access but with features like auto-lock or even smart solutions, you can rest easy knowing your door is always locked.