Why keyless locks are perfect for families on the go
By emily.bailey
Stop worrying about getting locked out or kids arriving home safely. Here are 5 reasons why keyless electronic locks are perfect for your busy family.

With back to school season just around the corner, many families are gearing up for busy schedules full of homework and extracurricular activities. With all the different calendars you need to keep track of, it pays to stay organized and find efficiencies that allow you to reduce the number of things you need to worry about. Here are a few reasons why
keyless locks
are perfect for your busy family.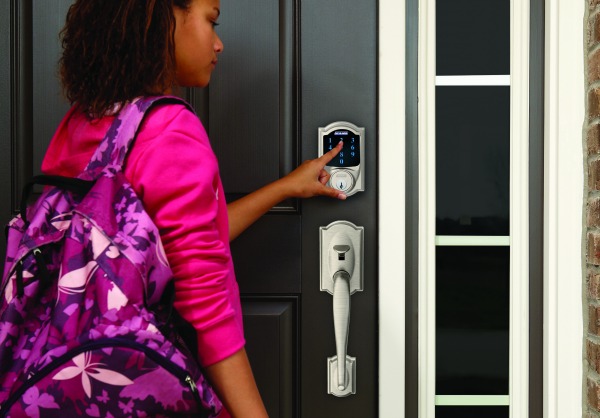 When you install a
smart electronic deadbolt
, you reduce the worry that your home is left unlocked after rushing out the door. With remote capabilities enabled, you can check the status of your door no matter where you are. If unlocked, you can even command it to lock. You can also set up notifications to receive alerts when your kids arrive home.
Installing a keyless lock means you can ditch the mechanical key altogether. Choose a single code for the whole family or assign a custom code for each member that is easy to remember. Now when your kids head off to school, you don't have to worry about them losing the key or someone finding the hidden spare.
How many times have you rushed out the door, making sure each child was accounted for and had all their essentials only to forget to lock the door when you leave? Or how many times have one of your kids headed out to catch the bus and failed to lock the door behind them? That's where the auto-lock feature that comes with the
Schlage Sense™ Smart Deadbolt
and
Schlage Connect™ Touchscreen Deadbolt
comes in handy. You can program your deadbolt to automatically lock after being left unlocked for a certain period of time.
Whether you have a sleeping child in tow or an arm full of groceries and backpacks, keyless locks make it easy to unlock your door by eliminating the need to juggle a set of keys. Simply enter your access code or talk to unlock (with the
Schlage Sense lock
).
There's already enough to juggle with remembering which child needs to be at which practice at which time. Say goodbye to the days of calling a locksmith to re-key your locks or let you in to your home after you've been locked out. With keyless deadbolt locks, you don't have to be weighed down by your keys anymore and know that you and your family can come and go with ease.
Have questions about which keyless lock is right for you and your family? Comment below and we'll help you sort through the features and benefits.