Why you should go Mid-Century Modern this fall.
By emily.bailey
Thursday, October 28, 2021
Check out Mid-Century Modern for a fall decor refresh. This style features colors that scream fall and décor you'll continue to love year-round.

As autumn approaches, now is a great time to give your space, not mention your mood, a little lift. We have the perfect inspiration for your fall refresh: Mid-Century Modern. This style features colors that scream fall and décor you'll continue to love year-round.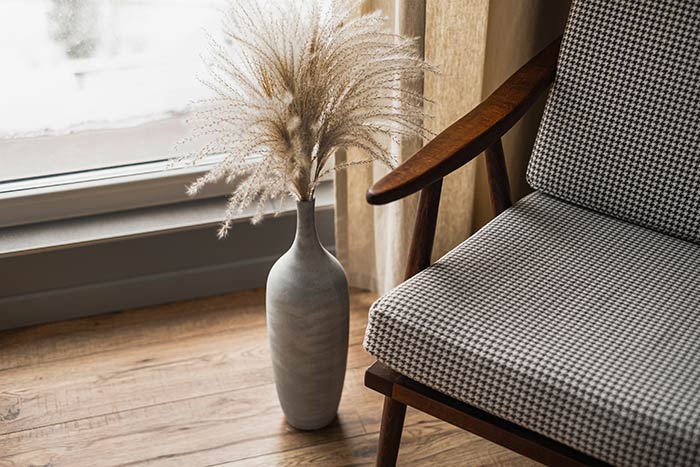 What is Mid-Century Modern style?
Mid-Century Modern style took root after World War II at a time when homeowners started living the suburban American dream. For the first time, our homes were somewhere we could find new enjoyment. Our yards were large enough for a barbecue and personalized living space was within the average person's reach.
Homes had large picture windows and open-concept floorplans. Clean lines, both inside and out, were paramount. Furniture had gentle curves, making them cozier than traditional minimalism but less fussy or ornate than earlier Victorian design. These clean lines are also partly why ranch houses, with their flat and low-pitch roofs, came into their own in the 1950s.
Outside, we often see reinforced concrete block as the home's exterior, sometimes creating a breezeway in warmer climates. Circular driveways, assuming the homeowner had enough room, were also a feature.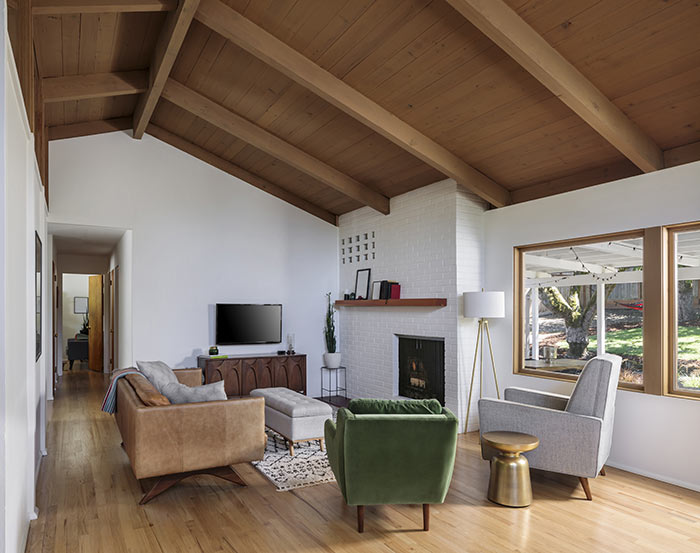 Mid-Century Modern Colors
You don't need to buy a 1050s home or even overhaul an entire room to get the Mid-Century look. You'll find a variety of colors in this style, ranging from muted pastels to saturated earth tones, that make it easy to work into your existing décor. For the Mid-Century-inspired fall look, give some of these hues a chance.
Yellow
Not just any yellow, though. Sunflower and mustard, which have more brown undertones, are what you want. A soft yellow is also a nice touch, especially if you want to lighten things up during the cooler months. This is an easy color to make your room feel dated, however, so use it strategically. Focus on accent pieces to bring the 50s vibe into the 21st century.
Try this: Use yellow for an accent wall or, like we see with @driesotten, accent stripes on the ceiling. This subtle way to add color to a predominantly white space works well with the Mid-Century Modern furniture on the lower level.
Chartreuse
This is sort of an olive green, by the way, and was one of the most popular shades of this era. As we get closer to 1970s style, it starts to creep toward avocado. But for early Mid-Century Modern, look for greens with, again, some brown and earthy undertones.
Try this: Upholster a statement piece of furniture, such as a couch, in chartreuse or olive green. Balance it with monochromatic décor in the rest of the room. If a chartreuse couch feels too much, try a smaller piece like an armchair.
Turquoise
If you prefer colors in the blue family but are steering clear of the pastel, powdery tones, this is for you. Turquoise, aqua and teal are among some of the bolder hues you'll find on our list. Not only are they distinctly Mid-Century Modern, but you're in luck as they've also seen a resurgence in recent years for their ability to improve our mood.
Try this: These blues are a great opportunity to also tap into another hot trend: two-tone kitchen cabinets. A soft aqua paired with darker wood finishes or a deeper jewel-toned teal with white will give you a rich look. We're pretty sure you'll love fixing those comfort meals surrounded by such style.
Pumpkin
We'd be remiss if talked about fall colors without mentioning pumpkin. One of the original exterior accent colors chosen by the Eichlers, renowned Mid-Century architects, pumpkin is the way to go when you want orange without going neon.
Try this: Paint your front door pumpkin or a similar earthy orange. We especially like this color if you have a white or beige house where the muted orange will give a gorgeous pop of color without alarming the neighbors. Tread carefully, however, if you have a dark brown or brick exterior. The combination of those colors with pumpkin could weigh down your curb appeal.
Red
For this hue, we're inspired less by fire engines and more by spices like paprika. Tomato red, with some orange tones to it, is another good match. Like so many of these colors, there's a darker, almost brown, underlying note that helps it pair with those earth-toned neutrals.
Try this: You're probably thinking about adding a red throw pillow or some other modest accessory. But what about using this for your mailbox? Update your curb appeal by focusing on clean lines, a Mid-Century Modern font for your house number and, of course, a rich red paint.
Mid-Century Modern Decor
Aside from colors, there are few more interior design elements that are easy to bring into your décor. Here are some of our favorites, plus some DIY hacks you can do to make the classic look your own.
Natural Wood
A key element of Mid-Century style is its earthiness. It's part of why architecture of the time used so many big windows – to bring the outside in. Another way to use those organic influences is with natural woods, whether for furniture, cabinets or even wall panels (although that wouldn't be our go-to unless you want to feel super-retro). We love the idea of adding natural wood to your home décor now because of the earthy feel of fall with its rustling leaves, cozy fires and trips to the pumpkin patch. At the same time, natural wood is classic, so you're sure to enjoy it for seasons to come.
Try this: Look down. Wood flooring, especially parquet, is a good way to bring the natural wood of Mid-Century Modern into your home. It doesn't have to be true hardwood. Choose the right material and it will not only look fabulous but also be easier to clean than carpet come wintertime.
Tapered Legs
Mid-Century Modern furniture is often most recognizable by its legs. They're on the narrow side, tapered and tend to flare out. Some style experts recommend this style of furniture leg if you have a small space that you're trying to make feel larger. By lifting the furniture up off the floor, you create open sightlines and the illusion of having more room.
Try this: You can buy furniture that already has tapered legs. Or you can try a DIY IKEA hack. In this project from Apartment Therapy, an IVAR cabinet was dressed up with some paint, glam hardware and classic Mid-Century legs to go from boring to party-ready.
Geometric Shapes
Mid-Century Modern style often features abstract, geometric shapes, especially as you narrow the look to the 1960s and early 70s. You won't see a lot of florals here. This is also where you incorporate your boldest colors. The more neutral, earthy colors may dominate your walls, but those more saturated reds and teals come into play with accents via geometric décor.
Try this: Perhaps the easiest way to include geometric shapes in your home décor is with rugs and artwork. Find accessories with color blocking in those classic Mid-Century colors. Another option is with graphic tiles for a kitchen or bathroom backsplash.
Other details, including door hardware, can not only help you create the look in the first place, but when paired with those other accessories, keep your overall style looking cohesive. The clean lines of the
Schlage® Bowery knob
with
Collins trim
, for example, make a strong geometric statement. Choose a
finish
like Matte Black or Bright Chrome to stay in the Mid-Century Modern realm.
Pendant Lighting
The nights are getting longer, which means it may be time to refresh your lighting. Take a cue from our Mid-Century style and switch to pendant lighting. The shades are often domed or ball-shaped and made of glass or other structured material. This could be a fun place to add one of the accent colors we mentioned earlier, too.


Try this: Hang a series of pendant lights over a kitchen island. The origins of Mid-Century Modern style are in functionality, and extra lighting over a meal prep or dining area does the trick. The trio of domed lights in this room by Kylie Fitts perfectly complement the rest of the décor, too, straight down to those curvy chairs with tapered legs and floor lamp.