How to make a Little Free Library or Pantry with reclaimed items.
By emily.bailey
Here are some of our favorite ideas for building a Little Free Pantry or Library using reclaimed materials.
You've seen Little Free Libraries in your community for a few years now. Little Free Pantries, which make food and other basic necessities available instead of books, are also becoming more common. As we continue to look for innovative ways to have a positive impact on our neighborhoods, what could be better than constructing your own stash of freebies for those in need? Here are some of our favorite ideas for building a Little Free Pantry or Library using reclaimed materials.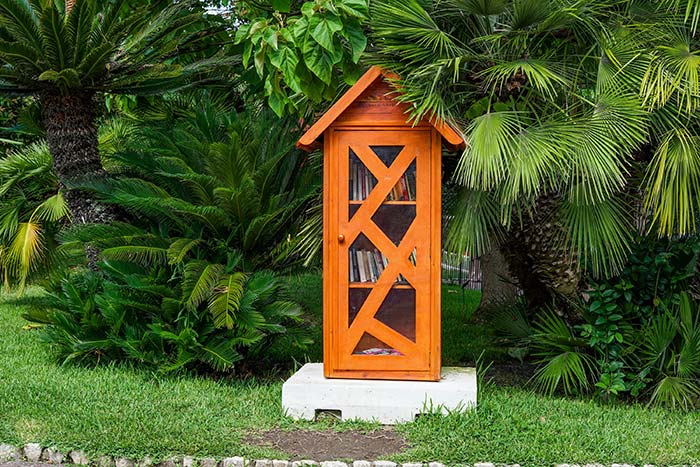 Install a vanity pantry
When redoing your kitchen or bathroom, save a cabinet from demolition. You might even be able to rescue an inexpensive cabinet from a salvage yard. Treat the exterior to protect it from the weather, maybe replace a solid door with one that has a window and you're ready to give back to your community. Dazzle While Frazzled shows how her "Librarian in Chief" daughter spurred them to make a kitchen cabinet Little Free Library.
Send some TLC with an upcycled mailbox
We've seen some Little Free Libraries made from a standard mailbox like you might see curbside. Our favorites, though, are ones made from the more decorative pedestal mailboxes. They'll hold more, plus they have that extra aesthetic to really zhuzh up your curb appeal. They'll look better with a more traditional house, but with a fun paint job, there's no reason it wouldn't create for a more eclectic look for any style of home.
Get down to business with a filing cabinet
When upgrading your home office, you might have swapped out a metal filing cabinet for something more stylish or effective. LittleFreeLibrary.org shows how several DIYers transformed their castoff cabinets into book havens. We also like this idea for other metal cabinets such as those you might find in your garage or mudroom.
Convert your community with a vintage appliance
Transforming vintage appliances like a small refrigerator, bread box or camper oven into a Little Free Library takes some great creativity. Just make sure any electrical components are removed to avoid safety hazards and remember that there is a fine line between vintage chic and tacky. Some neighborhood associations might take issue with what they see as garbage sitting outside your house. Make sure you get the right approvals before taking on this, or any other, community project.
Focus on the small details
Your entire library or pantry doesn't have to be made from scratch. A great middle ground is to buy the larger structure, then give it new personality with your favorite upcycled materials. Old door hardware, including knobs and hinges, and cabinet pulls would make great handles for your pantry door. If you want your Little Free Library to look like an actual house, maybe add some shingles left over from your last roofing project. Use up extra exterior paint and stain to add some color.
Keep it outdoor safe
No matter what you use to make your little library or pantry, make sure your materials will hold up to the elements. Choose exterior paint that won't fade and chip easily in harsh weather. Treat reclaimed wood to help prevent cracking and warping. And if you're worried metal components will rust, apply a protective coating or choose a different material instead.
If you're installing a Little Free Pantry, make sure you're able to secure the doors so that animals can't swipe your foodstuffs. You also want to make sure it's sealed against moisture or protected from extreme temperatures so that the food doesn't go bad before it's time.
Stock it well
Try to find out what your community needs the most. If you have lots of children in your neighborhood, focus on kids' books for your Little Free Library. Or leave something the moms might want to read while they're keeping an eye on the little ones at the park. For food pantries, non-perishables are the obvious choice. Still, stock it with canned goods with tabs to open them in case the recipient doesn't have a can opener. Try to avoid packaged foods that require other ingredients like eggs and oil that they might not have at home, either. And don't forget about other essentials like soap, feminine hygiene products and toothbrushes.