How to improve home security while boosting curb appeal.
By emily.bailey
We've put together a list of things that you can do to improve both your curb appeal and your home's security.
Making a good first impression is important. Whether it's family and friends, neighbors or potential buyers, your home's curb appeal is the first thing that people will notice as they pull up the drive. Just as important as looking good, though, is making sure that your home is safe. So, we've put together a list of things that you can do to improve both your curb appeal and your home's security.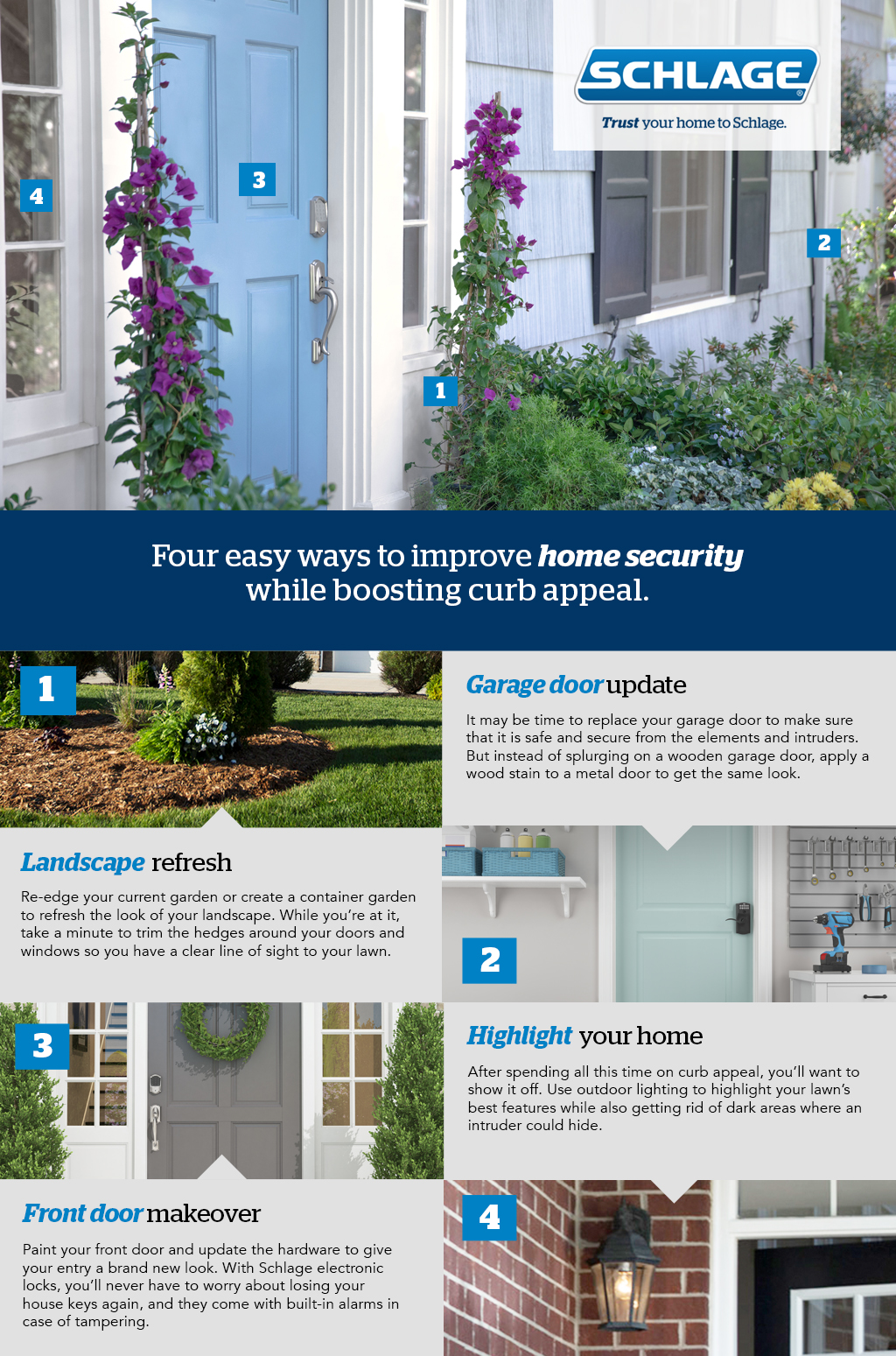 Landscape
Landscaping is probably the first thing on everyone's list when thinking of ways to improve curb appeal. There are a lot of ways to update your landscape and improve the look of your house, ranging from fast and inexpensive to big projects that can take time and possibly the help of a professional. Some of our favorite, smaller projects to quickly improve your garden area are these Better Homes and Gardens suggestions for re-edging your garden plots and creating a new container garden.
While you're at it, there are also a couple of things that you can do to your landscape to make your home safer. For starters, trim your hedges so they aren't blocking the sight line to your windows or door. This reduces hiding spaces for potential intruders. Another thing you can do, especially if you are planning on going out of town, is to make sure that your lawn is maintained. An unkempt lawn can be an invitation to thieves. Hire a neighbor kid to mow the grass or schedule lawncare pros to stop by while you're away.
Take time to inspect your trees, too. Remove branches that can fall on your home or car during storms, take care of any insect infestations and make sure the roots aren't causing structural damage to sidewalks or your home. This might be a good job for an arborist or other professional.
Garage
Fixing up your garage may not be the top priority when it comes to updating the exterior of your home, but it is a great way to increase your home's security. Older garage doors may be easier to break into or open from the outside, and some states have standards for garage doors to make sure that they are able to stand up to the weather. If you've never replaced it, your garage door might not be up to current safety standards.
Remember that a garage door upgrade is one of the best home improvement projects you can tackle to improve the resale value of your home. According to the Remodeling 2020 Cost vs. Value Report (www.costvsvalue.com), homeowners recoup an average of 94.5 percent of the cost of a garage door replacement when they sell their home.
There are some easy and affordable projects that you can do for your garage to give it a whole new, more welcoming look. One of our favorites is this faux wood garage door stain from Domestically Speaking.
Also consider adding a Schlage Touch® Keyless Touchscreen Deadbolt to the door going from your garage into your house. The keyless lock adds another layer of security to your home without adding an extra key onto your ring.
Door
Having a welcoming entrance may be the most important aspect of your home's curb appeal. Your front door can make or break someone's impression of your home, so updating it is a quick way to drastically improve your style.
You don't have to get a new front door to make it feel like new, though. A coat of paint can do wonders. We suggest painting the door a contrasting color to your house like Shavonda Gardner did for her front door. The coral paint color pops against the darker walls and serves as the perfect backdrop for the Matte Black Schlage Connect® Smart Deadbolt and other accessories. Replacing your house numbers, mailbox if it's on your door or porch, and light fixtures can add some extra personality to your front entrance.
Lights
Once you've done all the work to improve your home's curb appeal, it would be a waste if guests could only see it in the daylight. Outdoor lighting can help to highlight all the best features of your house and yard. Get some outdoor lighting ideas from the DIY Network.
Maybe you don't have a lot of evening guests or you aren't all that worried about making sure that people see your landscaping at night. Before dismissing outdoor lighting completely, consider that a well-lit house is also a deterrent for thieves. Landscape lighting can get rid of the dark areas in your yard that could hide an intruder. Looked at a different way, a well-lit porch, especially when you can see house numbers clearly, can help first responders find your home in the event of an emergency.