3 ways to make your entryway durable without sacrificing style.
By emily.bailey
Here are three areas – flooring, walls and doors – where you can improve your entryway's durability without sacrificing style.
Which rooms do you use every day? Bathroom, kitchen and bedroom are obvious. Maybe the living room. Did you remember your entryway? Because we don't hang out in a foyer, it's easy to overlook just how much time we really spend there. With all the coming and going, storing keys and coats, and kicking off shoes, your entryway gets a lot of use and can take a real beating. Here are three areas – flooring, walls and doors – where you can improve your entryway's durability without sacrificing style.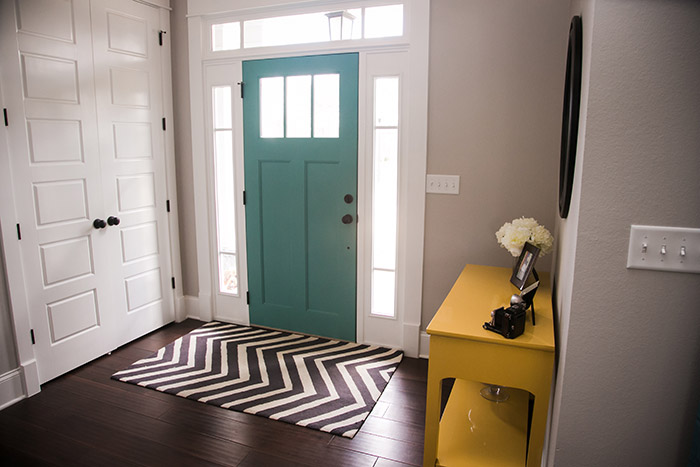 What is the best flooring for entryways?
Floors in high-traffic areas get the dirtiest the fastest. The carpet wears down and gets matted before you know it. And some flooring, no matter how well it's installed, will buckle and pop. To help combat these flooring problems, it's a good idea to choose materials that resist dents, scratches and stains. Tile made of ceramic or porcelain is one good option. Polished concrete is incredibly durable and less expensive than many other materials to install, not to mention low maintenance. Slate is also pretty sturdy, but it takes a bit of upkeep to keep it looking nice over the long haul.
Another possibility is area rugs that can be easily washed or swapped out as they wear down. Patterned rugs and runners are great for entryways, too. They help to add some visual interest without taking up much space in a small room and they're good at hiding some of the dirt that gets tracked in.
How can I keep my entryway walls looking great?
When it comes to making your walls stand up to everyday abuse, think material and paint. Apartment Therapy recommends shiplap for entryways and narrow halls, not just for its style, but also because it can be durable. Plastic panels, which are resistant to moisture and mold, and thinner tiles specifically designed for vertical walls are other options that should hold their own against all the activity an entryway sees. You might even consider metal or tin wall tiles for a bolder style statement.
Painting can be less labor intensive and easier on the wallet than replacing or covering walls. You'll want to choose the right kind of paint, however, if it's going to last. Look for satin and semi-gloss finishes. They aren't quite as durable as high-gloss paint, but they'll show fewer imperfections and wash well.
What kind of door and door hardware do I need for my entryway?
There's a lot to consider when thinking through the durability of a front door, but don't be intimidated. First, decide on a sturdy material for the door itself. Wood and fiberglass front doors are good options for durability and security. Steel doors earn extra points for being among the most durable as well as energy efficient. You want something that keeps thieves and drafts out, and your heating and cooling in.
Once you know what kind of door you want, consider paint. Darker colors will obviously do a better job of hiding dirt and shoe scuffs (we all use our foot to shut the door from time to time). No matter the color, though, choose a semi-gloss paint, just like you would use on your entryway walls. Also remember that your door does not have to be same color inside and out. Choose a more daring color for the interior to add some pop like you would on an accent wall.
Last but not least, think about your door hardware. A strong deadbolt and handleset not only hold up to your family's coming and going, but they're also some of the best ways to keep intruders out. Schlage deadbolts, both mechanical and electronic, earned
Best ratings from the BHMA
in Security, Durability and Finish. And with limited lifetime warranties , if something does happen to your door hardware, we're here to help.