How to use Schlage smart locks' auto-lock feature for a safer home.
By emily.bailey
Here are five ways the auto-lock feature on your Schlage smart lock can increase your security.
We're all familiar with auto-lock functions on our phones and cars. You might be less aware that your Schlage electronic lock has the same feature. You can program your smart deadbolt to automatically lock behind you, setting the timing for anywhere from 30 seconds to 4 minutes. The reason to try it is simple: it could make your home safer. Here are five ways the auto-lock feature on your
Schlage smart lock
can increase your security.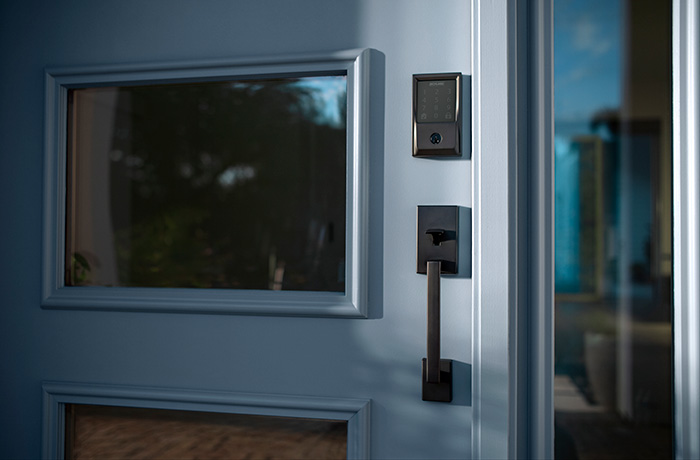 1. It locks your door, even if you forget …
You run out the door, hop in the car and you're going to make it on time! But did you lock up? Should you go back and check? If you use the auto-lock feature on your Schlage smart lock, you don't have to. Moments after you left, your door locked according to your settings. Even if it slipped your mind, you can trust that your Schlage lock is helping to keep your home secure … and you'll still be on time.
Think of this like the auto-lock feature on your car. Some newer vehicles can sense when the key is no longer nearby and will lock when it's out of range. There's no more running out to the parking lot "just to make sure" when you can depend on auto-lock. And while your Schlage lock doesn't use geocaching, the effect is the same – it secures your door without you lifting a finger.
2. … and when others forget.
Maybe you're not forgetful, but you know a few others who are. If your kids have a hard time remembering to lock up when they leave, auto-lock is a good fallback measure. If service providers visit your home – dog walkers, house cleaners – auto-lock means you'll know your home is secure even if they don't lock up after the job. No physical keys are necessary, and they don't even need a code to lock the door.
Think of this like when you let your kids play with your phone at a restaurant. They're enjoying their video or playing yet another game, then wander off because that's what they do. Your phone's auto-lock feature will help protect your personal data even when another user doesn't.
3. It locks up when your hands are full.
Coming or going, it seems we always have our hands full. When you leave the house, you might have your gym bag, briefcase, the kids and their bags, any number of things you're trying to get to the car. When you're coming home, it's all those things plus the groceries. With auto-lock, you don't have to juggle whatever you're carrying while also trying to get the key in the door. You can trust that your Schlage lock will take care of it automatically. That's security and convenience in one.
Again, think of it like the auto-lock feature on your phone. When you have other things on your mind – and in your hands – you can toss your phone into your bag or pocket. You know it will shut itself off soon and your data will be safe until you enter the passcode or use facial recognition to reopen it. We think your devices should work with you to improve security.
4. It locks even when you're home.
You've just come home with all those bags and groceries, got the ice cream in the freezer before it melted and now everyone wants dinner. So you start cooking, get everyone fed and three hours later, you think, "Did I lock the door when I came in?" With auto-lock, you never have to worry about it.
Most break-ins happen when everyone is away, but unfortunately that's not always the case. Burglaries when you or your kids are home can be an incredibly unsettling experience, but a locked door can help prevent it. Auto-lock can make it easier to keep the door locked.
Think of it like the auto-lock feature on your car that engages while you're driving. One benefit of this is to deter carjacking. Protect yourself while you're inside.
5. It discourages young children from leaving unattended.
Just as you want to keep some people out of your home, others you want to keep in. If your child is a little Houdini, you can use auto-lock to help keep them from pulling a disappearing act. This is most effective when your kiddo is still too short to reach the latch.
Again, think of it like your car's auto-locks. This feature can help prevent your passengers from opening the door while you're in motion, always a dangerous scenario. Your Schlage deadbolt's auto-lock feature similarly can help keep everyone safely where they're supposed to be.
Even when the door locks automatically behind you, there's no need to worry about getting locked out of the house. As long as you know your access code, you can re-enter using the keypad or touchscreen, no physical key necessary.
To turn the auto-lock feature on or change the length of time before it engages, refer to your lock's programming guide, included in the box or online at Schlage Support.
Smart locks can help make your home more secure. When you take advantage of all their available features, you might not only improve that security even more, but also make your life a lot simpler. It's time to overcome your concerns about going keyless and find the right Schlage smart lock for you.