Quick and easy ideas for updating closet doors.
By emily.bailey
Even the smallest closet can feel luxurious when they work right for you. Try these ideas for updating closet doors.
They might not be a room, but closets are just as important as any other space in your home. We're betting you've never toured a house and said, "It was nice, but those closets were just too big." It's more than just size that counts, though. You want them to look good, too. You can make a serious organizational effort, invest in pretty bins and commit to only using matching hangers. But you'll also want to pay attention to your closets' doors.
Cheap bifold closet doors that stick when you're trying to open or close them will make it feel like you woke up on the wrong side of the bed every day. A door knob that doesn't latch properly so that your cat sneaks in and leaves his hair all over tomorrow's shirt for work will get annoying really fast. Even the smallest closet can feel luxurious when they work right for you. Try these ideas for updating closet doors.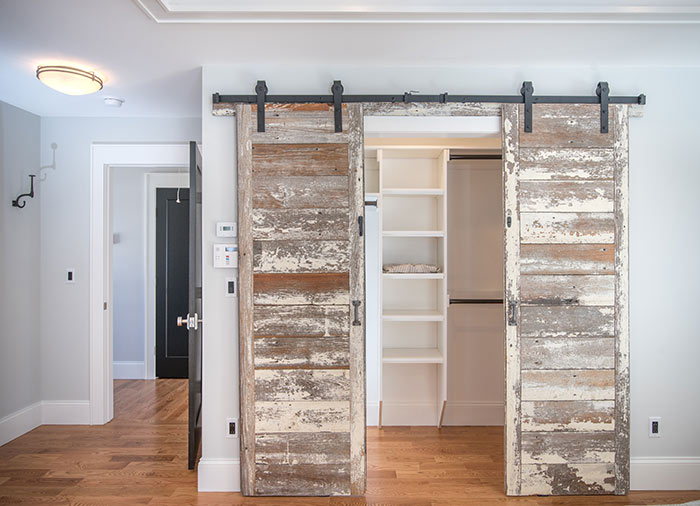 Start with a new door
The kind of door can have a big impact on what your closet looks like. Those bifold doors we mentioned earlier make us think of our first (and not very lux) apartment. Look for a door with a grander style. French doors, especially for larger or walk-in closets, will have you feeling chic. If your room is tight on space, consider something on a sliding track, such as a pocket door or barn door.
Give new life to an old closet door
When replacing the entire door isn't in the cards or the budget, try giving the existing one a makeover. Hollow core doors tend to look cheap because they usually are. Try our tips for making hollow core doors look expensive. It might be as simple as a creative paint job.
Repair squeaky hinges
No matter what type of door you have, if your hardware isn't at peak performance, you'll feel the frustration. For starters, replace or repair the hinges. Make sure they're aligned so the door shuts properly and take care of that squeak. Next, look at your door knob or lever. Does the knob turn correctly or does it stick? Does the lever droop? Does it latch properly or swing open just enough to let the cat in?
Find the right function
Take a minute to decide which function you want in your door hardware. Hall and closet door hardware, sometimes labeled as a passage function, does not lock. Another option is bed and bath, or privacy function, which does lock, usually with a push button. And then there's a non-turning door knob or lever. These are primarily for decoration and often used on one side of a French door or on pantries. Which function you choose depends on what you're storing in your closet and how much security or privacy you prefer.
Style your door with details
Now let's talk door hardware styles. Schlage offers a variety of designs perfect for traditional to contemporary homes and everywhere in between. Do you like the shine and glamor of glass door knobs? Try the Schlage Custom™ Alexandria or Hobson knob. How about a more modern lever? Check out the Schlage Latitude lever.
Don't forget about the door hardware's finish either. That can make just as big a statement as the knob or lever itself. One of our newer finishes, Matte Black, is great in many homes because of its versatility and ability to fit a range of styles. But we also have warmer golden tones, like brass, or cooler silver finishes like chrome and nickel so you can choose whatever look makes you feel unique.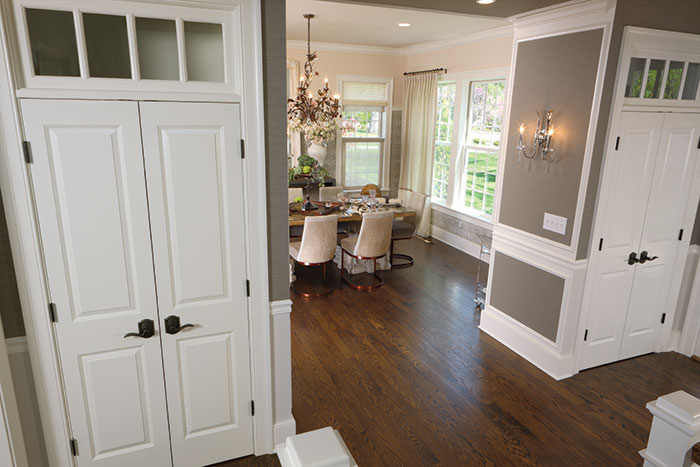 Remember your other closets
It's easy to get tunnel vision and only think about bedroom closets. While you certainly shouldn't ignore those, remember that other closets in the home can benefit just as much from a door makeover.
Laundry "room" – It's not uncommon to convert a larger closet or a nook into a laundry room. Instead of it feeling like you jammed some appliances somewhere random, get a finished look with stylish door hardware for your new space.


Hall closet – You'll notice the mismatch when you replace one door knob in a hallway and it doesn't it's different from all the others. It just might drive you batty. When you look down the hall and see every door – hall or linen closet, bathroom, bedrooms – with matching hardware, you'll feel good about the cohesive style selection you've made.


Entryway coat closet – Just like you coordinate the hardware in your hallway, think about matching the door hardware in your foyer to your

front door handleset

. Again, it's about achieving a stylish, cohesive look throughout the home.


Closet with extra security – Some closets store more than just clothes. Maybe it's a garage with antifreeze and other toxic materials. Maybe you need to protect sensitive documents in a home office. When this is the case, consider an

electronic lock

for extra security that you can control.