Smart online shopping tips for the holiday season.
By emily.bailey
Tuesday, November 24, 2020
If you're planning to purchase gifts online rather than wade through crowds in person, use this guide to be a smart shopper.
Black Friday and Cyber Monday have traditionally been two of the biggest shopping days of the year. Who doesn't love a great deal? But with the pandemic, holiday shopping in 2020 will look a little different. Some studies are predicting more will be done online, even before Cyber Monday. If you're planning to purchase gifts online rather than wade through crowds in person, use this guide to be a smart shopper.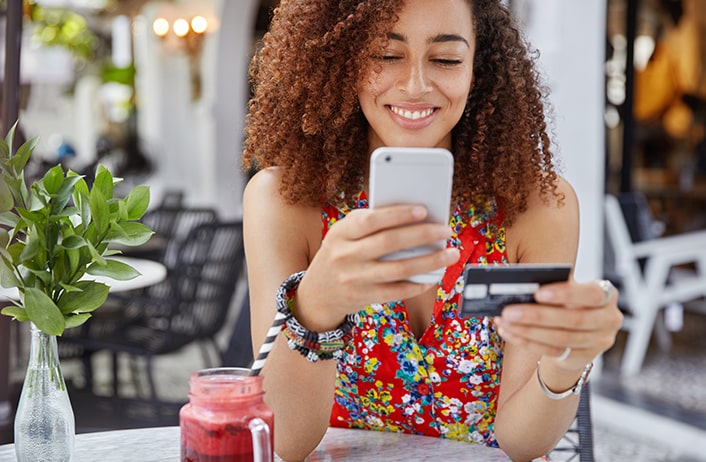 What you should never buy online
Some items should never be bought online, no matter how good the deal or how easy it sounds. Things that fall under this category include anything you need to test drive, literally or figuratively. Cars, mattresses and pillows, and some furniture are very personal. You want to get a feel for a particular item, not just rely on product descriptions and customer reviews. Some clothing, like swimsuits, intimate wear and suits also fit in this category.
When it comes to things like cars and mattresses, we are seeing more companies shaking things up and making it easier to buy online. Carvana for vehicles and Casper and Leesa for mattresses are making it easier to try their products out at home and return them if you aren't happy. So if you do plan to purchase something like this online, choose the seller wisely and look for good money back guarantees and warranties.
If you think you'll have lots of questions, head to the store instead. Large appliances like a refrigerator, washer or dryer often come with lots of fine print, either about the appliance itself or when it comes to delivery and warranties. Heading to a store to talk to a sales associate can be extra helpful. Another question to ask yourself is if you can negotiate the price of an item. If a little haggling is appropriate, don't buy it online – obviously, there's no one to negotiate with.
Anything where color matters should be left to in-person purchases, too. This includes paint, artwork you're trying to color match to other décor and cosmetics.
What you should buy online
Now that we know what we're not putting in our virtual cart, what should we buy online? Electronics are a big go, go, go! You can often find great deals on computers and televisions. Laptops have so many options to choose from that unless you need to talk to a geek, shopping online lets you pick and choose only what you need. Small electronic accessories – chargers, USBs and cases – are also solid online purchases.
We said not to get the refrigerator online, but smaller kitchen appliances are totally okay. If you've had your eye on a new blender or fancy waffle iron, there's no reason not to buy those while kicked back on the couch.
Not many of us are taking major trips right now, but if we were, we'd certainly be buying our plane tickets, searching hotel deals and snagging great prices on luggage. All of these are best bought on the internet, either directly from the seller or through a trusted agent.
Fitness equipment is expected to be hard to find this winter, so if you're in the market for a treadmill or free weights, buy them online and do it quickly. Due to gyms closing during COVID-19, many stores have seen their inventories drop and selection could get even more sparse in the colder months.
Kids' toys and books for everyone are great online purchases. And if you don't know what to get someone, buy a gift card online and let them do their own shopping … online or in person, of course.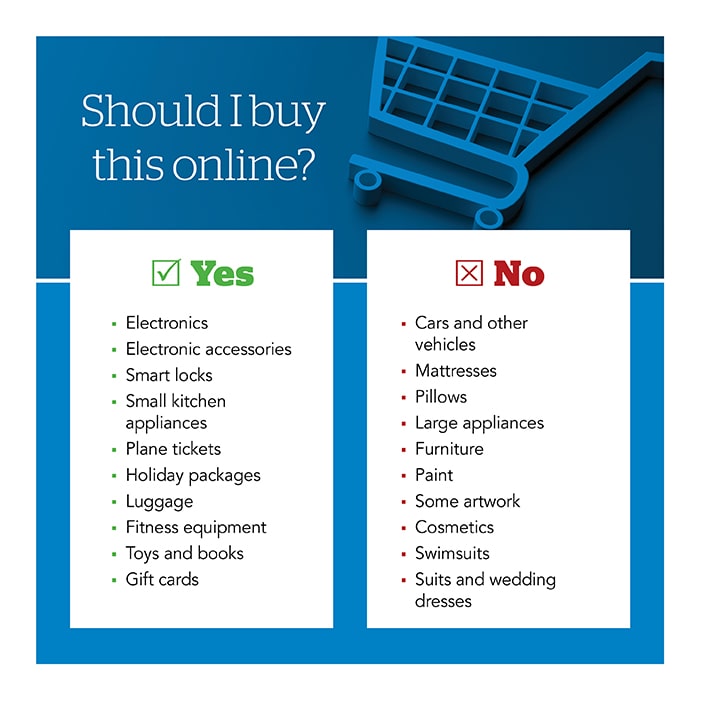 How to spot a great online deal
Especially when you're shopping online, it's easy to get excited by the fancy graphics and pop-ups claiming a great markdown. Not all deals are true deals, however. Here are some tips for knowing when you're actually saving money.
Do the math. Some websites will put a clearance sticker on a product, but when you look more closely, it's only marked down a few bucks. Make sure it's really on clearance and worth it.


Beware the free shipping trap. More and more places are offering free shipping as a standard. If there's still a minimum, however, and you find you're putting extra items into your cart just to meet it, take a minute to think. Will saving $35 on shipping really work in your benefit if you end up buying an extra $50 worth of random stuff just to get it?



Splurge on frequently used items

. Going cheaper on something you use and depend on every day – coffeemakers,

locks

and security systems, a cell phone – isn't always the smart move. You need them to hold up and you need to trust them. Often, spending a few extra dollars to make sure you get durability and quality will work out in your favor. After all, you could end up spending more in the long run if you have to replace it right away. And nothing is worth the caffeine headache you get when your coffeemaker breaks down unexpectedly after a month.


Know the difference between price and value. If something is important to you, it's okay to spend a little extra. Don't pass it up just because it's not a great "deal." You don't have to overspend, but it's perfectly fine to pay fair price for something that is going to improve your life, make it more convenient or truly make you happy. In other words, if you find great value in it.
How to shop safely online
When you shop online, make sure you're doing it safely. This goes beyond just protecting your packages once they're delivered. Before you even start putting things in your cart, check that you have a secure WiFi connection. Only shop at stores you know and trust, perhaps a shop you'd visit in person anyway. Remember to look for the padlock icon in the browser search window, too. This will help you know if the website uses secure encryption.
Learn how to stop package theft and get other online shopping safety tips here. And don't think it's only a matter of holiday security. This is important every day, especially as the homebody economy grows and we turn to contactless delivery more often.
Now that you know what to shop for and the best way to do it, get great ideas for everyone on your list. Use the Schlage Gift Giving Guide today for our picks on everything from smart lock bundles to favorite pet accessories to must-haves for the outdoors lover in your life.