How to transform everyday items into gorgeous holiday décor.
By emily.bailey
Tuesday, December 1, 2020
Sometimes all you want is a simple project with no trips to the craft store, no wasting money on supplies you'll use once and then forget about in the back of the closet. When that's the case, you need a project with upcycled materials. Here are 10 of our favorite DIY holiday decorations using items from home.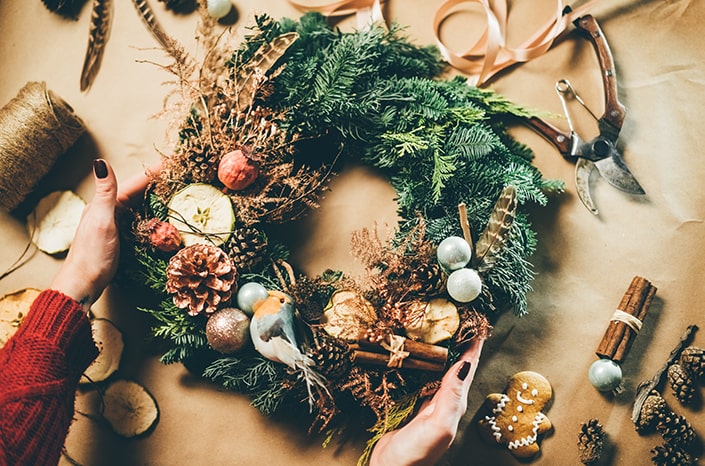 1. Holiday card tree
You've been saving up old Christmas cards but can't possibly display them all. Make a tree shape with your favorites like Country Living. It'll brighten up a dull wall and remind you of sentimental greetings at the same time.
2. Wrapped kitchen cabinets
We often see front doors wrapped like a present to spruce up holiday curb appeal. There's no rule that says you can't do the same with cabinet doors. If you have glass-fronted cabinets, you could also line the interior with wrapping paper you already have to bring some holiday spirit to the kitchen.
3. Citrus-lined candle jars
House Beautiful shows one of the easiest Christmas tips on this list. Line the candle jars you already own with orange and try a spice-scented candle. One whiff and the nose knows it's time to celebrate.
4. Coffee filter garland
Coffee filters dyed in various colors is all you need for a simple DIY garland. String them together, fluff them up and hang the finished product anywhere that needs a festive touch. It doesn't have to be on a mantlepiece. Try a stair railing, over an interior door frame or around a hallway mirror.
5. Popsicle snowflakes
If you have crafty kids, you probably have some popsicle sticks laying around. A Girl and a Glue Gun turned this into a "crafternoon" with the family, setting the kiddos free to create designs as big and original as their imaginations.
6. Winterized lantern
We like this one for repurposing décor from other seasons – in this case, lanterns – and winterizing it. If you don't have extra Christmas tree bulbs like Dimples and Tangles used or if you want a different look altogether, try adding a string of small lights, evergreen sprigs, faux snow or whatever else puts you in the seasonal spirit. Use the updated lanterns outdoors on porch steps or indoors on a mantle or sideboard.
7. Plastic spoon Christmas tree
You bought a multipack of plastic cutlery and somehow ended up with only spoons left. Use them for this DIY Christmas tree. Heathered Nest embellished them with glitter, but how you style your upcycled tree is up to you. We've also seen this craft done with all the spoons painted a single, solid color and thought it helped give them more of an artistic touch and look less like cutlery.
8. Photo paper luminaries
For just the price of some photo paper, which you might already have from your last scrapbooking project, you can create a personalized luminary. These DIY snowflake luminaries from The Handcrafted Life look just as beautiful when illuminated as in daylight and came in at a fraction of the price as store-bought version.
9. Snow globe terrarium
Apothecary jars – perhaps the ones you store cotton balls in – are the perfect base for creating a winter wonderland. Unlike a traditional terrarium with moss and other plants, fill these snow globes with fake snow, a small strand of lights, mini artificial trees, woodland creatures or anything else that sets the perfect, whimsical scene.
10. Sock snowman
This tutorial for no-sew snowman from Darkroom & Dearly is the perfect project for those socks who lost their mate in the dryer. With a little more effort, you can also turn your socks into Scandinavian Christmas gnomes.