Do you know when to save and when to splurge on home décor?
By emily.bailey
Whether you're remodeling after years of waiting or moving into your starter home, these tips will help you decide where to save your money and where to splurge.
Making your house a home can be an expensive endeavor, but it doesn't have to be. Whether you're remodeling after years of waiting or moving into your starter home, these tips will help you decide where to save your money and where to splurge.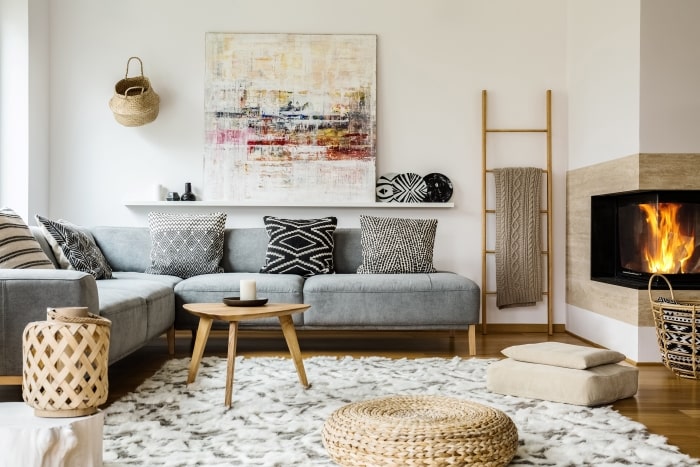 Front porch
Save: Doormat
Plain and simple, you're going to walk all over it. For something that's going to get dirty, why not save your hard-earned money? Choosing inexpensive options makes it less painful when daily grime dulls its initial beauty or when you want to change it with the seasons and holidays.
Splurge: Door and door hardware
Skimping on your door and locks puts your home security at risk. An exterior deadbolt is your first line of defense, so this is not the time to choose the cheapest thing in the aisle. Look for one with exceptional quality and that fits your lifestyle. Schlage locks have among the highest ratings in security and durability from the Builder's Hardware Manufacturers Association and are trusted in more than 40 million homes. Visit Schlage.com to see our full offering of front door locks, and if you're looking for a smart lock, try our Get Help Deciding Tool to find the one that's right for you.
No matter how strong your deadbolt is, if your door is weak or damaged, you have a problem. Door material and quality matter. Steel and wood doors generally hold up well under a variety of conditions. Research the pros and cons of different door materials before you buy.
Kitchen
Save: Hardware and drawer pulls
Cabinet and drawer hardware is an easy and inexpensive way to upgrade your kitchen, especially compared to replacing all your cabinets. Choose hardware that complements other kitchen features – faucets, lighting, door hardware and countertops – and you might be surprised by this big impact with a small price tag.
Splurge: Energy-efficient dishwasher
This one's tough because we all use our kitchens differently. The baker will want to splurge on a stand mixer, the drink enthusiast on a kegerator or wine fridge. Everyone, however, has dirty dishes. A good-quality dishwasher will keep you from having to pre- or re-wash your dishes, a convenience whether you're making five-star banquets or another bowl of cereal. Choose energy-efficient appliances to conserve water, money and the environment.
Living room
Save: Throw pillows and blankets
We love inexpensive throws because of their versatility. They add color and texture to a room, and you can change them with the seasons. They can get pricey, but like any accessory, the important thing is that you buy something you love. If that means a $10 pillow that reminds you of Grandma, then that's the perfect accent for your space.
Splurge: Couch
Is there anything worse than an uncomfortable sofa that can't hold the entire family or is just plain ugly? You'll use your couch daily, so you need it to hold up. Its size also means that it likely dominates the sightline in your living room, so you want it to be attractive. Save up if you have to. You won't regret a bit of patience when it comes to having the perfect couch for snuggling with loved ones in front of a movie.
Bedroom
Save: Nightstands
The key here is to find nightstands or side tables that match your style, and that doesn't mean they have to be expensive. They won't take an everyday beating like a dining table would, so while you don't want your nightstand tipping over while you snooze, sturdiness doesn't have to be your top consideration.
Splurge: Mattress
When you sleep well, you reduce stress and improve your immune system, lower your risk of diabetes and heart disease, and even have better odds of maintaining a healthy weight. With so much riding on your ZZZs, don't cut corners on your mattress. Go ahead and test drive in the store as many as it takes and get the best one you can afford.
Bathroom
Save: Mirror
A builder's grade mirror can be spruced up easily. Save on the mirror itself and find the perfect frame for the look you want. You might find that a DIY mirror frame gives you more options in terms of size and shape.
Splurge: Shower fixtures
Even if you don't choose fancy jets or showerheads with aromatherapy, the quality of your fixtures matters if you want them to last. You won't want the knob to come off in your hand with no way to change the temperature when you're being blasted with cold water. And you won't want your finishes to start peeling off before you're ready for an upgrade.