Sweeten up your front door décor for Valentine's Day.
By emily.bailey
Wednesday, January 30, 2019
Show your romantic side by greeting your sweetie at the door on Valentine's Day with a little something special that says, "I love you."
We say it all the time – your front door makes an instant first impression. It's no different on Valentine's Day, so use it to let loved ones know you remembered. Show your romantic side by greeting your sweetie at the door on Valentine's Day with a little something special that says, "I love you." Here are six sweet ways to celebrate. Candy hearts are optional, especially
this year
.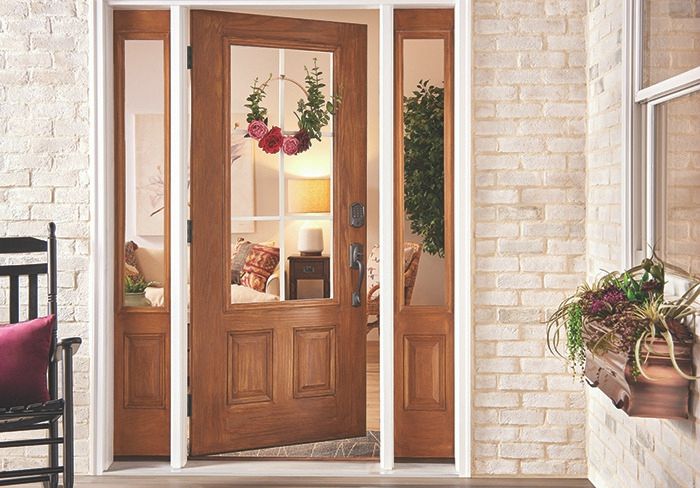 Show some love for the front door
Not ready to put away the wreaths? One reason they're such a popular front-door decoration is because they're so versatile – both to individual taste and by season. Get in the holiday mood with bold, bright colors, like this DIY option from Life on Virginia Street. We love how much it will pop on a neutral-colored door. Or get a wreath that "says" something. Hugs and kisses, anyone?
Does your significant other woo you with flowers? Show how much you appreciate their thoughtfulness by incorporating them into a seasonal wreath or, if they'll survive outdoors in your area, plant some fresh flowers in pots on your porch.
You had me at hello
Sure, you can meet your loved one at the door with roses, but how about trying something a little more creative? If your special someone is expecting flowers, make a whimsical bouquet for your entryway. Bonus points if you can coordinate these blooms with those you might have used to decorate outdoors on your front porch.
If you have space in your foyer on a side table, for instance, try incorporating meaningful photographs. Don't be afraid to take it a step further either by using heart-shaped photo holders. These small, metallic clips are perfect for those with more subtle tastes, and both options are classic enough to be used year-round.
Metallic décor also goes well in neutral-colored rooms if vibrant Valentine reds and pinks aren't your style. But if you're ready to break out of a color rut and want to try something bold in a small space, check out Houzz's top picks for romantic room colors that say, "I love hue."
Get smitten on the patio
Sometimes your main entryway isn't actually at the front of the house. If that's the case, don't be afraid to buck the trend and go all out for a back door or patio. (We'd say the same thing if you're considering a smart lock or entryway handleset.)
To create a little magic on the back patio, try new lighting. Battery-operated candles, lanterns and twinkle lights are popular and safe options for setting a mood, and not just on Valentine's Day. You don't even have to be outside to enjoy the shimmering lights. Place them where you can enjoy the view from inside, like from your romantic dining room table or cozying up to your loved one.