Sharing access just got easier with the Schlage Sense™ Smart Deadbolt
By pooja.katkar
Tuesday, October 10, 2017
Sharing access with your smart lock is much safer and more secure than hiding or copying keys.
If you haven't already heard, we recently updated our Schlage Sense Smart Deadbolt with some exciting new capabilities. Not only does the lock work with both iOS and Android devices, there are also new options that make sharing access easier than ever. Using this smart lock is simple and convenient, from scheduling access codes so the babysitter can have access only when neededand to making sure the neighbor can get in to water the plants while you're on vacation.
Best of all, sharing access with your smart lock is much safer and more secure than hiding or copying keys. You may even save money – you'll never have to head to the hardware store to copy a key again. No more headaches trying to keep track of the keys you've handed out or worrying when one is lost or stolen, and no more keys weighing you down when you take your morning run. Adding an electronic lock to your home is definitely a lifestyle change – for the better.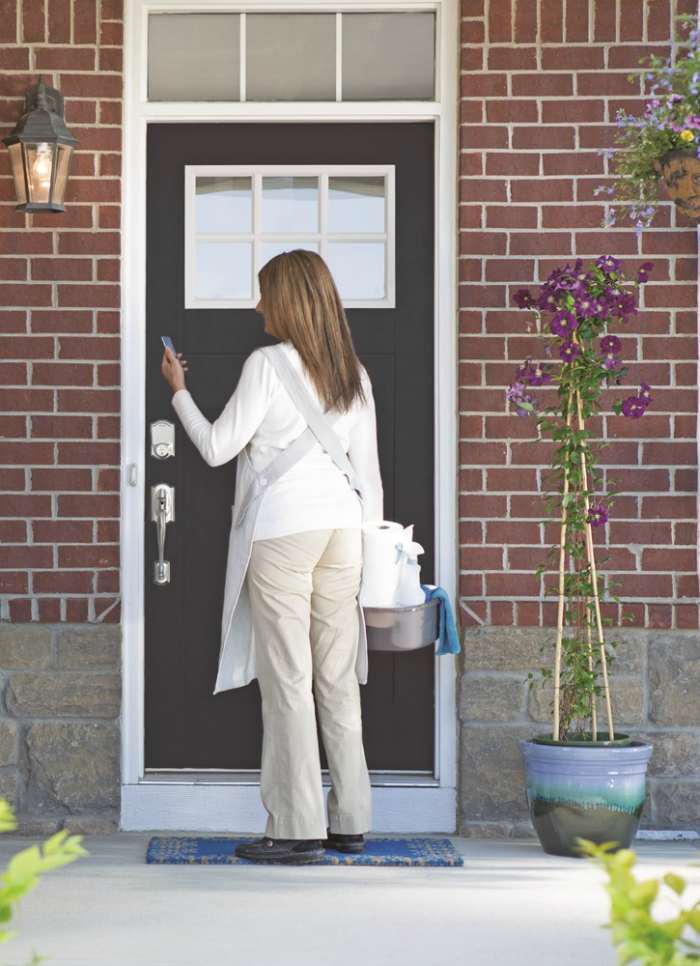 Easy access for everyone
The Schlage Sense Smart Deadbolt offers multiple ways to share access with those you trust - even if they don't have a smartphone to get in. The lock holds up to 30 access codes which are entered on the lock's touchscreen, so you can create a personalized code for each person you'd like to allow into your home. The Schlage Sense app makes it easy to add codes in just a few taps, and keeping track of codes is simple because you can name each one according to who it was shared with – so Mom, Dad, and Uncle Jerry can all have their own codes. You can even use the app to send them their code via text or email.
To add new user codes through the Schlage Sense app: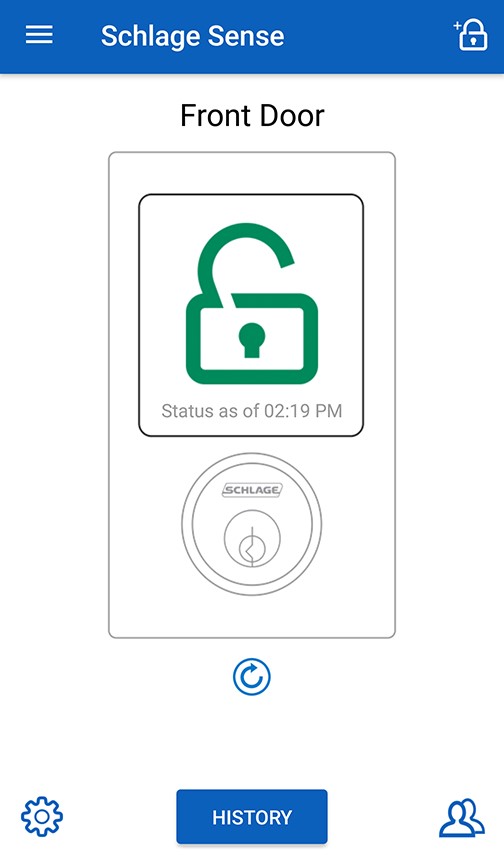 Tap the "Users" icon in the bottom right of the screen.

Under the "Access Codes" tab tap the "+" in the upper right of the screen.
Enter a name and digits for the access code. Choose between granting All Day Access or schedule the code for a specific time period.

Tap "Save" in the upper right corner to save the code. You'll be prompted to share the new access code with your guest through text or email.
Custom schedules
The Schlage Sense app gives you even more control over access sharing by allowing you to set schedules for each access code so they only work when you want them to. For example, if you want the babysitter to be able to use her code to enter your home only on Tuesday and Thursday afternoons, you can do that. The rest of the week, the code won't work – so you have greater control over who can access your home and when. It's also easy to delete codes with the app when you no longer need them – much easier than tracking down a spare key or re-keying your lock because a key has been lost or stolen.
Here's how to schedule access codes for your Schlage Sense lock: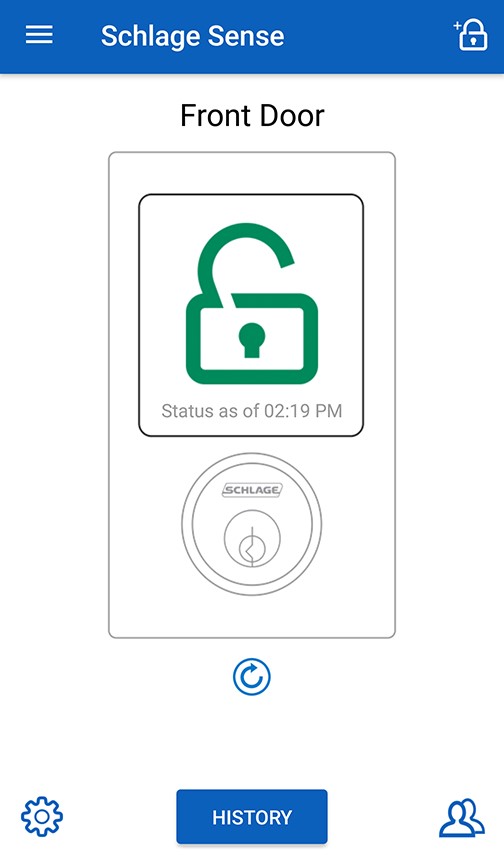 Tap the "Users" icon in the bottom right of the screen. Select an access code to manage or create a new one.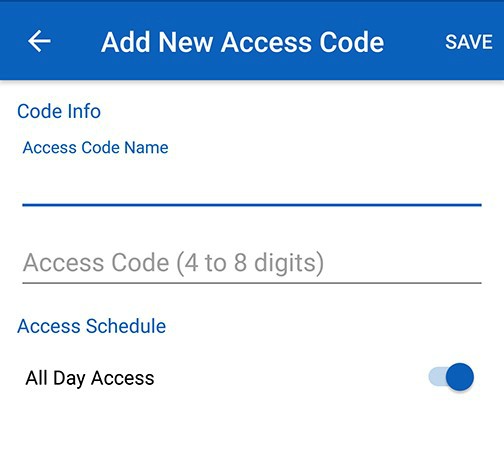 Under Access Schedule, tap the "All Day Access" slider off to make scheduling options appear.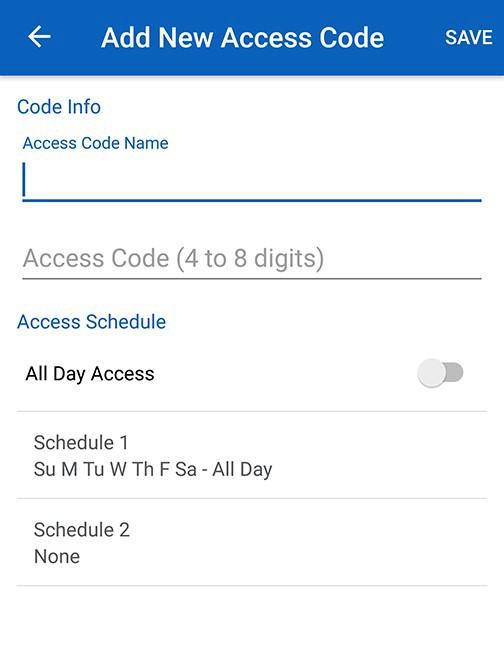 Select one of the two available schedules to edit. Select the days and times that the access schedule will allow or deny access to that code. Tap Save.
Virtual keys
If your guest has a smartphone, you can send them a virtual key through the cloud from wherever you are – even if you don't have the lock set up for remote access (Learn how to enable remote access for your lock here). Virtual keys are like electronic credentials. Your guest will receive a secure link that expires within 24 hours and leads them to the Schlage Sense app where their virtual key is accepted. When they arrive at the door with their Bluetooth® enabled smartphone, the lock will recognize their secure credentials and allow access. Thanks to the Bluetooth connection between the lock and their phone, they'll be able to unlock the door right then and there using the Schlage Sense app.
*It's important to note that virtual keys will not work with locks set up using the HomeKit option. If you'd like to take advantage of virtual keys, you will need to reset your lock to factory settings and re-pair it using the Schlage system setup. See our FAQs for Schlage Sense for more information.
Here's how to send virtual keys: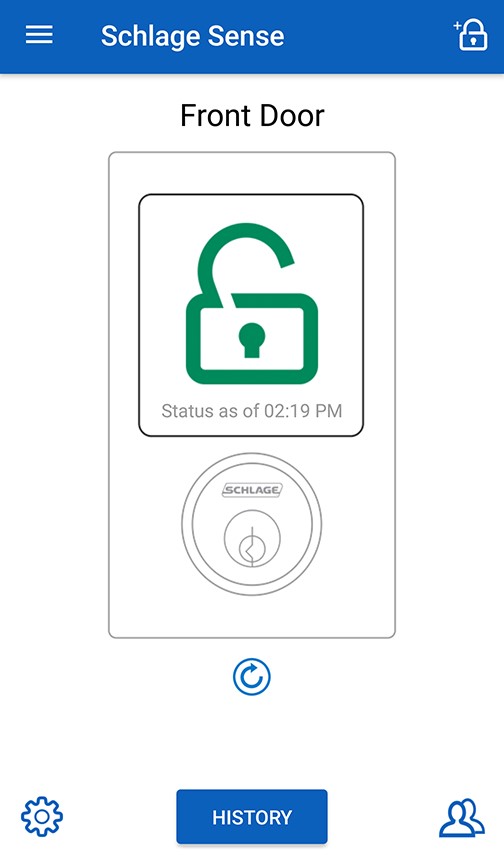 Open the app and select the lock the invite will be for. Tap the "Users" icon on the bottom right of the screen.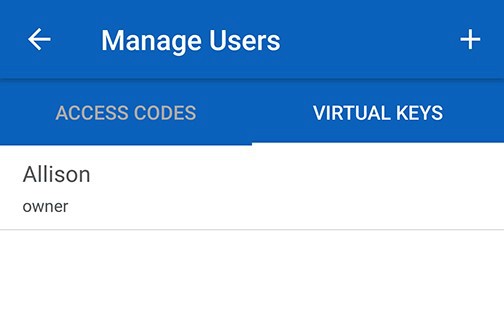 Tap "Virtual Keys."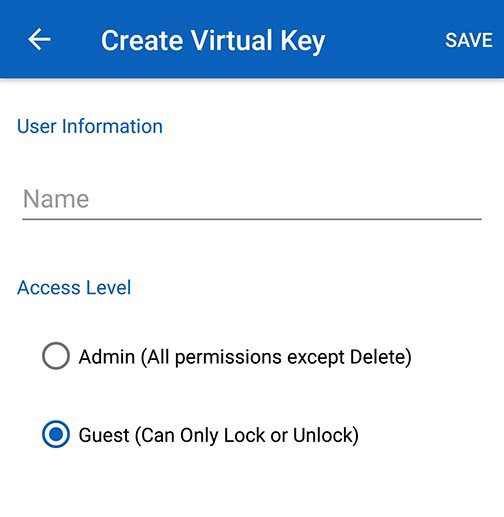 Enter name of invited user and indicate whether you'd like to provide Admin access or Guest access (recommended).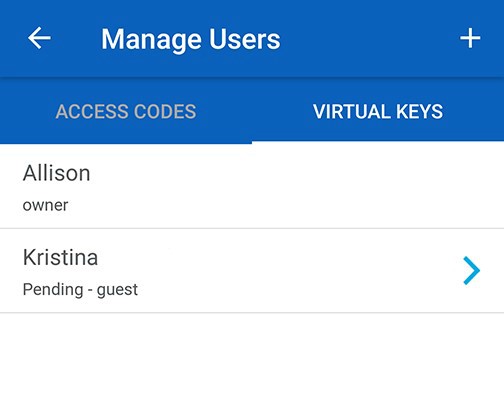 Select a method to send the invite – email, text, etc. The invitation will be available for 24 hours before it expires. When the user is near the lock with Bluetooth turned on, they will be able to use the Schlage Sense app on their smartphone to lock or unlock the deadbolt.
Lock history
Another very cool feature offered by the Schlage Sense app is the lock history, which you can tap to view a log of the last 100 times the lock was used. The history will tell you whether the lock was accessed manually with an access code (and show you which access code it was, so you always know what time the kids got home) or unlocked using the smartphone app.
The great thing about all of these features is that they aren't just convenient – they offer you a lot of peace of mind when it comes to protecting your home, your possessions and, most importantly, your family.
Questions or comments about the Schlage Sense Smart Deadbolt? Ask away on our Facebook or Twitter page.