3 door painting tips to make your next project a breeze
By emily.bailey
Wednesday, February 25, 2015
If you've been inspired to paint your doors, we'd like to share a few of our favorite door painting tips that will help you pull off a flawless look in no time.
This month, we've shown you how doors aren't just a barrier between rooms. They can become an extension of your personal style with the right creative twist. If you've been inspired to try something new on your doors, we'd like to share a few of our favorite painting tips that will help you pull off a flawless look in no time.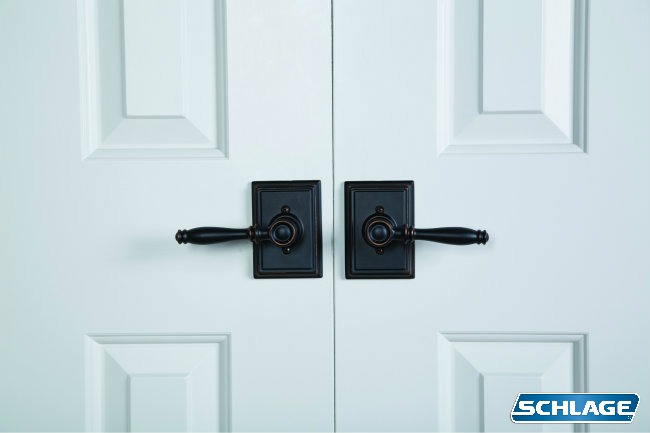 Having the right tools can make all the difference when it comes to achieving a professional look. We recommend using a 4 in. foam roller brush, especially for panel doors, to be sure you adequately cover all sections. An angled sash brush will also help you cover those hard to reach places and make any small touch ups. If you plan to
paint a pattern on your door
, or leave the existing hardware on, make sure you stock up on painter's tape to create nice clean lines.
The easiest way to paint your doors is to leave them on the hinges. This will save you time if you plan to paint both sides and prevent the hassle of re-installing. Just be sure to protect against accidental paint drips by laying a painting sheet or newspapers on the floor. Be sure to give your doors a thorough cleaning as well. Doors often collect more dust than you might realize which can result in a clumpy paint job.
If you're not sure what type of paint is currently on your doors, a best practice is to always sand it lightly and coat with a good primer. The last thing you'll want is for your beautiful paint job to chip away with everyday use.

If you'll be painting around existing hardware, try covering knobs and levers with aluminum foil instead of painter's tape thanks to this tip from Real Simple. This will allow you to adequately cover those awkwardly shaped trims and preserve the finish. Diane Henkler of InMyOwnStyle.com suggests covering hardware with rubber cement which will peal away with ease when you've finished painting.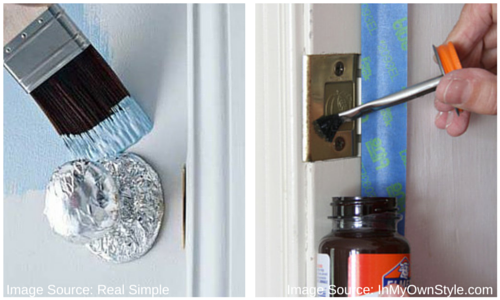 If you're painting single paneled doors, your job will be easy to finish. Just be sure not to leave any roller marks behind by smoothing over the whole door with another roller. If you have a paneled door, you're going to need a game plan to get a perfectly painted look. Start with the interior angles at the top of the door working your way down, painting the edges with the angled brush. From there you can move on to the dividing panels, starting with the most center, working outwards and painting the bottom of the door last. Diane Henkler put together a thorough
tutorial for painting 6-panel doors
that will help you visualize the pattern you should be painting in.
Do you have any door painting tips you've discovered? Share your tips with us on Facebook.