10 essentials for the perfect mudroom.
By emily.bailey
How you use your mudroom can influence what you include in the space. Here are our suggestions for 10 mudroom essentials, no matter how you use that space.
Mudrooms are more diverse than you might think. Do they include laundry and a utility sink? Is it off the garage, the side of the house or more centrally located like near the kitchen? Is it a main entrance for guests or designated for kids and pets? How you use your mudroom can influence what you include in the space. Here are our suggestions for 10 mudroom essentials, no matter how you use that space.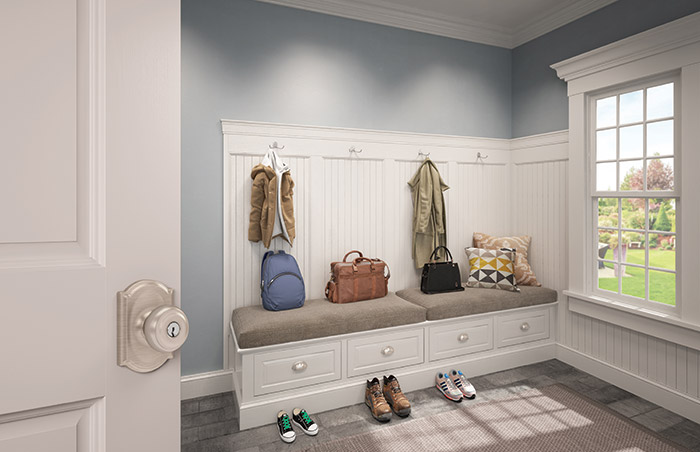 1. Bench or storage ottoman
This is a prime opportunity for multi-purpose furniture. A bench gives everyone a place to sit while they remove their shoes and a surface to set your bags down while you take off your coat. You can also incorporate it into a hall tree with hooks and other storage. This adds convenience, organization and a refined look as if the furniture pieces were made just for that space. Get a DIY hall tree tutorial from Handmade Haven.
2. Hooks
You have coats, bags and keys. Keep them off the floor and easy to find with a variety of hooks. Take it a step further and use some to hang small bins for mail, the kids' supplies and other get-out-the-door-quick items.
3. Storage
Like it or not, the mudroom can become the home's dumping ground for odds and ends. If you can't avoid it, embrace it. Make sure you have shelving, lockers or cubbies to contain the clutter. Built-in organization and storage win every time.
4. Small baskets
When you hit the door, you want somewhere to leave keys, mail and other small items where you'll be able to find them again later. Keep then contained with a tabletop or hanging basket that's easily accessed as you come and go.
5. Boot tray
Whether it's for boots, sandals or football cleats, you'll want something to contain the dirt and puddles your family tracks in the house. As utilitarian as boot trays are, there is a wide range of styles to choose from to match your taste. Wooden slats, stone-inspired or simple plastic all keep it clean and classy.
6. Easy-to-clean surfaces
Even if you have a doormat or durable indoor/outdoor rug, easy-to clean flooring will add a layer of convenience you'll never regret. Something with no grout lines where grime can get caught is a bonus. Also consider low-maintenance wall materials like semigloss paint, which is easy to wipe down, or wainscoting. Pet owners who have been splattered by a shaking wet dog know what we're talking about.
7. Lighting
Because mudrooms tend to be small, extra lighting can make the space feel larger and more open. From a security perspective, a well-lit room can also add peace of mind when you're walking into an empty home at night.
8. Laundry hamper
Whether you have your washer and dryer in your mudroom or not, you'll appreciate a laundry basket in this space. Rain-soaked socks, mud-splattered jerseys and sandy beach towels can go straight in the hamper without introducing the mess to the rest of the house.
9. First aid kit
This is about easy access to emergency supplies, especially if your mudroom opens out onto the garage or yard where accidents are prone to happen.
10. Door lock
One thing nearly any mudroom will have is a door. What kind depends on where in your home that mudroom is situated. If you've been lucky enough to be able to convert a closet or awkward nook into your mudroom, a pocket door might be an ideal solution for hiding anything unsightly without obstructing a hallway. But if you have an exterior access point for your mudroom, you'll want something that offers greater security. A traditional deadbolt from Schlage features premium metal construction and is made with durability in mind.
Don't discount a smart lock, either. Not just for front doors, Schlage smart locks offer keyless convenience and peace of mind no matter where they are. Lock and unlock from anywhere and skip the keys completely for secure yet simple access when coming home with your hands full.
Explore Schlage's range of deadbolts – mechanical and electronic – and check out our Get Help Deciding Tool to find out which smart lock is right for you. And if you have more questions, reach out to us on Twitter or Facebook.