Smart home tech is changing how homes are sold
By emily.bailey
Adding even a few smart home products is the single easiest way to boost your home's value. Here's what you need to know before you buy or sell a home with smart home tech.
As home automation technologies become even smarter and more popular, their impact on home purchases has become even more evident. Adding even a few smart home products is
the single easiest way to boost your home's value
, according to the National Association of Realtors (NAR) and their
2018 Home Buyer And Generational Trend Report
. It can increase your home's value
as much as 5%
, the Consumer Electronics Association and the National Association of Home Builders found. And that's just the beginning.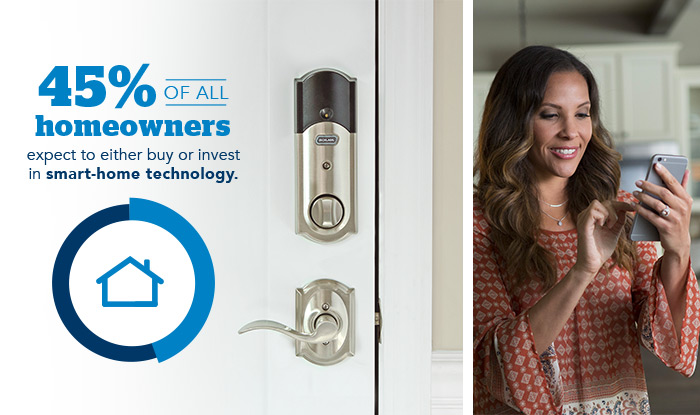 Smart is in
Smart home technologies are becoming more mainstream by the day. In fact, nearly 45% of all home owners expect to either buy or invest in smart home technology. More than half of prospective home sellers said they were planning to purchase home automation products specifically to sell their homes faster and for more money.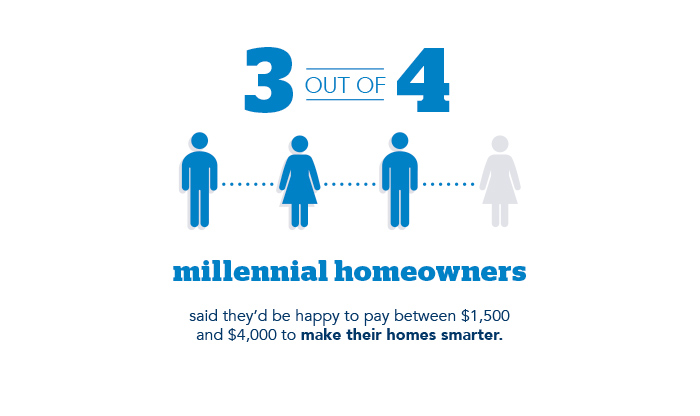 Do the math
Three out of four millennial homeowners said they'd be happy to pay between $1,500 and $4,000 to make their homes smarter. A $4,000 investment could increase your home's asking price by 5% – not to mention turning your house into a smart home that provides additional convenience, security and enjoyment. And as smart technology grows and improves, there are so many ways to upgrade your home regardless of the size of your budget.
With the largest generational group of home buyers being millennials – 37 percent in the NAR's 2019 report – you can't ignore the attraction of smart home technologies in appealing to this significant potential audience. In total, the smart home market is expected to reach close to $120 billion by 2020. As this wave crests, it's sure to continue to sweep through the real estate industry, impacting home prices and influencing home buyers.
A smart, affordable solution
The NAR trend report revealed that home security was either somewhat or very important to more than 85% of those surveyed. It's no wonder smart locks are the number one purchase consideration, followed by automated lighting and smart thermostats. Smart locks make your home attractive to prospective buyers, and they also provide peace of mind as realtors and others are going in and out of your home.
Installing a smart lock on your front door is a simple and affordable first step toward making your home "smart." Now, instead of leaving your door unlocked or hiding a key under a planter or in a fake rock, you can install a smart lock to keep your house secure. You can even use your smart phone to allow convenient access to those you trust. The Schlage Home app allows you to program new access codes into the lock, even setting schedules for when those codes can be used. And because you're notified when codes are used, you can keep a better eye on who accesses your house.
Schlage smart locks
When it comes to choosing the smartest smart lock, you can count on Schlage. Schlage smart locks prove that strength, smarts and style are no longer mutually exclusive. In fact, the premium style of Schlage smart locks – with their variety of designs and finishes – will actually add curb appeal to your home, and that can improve your resale value.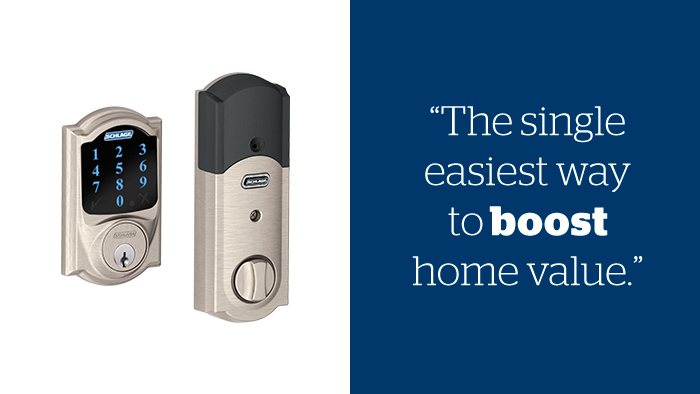 Schlage offers several smart locks from which to choose depending on the technology you already have in your home. The Schlage Connect™ Smart Deadbolt is designed to work with either Z-Wave or Zigbee home automation hubs. The Schlage Sense™ Smart Deadbolt allows easier home access using your smartphone via Bluetooth. And the new Schlage Encode™ Smart WiFi Deadbolt connects directly to your home WiFi network, no additional hubs or accessories required. These are all reflective of a heritage of style and innovation that
traces back to 1909
when company founder Walter Schlage first patented a door lock that also turned on a home's lights.
Is your home ready to sell? Have you thought about increasing the value of your new home by adding the latest smart home technologies? Visit Schlage for more helpful tips on ways to secure, beautify and make your home smarter with stylish, innovative door hardware that opens up a world of possibilities.