6 steps to the most welcoming holiday decor.
By emily.bailey
Quickly take decorating your porch and entryway off your to-do list with a few of our favorite front porch decorating ideas.
The holiday season is often the best time of the year but can also be the most stressful. There's much to prepare from buying gifts for loved ones, to travelling to events and maybe even preparing your own home for guests. Quickly take decorating your porch and entryway off your to-do list with a few of our favorite front porch decorating ideas.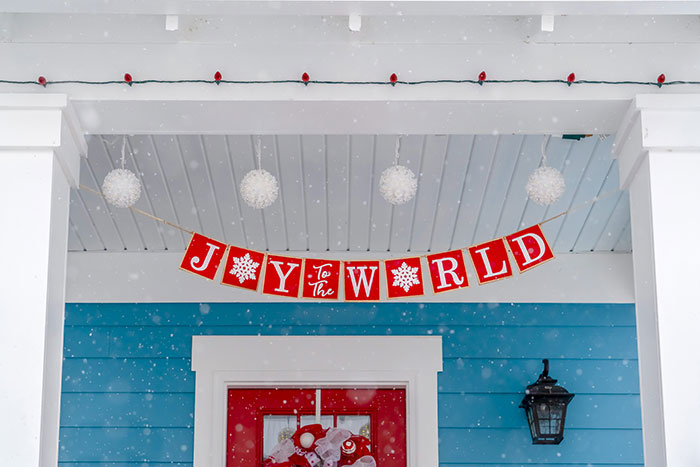 1. Make a DIY wreath
There's no shortage of DIY Christmas wreath ideas out there, so you'll have your pick whether you want to use all-natural materials or upcycle some bits and baubles you already own. For starters, check out this easy, natural holiday wreath from Houzz for a statement that looks like a hundred bucks.
Some of the best DIY projects use materials you can find around the house. This DIY wreath from Taryn Whiteaker simply wraps a wreath form in a scarf, adds a few extra embellishments and voila! This could be the perfect time to upcycle that old winter gear you never wear anymore.
Quite honestly, we aren't sure if we should call this a wreath or a cutout, but either way, it's the perfect holiday front door décor, especially if you're going for a natural, Scandinavian look. Chapman Place used wooden fence slats for a minimalist snowflake that's sure to delight your guests.
2. Ditch the wreath
When you want to spruce up your door for the holiday but want something besides a wreath, a bundle is a good alternative. Just a Girl stuck with evergreens, tying them together with ribbon and adding some gold accessories, but you could also bundle pine cones or ornaments to capture your favorite festive feel.
December tends to be the season of giving, so why not treat your door like a present? Liz On Call shares her tutorial for making a giant bow and gift tag. Just be sure not to block the peep hole for safety. The best part might be how simple it is. You'll love how quickly you can complete the project when you're short on time but also being able to customize it with whatever greetings you want – Merry Christmas, Happy Hannukah, Seasons Greetings, Welcome Snow …
Take a look down and consider jollying up your doormat. At Home with Ashley DIYed a gingerbread house mat when the one she found at the store sold out. File this one under cute and convenient when it makes your home look great and keeps it clean.
3. Decorate somewhere new
Your front door shouldn't get all the attention. Add some holiday flair to other entrances since you likely use side or garage doors most anyway! We're loving how Sand and Sisal complemented the light blue on her garage entry door with the pop of this cheerful red.
Your door doesn't have to be the focal point, either. Adding an oversized wreath to this chimney adds a simple but charming affect.
A picture window needs a large wreath in our opinion. A Night Owl shows how to DIY the oversized décor by combining two different sizes of wreaths before hanging it with some festive ribbon. This is one holiday hack that can be enjoyed as much from the curb as it can from your couch.
If you prefer to keep your décor inside (where you don't have to freeze while hanging it), try these mini window wreaths. Say Yes made a collection of them for their larger space, but you could use one on smaller windows, too. If you follow their tutorial, you'll get simple wreaths with less-traditional greenery, but feel free to give it your personal touch with different organics, adding creative colors or including something shiny.
4. Add a fresh touch
Fresh décor has all kinds of advantages. It can be kinder to the environment and more sustainable, easier on your budget if you use what you find in your yard and it probably smells fantastic, too. French Country Cottage tapped into the natural trend by adding fresh oranges for a fun pop of color to this classic greenery.
You might also take a page from Liz Marie and her wintery front porch. From the plain garland strung from the posts to the red and green plants at the bottom of the stairs and the trees and birch logs in between, there are no doubts about this rustic holiday décor.
Window boxes aren't just for warmer months. You can enjoy these plantings deep into the winter, and they're easier to take care of than you might think. Try some evergreens – live or cuttings – like Fleurish Fort Wayne as well as anything with a bit of color like berries, poinsettias or accessories. Leftover tree ornaments could give your window box a little something extra for the holiday season.
5. Continue the holiday welcome indoors
The holidays don't stop at the front door and neither should your decor. Even a small entryway can make a big impression with the right touch. Finding Silver Pennies kept it simple yet completely festive by mixing real and artificial greenery on the banister. The twinkle lights are pretty minimal, so most of the illumination comes from the faux candles on the steps.
If that's a little too neutral for your tastes, consider taking it to the next level with some colorful felted flowers. Check out the tutorial from Better Homes & Gardens to see how they intertwined the string of faux flowers with traditional green garland for a look that is anything but average.
If you're like us, you collect more ornaments every year but have a hard time letting go of the old ones. That means you have a bunch of those glass balls just sitting in a tub. String them on some fishing line or wire like Pretty Quirky and turn them into a shimmering garland to brighten any stairway.
This last one is for the young and young at heart. Wrap your banister in lights, then cover those with artificial snow cover like cotton batting or Seasons Cover like Smart School House did. Just like that, you have a snowy slide for penguins and other winter friends.
6. Get organized
Having an organized entryway can make all the difference in enjoying this holiday season. If you live in a cold climate, make sure you have space for coats and boots to avoid tracking salt and snow through the house. The family behind TIDBITS dressed up their everyday coat hooks with a strand of berries, greenery and other fun touches like a giant jingle bell and mini lantern. Even with the décor, there's still plenty of room for the kids to hang up their gear.
The main lesson in this holiday décor tip from HGTV is that you can have style and function at the same time. This coastal-themed sign with a few sprigs of holiday trimmings are great for side tables in your entryway. They don't take a up a log of space, so you can keep the organization you already have.
We could go on forever with our favorite winter holiday looks – and we kind of already have. Find more ideas and inspiration at the Schlage blog and on Pinterest.