4 ways to remove paint from door locks and hinges.
By emily.bailey
Tuesday, November 22, 2022
With a little attention to detail, your hinges will stick less and your entire door will have that gorgeous look you've been missing.
Did you move into a fixer-upper or an older home? Did you get a bit sloppy touching up your doors and walls? If you answered yes to either of these, then you need to try one of these four ways to remove unwanted paint from door hardware and hinges. With a little attention to detail, your hinges will stick less and your entire door will have that gorgeous look you've been missing.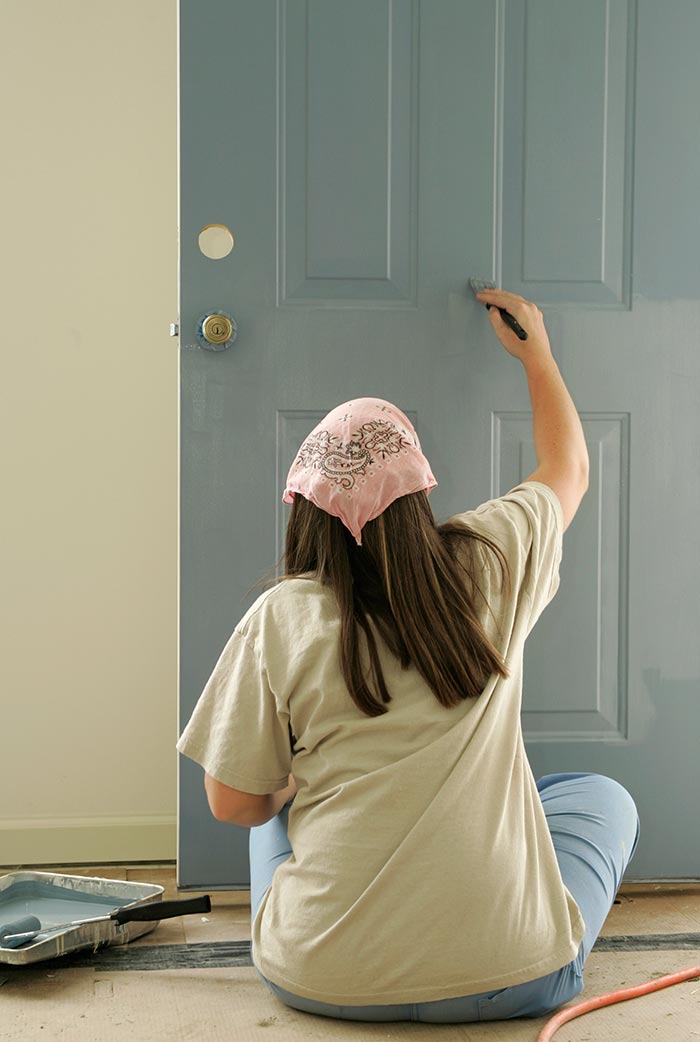 Quickest way to remove paint
Let's start with a moment of honesty: Speed depends a lot on how much paint there is to remove. Lots of layered on paint from 30 years ago means more time, no matter which method you choose to remove paint from metal finishes. That being said, paint stripper is probably the quickest way to remove unwanted paint from door locks and hinges. That's why it was created, after all.
Every DIYer has a favorite product for this kind of project. Some recommend CitriStrip, others Goof Off. Thankfully, you have lots of options. Different paint strippers have different levels of toxicity and different application methods. You can find these as a spray-on or liquids or gels you rub on with a rag. Choose a stripper you're comfortable using.
Do your homework before applying any kind of chemicals to your hardware. The "most effective" are often the most toxic, so if you're concerned about their environmental impact or harming your kids and pets, you might prefer one of the chemical-free paint removal methods below. Also, some hardware and finishes may be damaged by harmful chemicals. Check with the manufacturer, if possible, for recommendations that will safely restore your hardware to its original beauty and avoid voiding any warranty you may have.
Greenest way to remove paint
If you want to remove paint from door hardware without using chemicals, use heat. Pretty Handy Girl shows us how a heat gun and putty knife can restore your hardware. The high heat essentially melts the paint, softening it enough that you can use the putty knife, a stiff brush and fine sand paper to remove the paint and buff the hardware.
Pay special attention to safety precautions. You'll need sheet metal or some other protective covering, pliers or metal tongs, and thick gloves to avoid damaging your work surface and burning your hands.
Easiest way to remove paint
For the easiest way to remove paint from door hardware, we pick the crockpot hack. First, you'll need an old crockpot designated specifically for these kinds of projects. Don't cook food in this crockpot due to the risk of ingesting lead paint later. Also, grab a pair of tongs, gloves and a stiff plastic brush.
Place the hardware in your slowcooker and cover it with water. This Old House recommends adding a few tablespoons of liquid laundry detergent to help the process along. Turn the heat to high and let everything soak for a few hours or, for more stubborn paint, overnight. Once the paint has loosened, remove the hardware with your tongs and gloves and scrub off any remaining paint. This method takes longer than some of the others, but you'll probably be asleep for most of it. What's easier than napping while you DIY?
If you're not willing to sacrifice your crockpot to paint stripping, you can also boil your hardware in a pot on the stovetop. Again, don't choose a pot you plant to put food in again. You can pick up a cheap one at a thrift store for this purpose. For a little extra oomph, Apartment Therapy suggests adding baking soda to the boiling water. About 1/4 cup of baking soda per quart of water should do it. All the remaining steps are the same as using a crockpot.
A third similar option is to boil water in a tea kettle and pour it over the hardware in a disposable aluminum pan. Try a turkey roasting pan since they tend to be deeper, or a pie plate if you're just restoring hinges.
It's best to use this technique on metals that don't rust – copper, brass or aluminum, for example.
Best way to remove paint for a custom look
If you're going for a shabby chic or distressed look, try using steel wool, as shown at Curbly. Only try this method if you're okay with leaving scratches and scuffs on your door hardware. Because of potential damage from the steel wool, this method isn't for everyone. But if you like the idea of maybe leaving some of the paint behind or going for a rustic aesthetic, steel wool could be your answer.
Keeping all your door hardware in great working order pays off in more ways than one. Your entryway will look great and work even better. Find more hardware maintenance and DIY tips at the Schlage blog, including this popular post about unusual ways to quiet squeaky hinges.