Our favorite fall curb appeal ideas.
By emily.bailey
Wednesday, October 5, 2022
Before you shop for the perfect pumpkins and mums, look through our favorite fall curb appeal ideas to create a specific vision that you will love all season.
As temperatures start to cool off, it's finally time to reach for your favorite warm beverage and decorate your front porch for fall. Shopping for pumpkins, gourds, and mums is a lovely way to get in the spirit of fall, but it can be frustrating to come home with a trunk full of finds only to realize you have no idea what to do with them. Before you shop, look through our favorite fall curb appeal ideas to create a specific vision that you will love all season.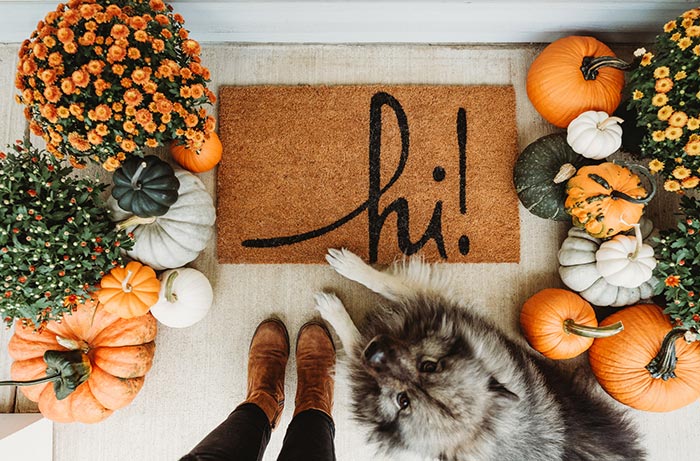 Bold contrasts
Mirror the crisp, exciting fall weather by going bold. You aren't restricted to neutrals for fall! The bright blue of this front door from @mamanowwhat on Instagram is a perfect contrast to vibrant pumpkin stacks. When mixing high contrast colors, choose complementary colors for an impact that pleases the eye. By picking one of the three sets of complementary colors – red and green, yellow and purple, or orange and blue – you instantly create a dynamic space that is still balanced and soothing. Consider adding in a strong print for your entry rug or exterior pillows to create fun, inviting layers for your fall front porch.

Fall foliage
Ease the transition to fall by adding autumnal elements to your summer planters. Here, @1900stonefarmhouse's arrangement of natural textures and greenery creates a calming front entry for the season. Don't be afraid to hang on to more summery florals and greenery if they are still thriving. Instead, layer in your favorite fall elements such as pumpkins, cornstalks, gourds, and mums. These elements will serve as the focal point for your fall front porch design. Your remaining summer plants can still add texture and interest to your arrangements, even as they start to dry out and fade. This is an easy, sustainable way to save money and further the life of plants you've been tending all summer.

Neutral layering
For a moody aesthetic, layer neutral tones. Consider the height and stacking of each element to build visual interest. Working within a mostly monochromatic color palate like this example from @whitehouseinsuburbia creates effortless harmony that works well with a variety of design trends. For a modern farmhouse or boho look, pair your neutrals with wood tones and matte black metal finishes. If you prefer a natural, modern elegance, mix in white florals and bright metals like chrome or brass.

Playful and inviting
Sometimes, more is more. Playing with shapes, colors, textures, and patterns can create a fun, welcoming atmosphere for your front porch, as seen in this design from @simplysoutherncottage. The key is to create balance through symmetry of your largest elements. This acts as an anchor for you to get playful with smaller pops of color and textures throughout the display. This fun approach to fall front porch design will put a smile on guest's faces all season long.