Smart home guide for beginners: How to get started.
By emily.bailey
A smart home can make your life more secure, more comfortable, and more fun. Here's everything you need to know to set up your home automation system.
What is a smart home? It's your home, but more intelligent. A smart home gives you the power to control door locks, lights, thermostats and other home features – from anywhere in the world. And you probably already have the control panel – your smartphone or tablet. While the technology may seem complicated, the goal is to make your life more convenient, safe, and enjoyable.
Studies show that smart home technology is growing in popularity among all generations of Americans. However, getting started can feel overwhelming if you're still used to controlling switches and knobs manually rather than through a phone or computer. Before you enjoy automated lights, locks that unlock with the tap of your watch or phone and the other benefits of having a smart home, you'll need a primer on the basics.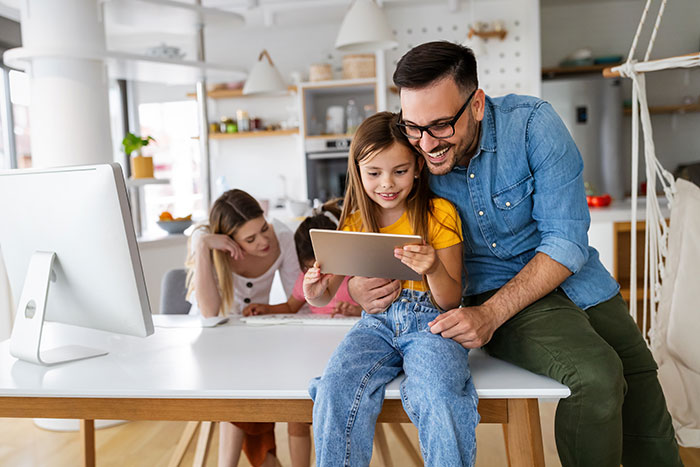 How to control your smart home system
One of the most important decisions you'll make is choosing how you will control your devices. Smart home technology can operate wirelessly through protocols like Bluetooth, Zigbee, NFC, Wi-Fi, Z-wave, Li-Fi, and 5G. To simplify things, we've broken it down into three main ways you can control smart home devices.
Cloud software platforms: The most popular cloud service in this category is If This Then That (IFTTT), which you can use via a downloadable app. IFTTT is an easy-to-use platform that connects apps, devices, and services from different developers. The program does this through Applets, which connects two or more apps or devices together.
Virtual assistants: This category includes popular speech-enabled smart speakers such as Amazon Alexa, Google Assistant, and Siri with Apple HomeKit. These cloud-connected ecosystems let you program commands or routines that will control smart home devices. All three developers are constantly adding updates to more intuitive and compatible with more products.
Smart home hubs: Using a hub as your smart home controller is a good idea if you don't want to have to rely on the cloud to manage your devices. Hubs such as SmartThings and Wink connect to devices locally and offer more advanced automations. As with the other control options, you'll want to make sure that your hub is compatible with all the smart devices you want to use in your home.
Which smart home ecosystem should you choose? If you're starting fresh, pick your system based on your smart home goals and then select products accordingly. Think about which smart devices and automation solutions you need — or want — for your home setup. Remember, the key to having the best smart home is to unify all your devices.
Consider your lighting
One of the most popular features of smart homes is automated lighting. With a controller, you can manage individual or groups of lights — scheduling when and how much they should turn on or off. Imagine having your lights automatically dim when you go to sleep and ease back on when they detect you moving through the kitchen for a midnight snack. These features can also determine the shade of light, and they can be automated to optimize energy efficiency.
Many smart lighting systems work great over Wi-Fi, so you don't need a hub. You'll control them directly using a mobile app, but they're also compatible with Amazon Echo and Google Home if you want to start building up a more elaborate system. However, you'll need to install smart home switches to control all the existing lighting in your home. A DIY enthusiast can handle a smart home switch installation in under an hour.
Never forget to lock the door
Do you ever ask yourself, "Did I remember to lock up?" What about, "Where are my keys?" You can kiss both uneasy feelings goodbye when your home is equipped with smart locks. These keyless door locks connect to your Wi-Fi, which means you can lock them remotely with your phone.
Schlage's line of Smart Deadbolts is compatible with a wide range of voice assistants, hubs, and access management systems like Ring. With some easy programming, you can set these devices to automatically lock a few minutes after being opened or at night. Schlage smart locks are powered by batteries and offer a touchscreen or keypad for access codes — features that prevent any problems if there's an internet or power outage.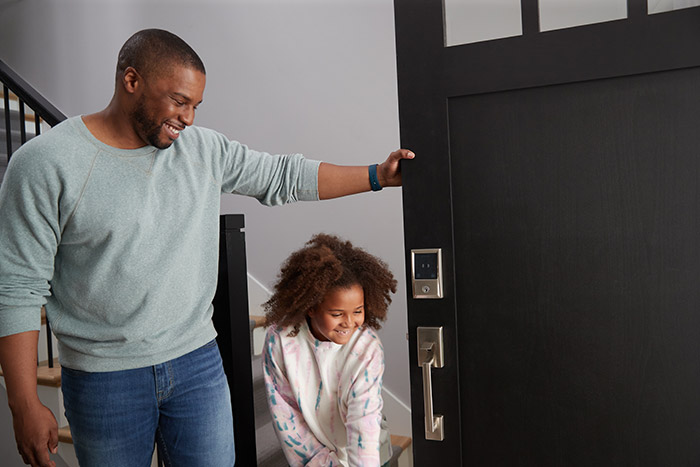 Think about home security
Security is one of the most popular reasons to start integrating smart home technology. In addition to locks, smart security systems can include smart door and window sensors, motion detectors, and surveillance cameras. You can receive alerts on your phone or computer if any of these devices is triggered, and you can even view live footage from your cameras.
Some security systems also include features like two-way audio, which allows you to communicate with someone at your door through your phone. Another feature to consider is geofencing, a GPS-enabled virtual perimeter that uses your phone's location to automatically arm or disarm your system when you leave or return home.
Control your home's temperature
Modern smart thermostats offer more than just the ability to control your home's temperature remotely. Of course, these devices let you turn on the heat before you get home from work or cool down your house from the comfort of your bed. But many smart models can work with other devices to make adjustments, and they feature remote room sensors to ensure a uniform temperature.
Most impressively, smart thermostats can "learn" your household's behavior and make schedule recommendations that save the most energy. Even a few small temperature adjustments can have an effect on your utility bill. According to Google Nest, smart thermostats save homeowners an average of 15% on cooling costs. When shopping for a smart thermostat, you'll want to consider features like ease of use, compatibility with other devices, and energy-saving functions.
Enhance your audio and video setup
Smart home technology is also about making your life more fun. When you sync your home theaters, TVs, and speakers into a smart home system, you'll enjoy more convenience and customization. You'll be able to use your smartphone or controller to play music in specific rooms, raise volume levels, and select playlists. Your controller will essentially consolidate all your remotes, so you can manage everything from Bluetooth speakers to record players as long as they're synced.
The key to optimizing your smart home is to allow devices to communicate with each other. For home entertainment, this could mean automating custom lighting when you press "Play" on a movie. Do you have a music listening routine? Schedule a playlist to turn on at a certain time or when you flip a smart switch.
FAQ About Smart Home Setup
Do you need a pro to install smart home devices?
Nope! While it's true that some smart devices can be tricky to install, there are plenty of devices that are designed for easy DIY installation. However, professionals are available if you want expert help to create a complete smart home system from the start.
What happens when the power goes out?
If you lose power, some of your smart home devices with battery backups will continue to work but without remote access and automation. This includes devices such as smart locks, smoke detectors, and security cameras. However, other devices such as voice assistants will stop working or become "dumb." You may want to invest in an uninterrupted power supply (UPS) or generator to keep your home's power running in the event of an extended outage.
Which smart home technology should you start with?
If you're looking to ease into smart home technology, start with a device that does not require a centralized hub. Most smart lighting systems and security locks offer direct control options through a mobile app. By starting without a hub, it's often easier to learn the basics of smart capabilities.
While there is a slight learning curve to smart home setup, the rewards are well worth the effort. With a little time and patience, you'll be able to create a home that's more convenient, efficient, and secure. Once you finish your basic setup, be sure to check out these clever smart home tricks from the Schlage blog.