8 bifold closet doors that will inspire your next DIY project.
By emily.bailey
Friday, September 30, 2022
Don't settle for drab folding closet doors. Here are eight easy ways to turn your home's bifold doors into a style statement.
Bifold doors are great for closets in tighter areas because they take up very little space when opened. While these hinged doors may seem difficult to customize, we beg to differ. Whether your closet doors are made from dated wood slats or are just plain boring, it's easy to refresh them. Here are eight DIY folding closet door makeover ideas to inspire your next project.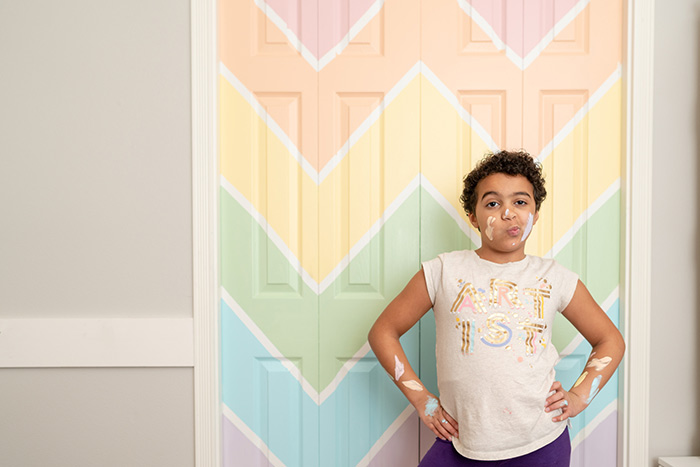 1. Refresh with a moody color
If you want to make over your closet doors but don't have a lot of time to devote to a DIY project, make a quick update with bold color. Jewel tones, pastels, and dark shades like black or navy blue can completely change how your folding closet doors look. Transforming your closet doors with color is also a great way to bring your room's design scheme together.
Those boring beige doors don't need to interrupt the décor flow of your room anymore. We love this update from @beydindesign because it's easy to redo in the future if your design scheme changes. Here's an example of how a little color change can make a big difference.
2. Add latticework
You might associate latticework with gardens and outdoor spaces, but it can transform indoor features, too. Adding inexpensive latticework to bifold closet doors is a great way to upgrade a plain-looking surface. Most home improvement stores stock several types of latticework. Of course, you can also fake this look by using basic wood trim. If you're using trim, be sure to carefully measure and mark out your design before you start cutting.
Add a fresh coat of paint after the latticework is attached for a monochromatic look. For a bolder look, paint the latticework in a shade that contrasts with your closet doors. Decorator Casey Finn shows just how easy and effective this update can be.
3. Make it mirrored
Bifold closet doors are often used in areas where space is tight. To visually expand these little spaces, add mirrored panels to your folding closet doors. You can attach a single mirror to each door panel or use multiple mirrors for a more geometric effect.
To achieve this look, you'll permanently affix mirror panels to the closet door. Then, use standard wood trim that you've prepped and painted to create a finished border. Be sure that your trim covers all mirror edges so that you haven't left a sharp surface on your closet door. This technique works well for closets, as MCH Custom Trim & Cabinets shows, but it can also be used for home offices and laundry rooms.
4. Go from bifold to French doors
Unfortunately, bifold doors can make it difficult to see everything in your closet. One solution is to turn your bifold closet doors into a functional pair of French doors. While it might sound daunting, it's easier than you think to transform those bifolds into wide-open French doors.
French doors differ from bifolds in that they swing open toward you rather than fold in half on tracks. As Decor By the Seashore shows in their how to turn bifold doors into French doors guide, you only need some basic tools (drill, measuring tape, and wood filler). You can order the necessary hinges, magnetic catch, and pair of knobs from Schlage. The final look is sleek and professional.
5. Let the sun burst in
A bold, geometric sunburst can add texture to an otherwise flat wall. Bifold doors are an ideal surface for a bold, sun-inspired project. A sunburst door looks great in any hue. Of course, bright yellow is a great choice if you want to add a burst of color to your room.
This project is best for experienced DIYers. However, dedicated beginners who are willing to follow detailed instructions can pull it off, too. The sunburst look does require significant planning so be sure to check out the full tutorial from Studio DIY.
6. Upgrade to barn doors
If you love the farmhouse look, you can easily turn your boring bifold closet doors into faux barn doors. Choose wood stain for a rustic look, or paint the doors a solid color for an upcycled farmhouse vibe. If you have enough space on both sides of your closet, you can even put your doors on a hanging track for a true barn-door look. This is a great project for experienced DIYers who have access to a table saw.
7. Shape up with shiplap
Shiplap is one of the most popular design trends of the last decade. You see these wooden planks everywhere in home design now, and closet doors are no exception. Adding shiplap will instantly transform your doors into an upscale design feature.
The possibilities for color and texture are truly endless. You can go with a basic, flat color or distress the wood to match your doors to your overall design style. The biggest advantage? Shiplap can turn cheap folding doors into sturdier, more appealing décor pieces. This makeover from Ugly Duckling House works particularly well if you need to cover slatted or grooved doors.
8. Paper it
Wallpaper isn't just for your grandma's house anymore. With thousands of interesting designs available out there, wallpaper is one of the most versatile choices you have for any DIY project. You can easily use it to transform a plain closet door into a vibrant statement piece.
This project works best with flat doors that don't have any grooving or molding. Be sure to remove all doorknobs or pulls before you start papering to make application easier. If you chose a wallpaper that needs to dry to set, wait at least 48 hours before you reattach hardware.
Closet doors are just the beginning. After all, you should never settle when it comes to your home's appearance. With a bit of planning and work, you can tackle a wide variety of DIY projects to update and beautify your home. Check out the Schlage blog for even more home improvement project ideas.