Halloween entryway and porch décor to die for.
By emily.bailey
If you're looking to scare up some new ideas for decorating your front porch or entryway for Halloween, let us help.
When it comes to Halloween décor, most of us don't go for understated. It's a holiday that screams for bold. If you're looking to scare up some new ideas for decorating your front porch or entryway for Halloween, let us help.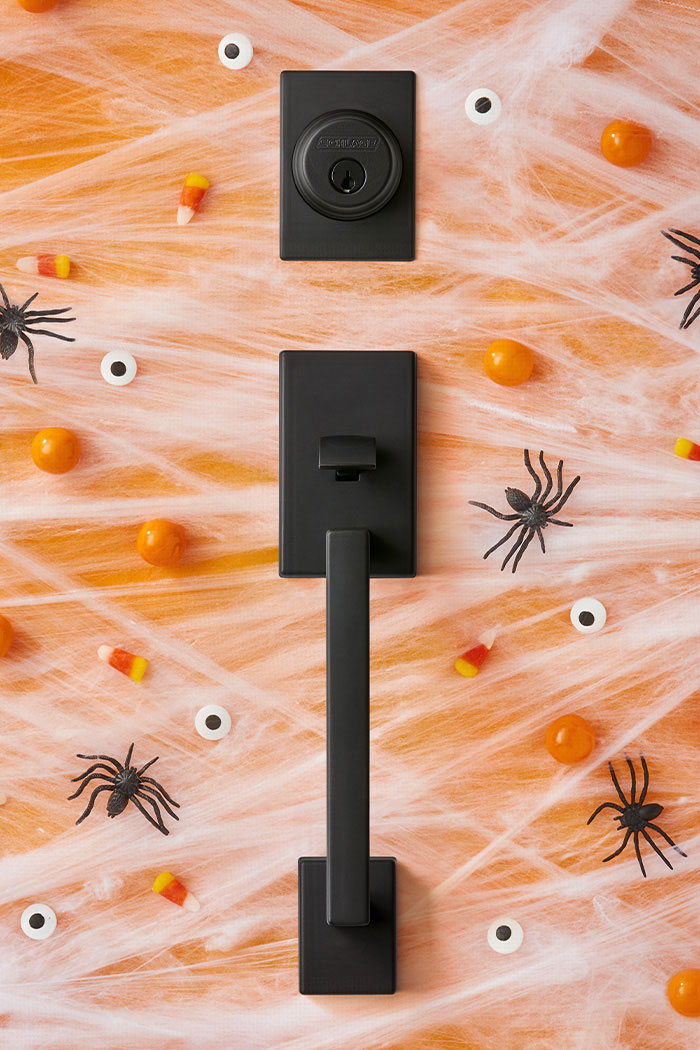 This is not the time for pretty flower wreaths. Try a
creepy twig Halloween wreath
instead. You can DIY this Halloween décor with just some sticks, a glue gun and, if you want, black spray paint.
If you're looking for low effort or minimalist design, this one is for you. A store-bought
web attached to your house numbers
lets everyone know your house celebrates the spooky. Merriment Design added their own glittery spider for extra effect.
A covered porch offers the perfect opportunity to literally raise your Halloween décor game. Martha Stewart shows how to do
hanging bats
, but
witches' hats
and ghosts are spooktacular alternatives as well.
Personalizing a door mat for Halloween is one of the simplest holiday DIY projects you can do. Buy a plain mat, paint and some foam brushes. Whether or not you use a stencil is up to you and your artistic abilities. DIY Network used a
bat stencil in this tutorial
, but we also like the idea of freehanded ghosts. They're mostly just blobs anyway.
Skip to my Lou turns the idea of a jack-o-lantern on its head with this
DIY Halloween luminary
. Instead of carving pumpkins, try punching holes in a recycled tin can. Paint adds to the look. You can place these on your porch, lining the stairs up to your front door, in your entryway or all of the above. Light them with battery powered votives for extra safety.
Halloween decorations for your entryway
Keep the ghoulish décor going beyond the front door with these ideas for your foyer.
Do you have entryway seating? This
monster makeover
is a great way to Halloween-ify your foyer without sacrificing functionality. We'd be lying if we said we didn't also love this idea for kids' rooms at any time of year.
Don't forget your stairs and railings.
Cute bats
are a good option if you have little ones who scare easily. You can also use fake cobwebs or
adorable ghosts
.
Do you usually have a nice floral arrangement in your entryway? Fresh flowers on a sideboard or
landing strip
is an inviting touch for when you come home each day. But for Halloween, switch it up with some
dark, moody dried flowers
like Cheetah is the New Black did for a holiday party.
Don't have much Halloween décor? Maybe it's a small space or you're worried your decorations look kind of random just sitting out.
Group them on a tray
like Made in a Day. Check out their entire blog and you'll see they didn't go for subtle, but this trick works no matter what your tastes are.
Whether on your front porch or an entryway side table, a
sign
can literally make any statement you want. Halloween is the perfect time to either keep it fun and lighthearted or go a bit spookier as you welcome guests to your home.
Bless'er House shows what's possible when you want to celebrate Halloween but you're not one of those people who feels the need to invest in a fog machine just for October. The bats, framed skull print and potion jars definitely have the Halloween vibe, but the rest of the décor will easily transition into the rest of fall without a total overhaul. It's spooky, classy and easy.
We didn't talk much about pumpkins here, but never fear. You can find DIY pumpkin ideas on the Schlage blog along with even more tricks to treat yourself with gorgeous front porch décor.