Take the stress out of hosting parties last-minute this summer.
By emily.bailey
Wednesday, August 3, 2022
If you don't know the first thing about hosting guests, read this blog to ease some tension.
Let's say you have kids. The neighbor to your right has a pool; the one across the street has a basketball goal. What do you all have in common? You and your neighbors are all vulnerable to being forced into hosting spontaneous gatherings. Blame the kids or the heat, but summer just isn't as fun without off-the-cuff nights with friends and family.
Maybe you're the type to throw parties on a whim—or maybe you'd like to, but the idea is overwhelming. Here is some advice for when you're itching, begged or held against your will to suddenly party at home. If you don't know the first thing about hosting guests, read this blog to ease some tension.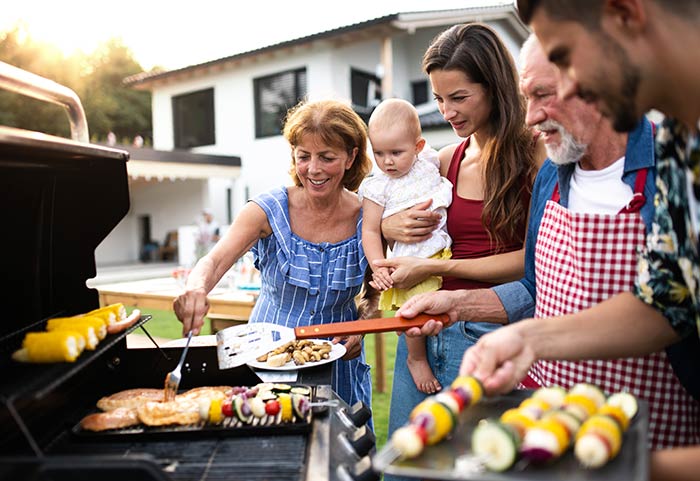 Cleanliness is subjective
No matter the occasion, we find it's almost always best not to vacuum until a party's end. Regardless of the type or size of your crowd, there is no need to deep clean or light nine candles before they arrive.
Last-minute summer shindigs are never a formal affair and that's a relief from the start. If you're going to clean at all before hosting company, we suggest a quick primp of your living space and leaving it at that. You certainly do not need to disinfect or rearrange things to make an impression with your home.
The illusion of a clean house often boils down to space, but beauty shows in the details. Clear dishes off the counter, place garbage and debris where they belong. Make room around gleaming accents like faucets and drawer, cabinet, door hardware to visually open your space and help guests feel welcome.
When finishes show through in your interior design—like brass or matte black against dark hardwood—it does more than turn heads. Decorative touchpoints in your home communicate accessibility, your personal taste and your attention to detail. When you're short on time, consider livening up a room by showing off the shiny things.
Don't worry about entertaining
The most fun parties are arguably one of two things: ironically themed or totally unstructured. No need to decorate or bake; store-bought snacks, spirits or the sheer kindness of opening your home can be enough to spark a good time.
Kids are on their own agenda at times like this; secure your home office or anywhere off-limits before letting them run loose. Throw on a movie or hand them a few board games if they end up staying inside.
If you're the type of host who loves a good theme, there are plenty to try last-minute that everyone can join in on, like a funny dress code or a "secret" password for entry. Themes are an awesome way to spice up a party without really trying—but summer doesn't always call for that.
Clear skies call for a cookout but make it a potluck for a more eclectic and relaxing barbecue experience. When you're not slaving over a hot grill and bowls of potato salad all day, you get to enjoy yourself a whole lot more.
Home safety and security for hosts
We mentioned keeping the kids out of your precious work files and wine collections, but there are a couple of ways to add an extra layer of home security. If you're throwing a party outdoors and want to limit who enters your home, consider setting temporary access codes on your Schlage smart lock.
If your guests are rained in or roaming indoors, it's worth considering locking the rooms you prefer to keep private. Even a house full of good friends can feel safer when your valuables are secured.
Schlage works with Ring Video Doorbell to help you monitor your front entryway remotely. If you regularly host pool parties or sleepovers, you can be sure of who's arrived and unlock the door from your smartphone.
We are here to make sure you feel secure whenever new and familiar guests stop by. It's summertime and your house is the life of the party. Take a breath and reread this blog as your guide to making it seem like your home is always casually party-ready.