Our favorite landscape lighting for security and style.
By emily.bailey
Here are some of our favorite picks for making your outdoor lighting work for your safety, style and convenience.
When it comes to improving home security, lighting is perhaps one of the easiest upgrades. It's also one of the most versatile – indoors or out, motion-activated, solar-powered, subtle, dramatic, relaxing. Here are some of our favorite picks for making your outdoor lighting work for your safety, style and convenience.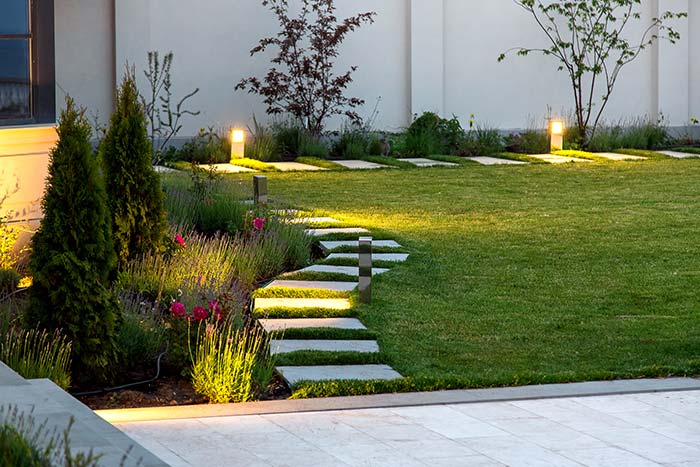 Spotlight on security
You might not have to make major changes to your home to enjoy landscape lighting for security purposes. Many people already have a porch sconce by the front door. If that's you, make sure it's clean – outdoor dust can block the light – and replace the bulb. Would-be thieves typically won't risk a front-door entry if they'll be well-lit when trying to get in. You'll also appreciate not having to stand in the dark when you get home and are unlocking the door. Additionally, consider putting your porch light on a timer so that it switches on in the evenings, even when you're away.
Motion-activated lights are popular for outdoor spaces for much the same reason as sconces. Some also connect to security cameras that will store the video for later, send a live clip to your smart phone or both. Position your lights and sensors in driveways, by gates at the side of your house or near a shed. Your backyard, especially if you have a pool, is another prime location. Just do your neighbors a favor and make sure it doesn't shine in their windows when it flicks on.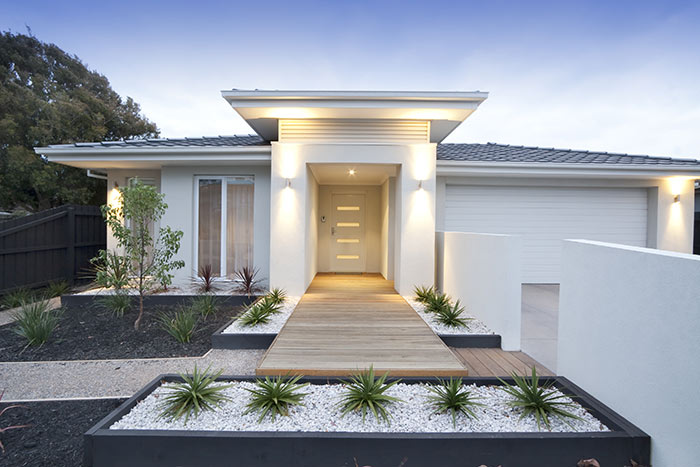 Safety first
A motion-activated spotlight certainly has the potential to scare off potential intruders, but there's more to home safety than protecting your family against burglars. You want to be able to see where you're going when you walk up the front porch steps or stroll through the garden. Use lighting to reduce the risk of tripping and falling.
Solar-powered path lights are popular for a reason – they work. They're also super easy since you don't need an electrician or have to remember to change the batteries. A quick online search offers a variety of styles from traditional to quirky to practically invisible.
Stairs, whether on your front porch or back deck, can be especially tricky for family members who are less stable on their feet or have trouble seeing at nighttime. Attach lighting to balusters, AKA porch posts, and railings. Don't forget the steps themselves, either along the edges or underneath for something that's as eye catching as it is safety-focused.
Lovely lights
The options below can still add an element of security, but let's face it. We also love them for their curb appeal. And that's OK! New lighting is a quick and often budget-friendly way to make a big impact with little effort.
String lights have been popular for years for their simplicity and because they can really set a mood. A relaxing night for two on the patio or a festive soiree on the deck for the whole crew will benefit from the extra sparkle. If you have a pool or water feature, hang those twinkle lights over the water, which will reflect the light for extra magic.
We all know plants love light, but did you know so do their planters? Tuck small lights in or around your planters to show off your flowers, even at night. These solar-powered illuminated planters offer a bit of a twist with different colors. Go for pure aesthetics or line your walkway and use them to illuminate a trip-free path.
What about uplighting trees? Use lighting from below to give leaves a dramatic glow. It also works for larger shrubs, along fence lines and at holiday time or year-round.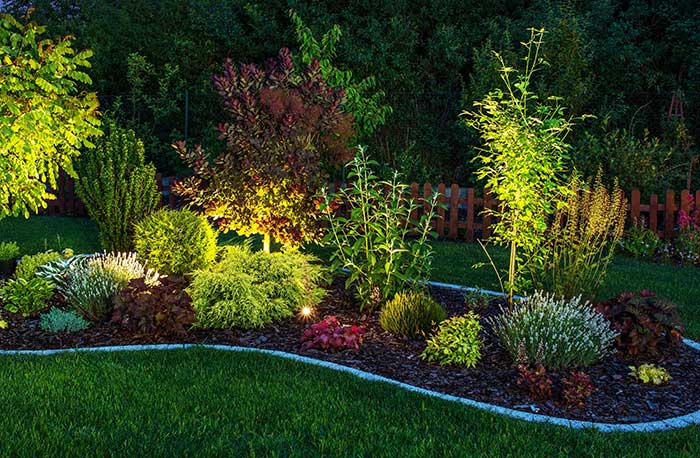 Finally, if you add candles to lanterns, outdoor chandeliers or simply on a side table on your porch, practice good fire safety. The best option might be to opt for less flammable LED candles.
Gorgeous curb appeal makes a great first impression on guests to your home. Get gardening tips, ideas for hosting the perfect backyard party and outdoor DIY projects at the Schlage blog.