How to grow your own pizza.
By emily.bailey
What better way to use your harvest than to plant the ingredients you need for a tasty pizza the whole family can enjoy? Here's what you need to grow your own pizza (cheese not included).
Gardening is a satisfying and relaxing way to spend the summer. Growing vegetables that you can then use in delicious meals is even better. What better way to use your harvest than to plant the ingredients you need for a tasty pizza the whole family can enjoy? Here's what you need to grow your own pizza (cheese not included).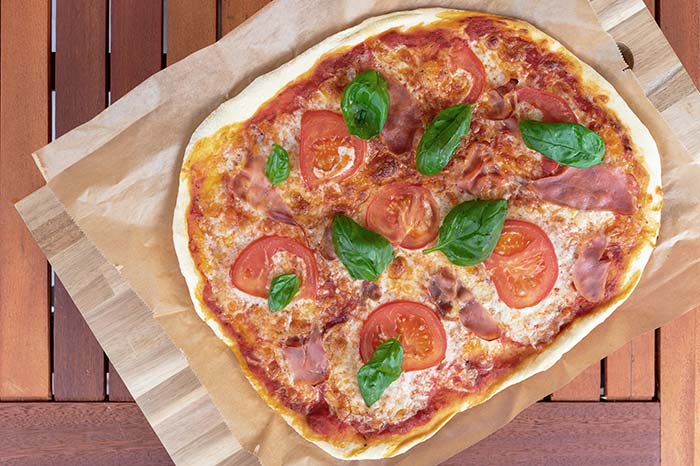 Tomatoes
What's a pizza without some good sauce? Making homemade sauce is a great way to use up all those tomatoes, especially if you overestimated how many plants you'd need at the beginning of the season (raise your hand if you've been there).
Another reason we love tomatoes is that they can be grown practically anywhere, either in a garden bed or containers. If you're going the container route, they thrive best in large pots, but because they grow vertically – be sure to get a tomato cage – they're still ideal for balcony gardens. Plant them deeply, water them consistently and make sure they get plenty of sun.
Garlic
Plan ahead if you want garlic on your pizza. You'll need to plant this pungent cousin of the onion in the fall, right after the first frost but before the ground freezes. The same goes for if you decide to grow it in containers. The long growing period is about the only downside to garlic. That and your breath, of course.
Use your finger to push the clove about three inches below the surface of the soil, pointy end up, and space your cloves about three to four inches apart to avoid crowding. Water your garlic consistently, even through the winter months, and cover it with mulch or straw to help insulate the bulbs. If all goes according to plan, you'll be ready to harvest in early to mid-summer.
Peppers
Sweet and hot peppers are some of the most common plants for urban gardening. You'll need a pot at least one foot in diameter. Your little starter plant will look a bit funny in such a large container, but it will fill out before you know it. Water your peppers daily, feed them every week or so while the plants are flowering and make sure they get plenty of sun.
Onions
Whether you put onion on top of your pizza or in the sauce, this is a good plant to try in your garden or containers. They'll need to be buried about five inches deep with at least one inch between each plant for best results. The variety you choose depends partly on where you live – long-day onions are ideal for northern states versus short-day onions farther south. You can try starting them from transplants, but seeds are easier.
Herbs
Some of our favorite herbs and seasonings are also the easiest to grow yourself. First up is basil. Grow it in a container with some fresh potting soil. When watering your basil, avoid getting the leaves and stem wet. Because it doesn't need a lot of room to grow, you can plant this herb in a small container – about six inches should be fine – and keep it outdoors or indoors on a window sill for year-round deliciousness.
Italian parsley is another great plant for small container gardening. Mix the potting soil with compost or fertilize it monthly for best results. It's not a total sun-lover, though, so make sure it gets partial shade or keep it indoors. This will also help keep the soil from drying out.
Third up is oregano. Not only can you grow this herb in pots, many experts recommend doing it that way. Oregano is very hardy, which means it's easy to grow, but it also means it easy to let get out of control. Containers help keep it from spreading to your entire garden. Wait until the last frost to plant your oregano or be prepared to bring it indoors at night.
Mushrooms
Your kids might not like mushrooms, but that's the beauty of a homemade pizza – half-and-half toppings are easier than ever. Growing mushrooms like the Button variety in a container is possible. A word of warning, however: mushrooms are probably best left to more experienced gardeners. You'll need to set up the right conditions – Gardening Tips has a full guide – which are most easily achieved indoors.
Pineapple (if you must)
Pineapple on pizza is controversial, we know. If you're pro-fruit on your pie, you can grow this topping in a container, even if you don't live in a tropical region. Start it from scraps by cutting the spiky part off a store-bought pineapple, soak it in water for a day and then plant it in a gallon-sized container. Keep it in a warm, sunny place like your deck or balcony garden.
Cauliflower
Here us out. We aren't recommending this cruciferous vegetable on your pizza, although that could add some delicious crunch. If you're really and truly committed to a homemade pie, grow your own cauliflower and turn it into a crust. Cauliflower can be planted in a garden or containers wherever they get plenty of daily sun.