Types of deadbolt locks for your front door.
By emily.bailey
Wednesday, April 14, 2021
Your guide to understanding the different deadbolt lock functions and choose the right secure door hardware for your home.
Whether you're replacing locks on a new home or looking to add more security to your current home, the aisle (or search results page) can be overwhelming with all the options. Check out our deadbolt lock breakdown below to help you understand the different functions and choose the right secure door hardware for your home.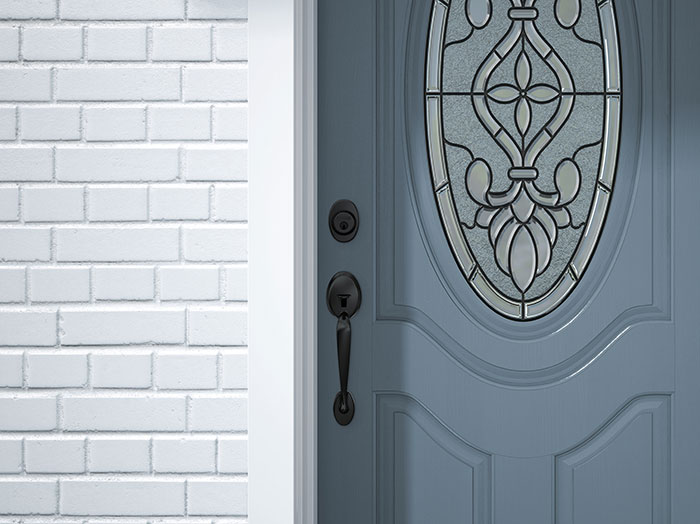 Single cylinder
This is the most common type of deadbolt used. Single cylinder deadbolts have an exterior keyhole that throws or retracts the deadbolt using a key on the outside. On the inside, you can lock and unlock the deadbolt with the thumbturn.
Double cylinder
Double cylinder deadbolts are used when you want a little extra security. They are often chosen for improving security on doors with windows because they make it harder for potential intruders to reach through the glass and unlock the door. A double cylinder deadbolt features a keyhole on both the interior and exterior side of the door so the only way you can lock/unlock is with a mechanical key. However, this type of lock should be used with caution as it can make it more difficult to get out of the house quickly in the event of an emergency.
Electronic locks
Electronic deadbolts often leverage the same security and durability of mechanical single cylinder deadbolts with the added convenience of a keypad or touchscreen. By allowing you to program a unique access code, electronic locks provide peace of mind so you never have to worry about losing a key again. These deadbolts, sometimes called non-connected locks, are controlled at the door and are not connected to your WiFi or other smart home technology.
Smart locks
Like electronic locks, smart deadbolt locks are just as durable as a mechanical single cylinder deadbolt. You can connect your smart lock to your home network, either directly to WiFi or with a compatible smart home hub, depending on the lock you choose. You can then use your smartphone for easy programming and access from anywhere.
Smart locks also provide the option to integrate parts of your home security with other smart home products to create routines and schedules that fit your lifestyle. Did you leave the house and wonder if you forgot to lock the door? No problem. As long as you're connected to your WiFi or smart hub, you can access your lock remotely to check its status and command it to lock or unlock. Want to tell Alexa to lock the door, even when you're too comfy to get out of bed? You can do that, too.
No matter which type of deadbolt lock you choose, look for signs that you can trust your door hardware to help protect your home. Check that the deadbolt has the BHMA's Best, or AAA, ratings in security, durability and finish. Look for a lifetime warranty so you know the company you're buying from stands behind its products. And listen to what others have to say. Schlage is trusted in over 40 million homes and has over 10,000 five-star reviews. We're proud to have earned the trust of so many homeowners and are committed to strengthening that trust into our next century of business.
Securing your front door is an important step toward improving the overall safety of your home. Remember to be just as diligent when purchasing locks for the other doors on your home, including back doors and garage entries. Visit our Safety Center for more tips and recommendations.