11 overlooked spaces you should decorate.
By emily.bailey
Wednesday, February 17, 2021
Looking for a few ideas to add a unique twist to your decor? Try adding details to a few unexpected places. Here are 11 ideas for making the most of the overlooked spaces in your home.
Looking for a few ideas to add a unique twist to your decor? Try adding details to a few unexpected places. Here are 11 ideas for making the most of the overlooked spaces in your home.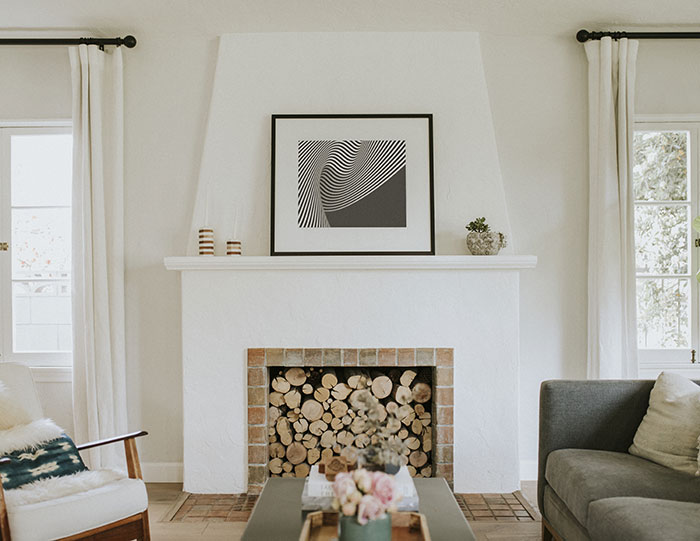 1. Interior doors
The doors in your home are often the most overlooked blank canvas. Use them to add a pop of color or tie an entire room together with a new knob or lever. Check out some of our favorite ideas for using your doors as decor here.

2. Windows
Do you have a wide window sill? Decorate with accessories or small plants for an extra expression of style. If you don't have this luxury, you can still display fresh cut flowers or plants near the sunlight with hanging vases or jars.

3. Cabinets
If you'd like to add a touch of style to your kitchen but counter space is limited, try using the space between the top of your cabinets and the ceiling. This will let you display some of your favorite pieces while limiting clutter below.

4. Entryway
Like your curb appeal, your foyer or vestibule decor makes a strong first impression. Choose pieces intentionally for style and function so you don't clutter this small space – a vintage table that also holds keys or colorful artwork, a bench with gorgeous cushions that also gives you somewhere to sit while putting on shoes or eclectic coat hooks that show your fun side and keep the kids' stuff off the floor. This is also a great way to create the impression of a formal foyer when it might just be a simple hallway.

6. Unused fireplace
Whether you never use your fireplace or you just cleaned it for the warm summer months, there's no reason to ignore this architectural detail in the off-season. From candles to books to plants, there are many ideas for using this space to make a style statement.

7. Stairways
Try a gallery wall that ascends along the steps to showcase family photos or artwork. Or turn that awkward space underneath the stairs into a whimsical display for your favorite accessories or even a mini library.


When decorating your stairs, don't forget to look down. The steps themselves are prime real estate for adding some visual interest without taking up any space. You can paint or apply stick-on tiles to the risers for some extra color and pattern.


8. Behind the couch
If your couch is along the room's perimeter, why not use that gap you've left between the couch and the wall to prevent damage? Jenna Sue created a sofa table just wide enough for some welcoming décor as you come up the stairs, all for just $30.

9. Above the toilet
The top of your toilet is a great place to utilize some unused space. Use it for necessities like extra toiletries but also add a touch of your personal style through fresh cut flowers or your favorite accessory.

10. Above the washer and dryer
You can also leverage empty space above your washer or dryer. Add a little shelf for extra storage or just to make the laundry room feel a little more homey.

11. Closet
We get so fixated on the utility of a closet – can it hold all my stuff, will it help my family be more organized – that we often forget it can be beautiful, too. Some paint or wallpaper on the interior doesn't take up any valuable space, but it will make it more enjoyable to see each day. And if you need a door knob anyway, why not make it a stylish one that adds to the décor while you're at it. Tulip Lane used the Schlage Custom™ Alexandria glass knob for a sophisticated touch in an unexpected, often neglected space.